– After a long day flying from Bolivia, through Peru to reach Costa Rica, I was thrilled to get off the plane and feel warmth again.  Finally…no more fleece and I would start wearing my shorts and tank tops that got packed away in the cold of Bolivia.
– Colin and I started off to see the few sights in San Jose.  I had low expectations as I heard and read there was little to see…and this was true.  Plus…it was the Saturday of Easter weekend, so most things were closed so we just walked around to see a few plazas, tried our first Costa Rican beer (Imperial) and have a meal.  Very uneventful for a capital city.
– On Easter Sunday, we were off to the bus station to try to get a bus to the Caribbean beaches, but I was worried as I heard this was a big travel day.  Lucky for us, the bus company added a special bus that day for demand and we got on.  After 4 hours in the rain, sun, cold and hot…(yes that many climate changes), we arrived and found our cabanas on the beach.  We had a view of the Caribbean sea and fell asleep to the waves crashing on the shore each night.  We also had a great balcony and hammock to relax the day away.  This was the kind of relaxation I was looking for and it was pretty heavily.
– Cahuita was a quite and lazy beach side community but the perfect way to relax for a couple days.  We visited the black sand beach and around the corner the white sand beach.  I have never seen two different beaches like this so close together.  The waves were big, surfers were out and the sun was so hot…it was nice to get some sun again.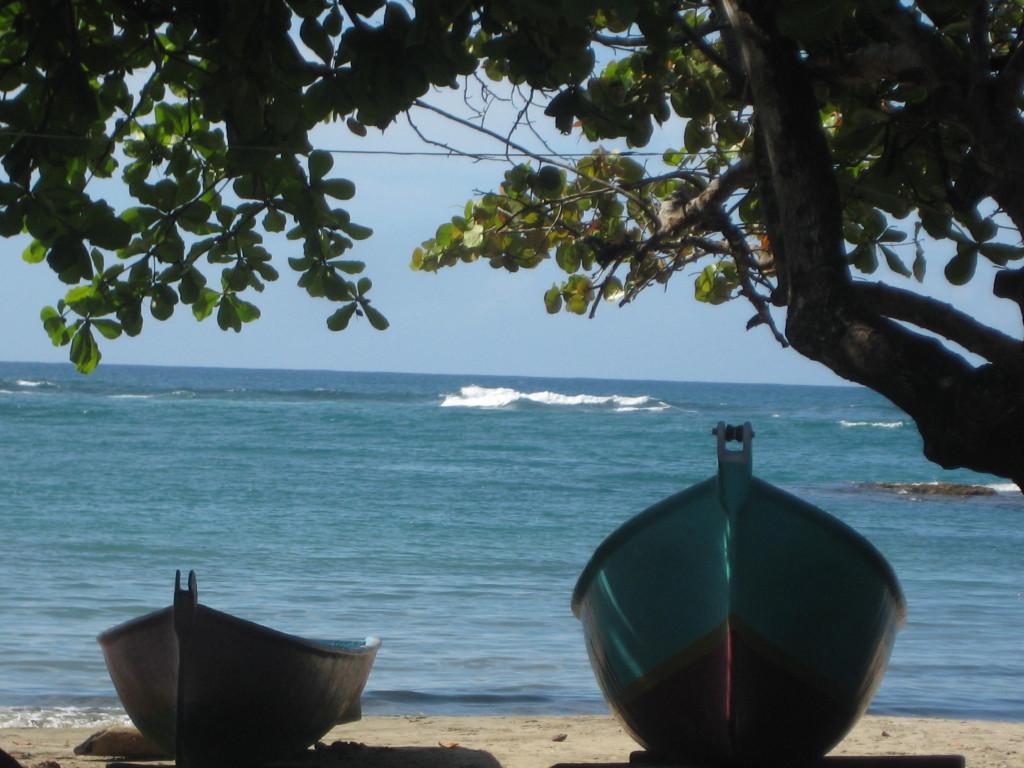 – We went for a walk in Cahuita National Park to see the white sand beaches.  When we were relaxing, a cappuccino monkey came running towards us on the beach.  I started to go near it…but Colin was more reserved and told me to stay back as its dangerous.  I thought these monkeys are so domesticated on the beach…and it seems harmless.  The monkey ran past me and towards our plastic bag.  Guess he was looking for food.  When I yelled "NO" at him with his hand in our bag…he turned and hissed at me and then walked away.  He was a naughty monkey…but didn`t get anything from us.
– Colin also decided he needed to shave his beard as he was afraid he would have a tan face and white skin under the beard and wasn`t sure that was the way he wanted to return to the USA and begin looking and interviewing for a new job.  So it was a two step process.  First down to a goatee for two days and then finally shaved it all off.  It was quite a process using little scissors and then 3 razors…but in the end, he was back to his clean shaven ways.
– After a few days here, we were ready to head south to Puerto Viejo, which was known as the "Party Beach" of the Caribbean coast.  When we got there, we found a slightly larger town, but still relaxed.  We never felt like it was too crowded or busy…and there wasn`t much of a party scene which was fine by us.  We were looking for more relaxing and time on the beach.  We found this and more as our hotel had a great pool and hot tub that was described right out of Fantasy Island.
– I would say, the past week in Costa Rica was all about sun, beach, relaxing and great food.  We had lots of traditional Caribbean dishes, made sure to drink lots of local Imperial beer and just enjoyed the week on the beach.
– After two months traveling with Colin, it was nice to finally slow down a little and just relax on the beaches.  No major sights to see or places to be.  Plus this was the end of his journey with me in South and Central America…so he wanted a little down time before returning to the USA on April 18th.  I also have my friend Amanda joining me in Costa Rica on April 17th, so I wanted to be rested and ready for her energy as we explore more of Costa Rica.
– So I have to say goodbye to Colin tomorrow, but I get to say hello to Amanda tonight.  I`m so lucky to have great friends to travel with!
Logistics:
San Jose – KAPS Place.  Great little home away from home in highly recommended hotel.  $45 for the room.  www.kapsplace.com
Cahuita – Jenny`s Cabinas.  Perfect location on the water with upstairs rooms, balcony, hammock and peace.  $40 for the room.
Puerto Viejo – Cabinas Casa Verde.  Wonderful hotel with amazing pool and hot tub.  Balcony, hammock and space for $50 (well I negotiated that lower price).  www.cabinascasaverde.com