Colombia has been on my travel list for a while and Milena and I decided to make the trip for New Years this year. So with a little advanced planning and more of an open agenda to figure out what to do as we travel, we were off for two weeks in Colombia. We decided to start in Bogota and do some day trips outside the city and then explore further north along the coast which I'll include in future posts.
So after a fairly easy journey to Colombia, which started off with a very VIP treatment from American Airlines where we were met curbside, ushered through a private check in area, escorted through security and right to the first class lounge for some champagne before the flight (thanks for the special passes Amanda!). That was quite a nice experience.
First day in Colombia
The first day and night was more about exploring the area around our hotel. This area is known as La Candelaria. La Candelaria is one of the most popular areas for tourists to stay as most of the sights are around this part of town. So our first night we wandered around, found some local dinner and enjoyed the people watching in the streets.   As it was a Saturday night, we figured we should go find a bar or something. There were plenty of thumping night clubs, with strobe lights and such, but after our long travel day, that was that last thing we wanted. So we found a nice dive bar with a few locals and saw the Simpsons TV show on in Spanish…so that was interesting for a drink.
Usaquen Sunday Market
Usaquen Sunday market is Bogota's most well-known market. It was our first full day in Bogota, and we got in a taxi for the 20 minute ride to the market. This market was set in a gorgeous little suburb of the city in the north and is an all-round market experience. It was great to wander around when it first opened and wasn't too busy as by lunch time, it was very crowded. There were excellent bars and restaurants on pretty, flower-laden streets, filled with stalls selling beautiful crafts, clothing and Colombian trinkets. I even bought some local art (which meant I was carrying it around for the next two weeks, but it was worth it and I'm excited to hang it in my apartment). This market was the perfect place for a Sunday out and lunch.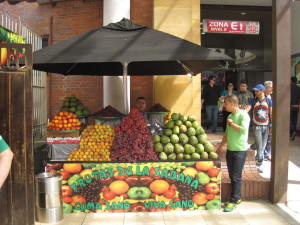 The night before I had found a few lunch recommendations online and we were lucky to find one of them and it turned out to be a great lunch. The most popular meal at this restaurant was based on meatballs. The idea was to choose the type of meat, a sauce and if you want them in a sandwich, pasta or alone. All the food was delicious and highly recommended (and there is another location in downtown Bogota too).
Ciclovia
On our drive up to the Usaquen Market, we drove along many kilometers of the famous Ciclovia (which is a closed off roadway for bikers). We saw thousands of bikers out for a day. Bogota closes 121 kilometers of main city streets for cyclists and joggers to have a separate and safe area to bike around the city. The city estimates that over 2 million people bike on sunny days.   It reminded me of Central Park in New York as it was a safe place to get out for exercise with the family.
Bogota Beer Company
We heard about the Bogota Beer Company as the local place to go for craft beers. We first found a bike and keg stand at the Usaquen market.  So of course, I had to sample a beer.
Then, we stumbled across it while looking for another pub and were glad we stopped in. We ended up chatting up the bartender and manager for a while, I enjoyed the good beer and the manager give us certificates for 4 more free pints in the other cities we were going to visit. Sadly we weren't able to make it to the other locations, but we used them as part of a tip for our scuba diving instructor and he was very excited for them.
The Salt Cathedral of Zipaquirá is an underground Roman Catholic church built within the tunnels of a salt mine 200 meters underground. The city of Zipaquira is about an hour drive outside of Bogota.  The salt cathedral opened in 1995 and is one of only two Salt Cathedral's in the world. The other salt cathedral is in Krakow, Poland. Funny enough, Milena and I visited that other salt Cathedral in Poland during our round the world trips in 2008 so now we have been to both.   This cathedral has mass on Sundays and has about 3,000 visitors for mass each week. The Salt Cathedral is considered one of the most notable achievements of Colombian architecture.
There were many, many, many crosses caved into the salt mine.  These are just a few.
Lunch in Zipaquirá 
As part of our trip to the salt mine, we stopped at a local place for lunch. Right when we pulled up in the car, this cook met us with freshly sliced meat to make sure we liked it.   It was so tasty and we were later served all these meats for lunch.
At lunch, they only had coke, sprite or beer.  Since I cant' stand full sugar sodas, I  opted for beer and happened to be sitting right under this sign.  It was meant to be!
Monserrate is a mountain that dominates the city center of Bogota and can be seen from everywhere.   The mountain rises to 3,152 meters (10,341 feet) above the sea level. At the top of the mountain, there is a big church (built in the 17th century).
You can either hike up to the top or take the cable car. We thought we were going to do the hike up the mountain, but after realizing there have been some safety issues on the hike, we decided to take the cable car up to be safe. Once at the top, it was a great view of the city and we were lucky to go up right before sunset to see the city by day, sunset and night with all the lights. Definitely worth the trip up.
Local Family Run Colombian/German Deli & Bar – After coming back from Cerro de Monserrate, we strumbled into this little family run deli/bar. It was the wine bottles that caught my eye walking by, but when we went in, there were about 30 locals standing around drinking, laughing and having fun. It was odd as the place looked like a deli, but had a lot of liquor on the walls. There were no tourists in this place and just all locals. Within a minute, one of the girls that worked there came up to us and started to talk in English to us. She was one of the owners daughters. She offered us some samples, then her dad came over and starting talking in Spanish. So between the daughter, father and us, we had a great time eating and drinking.
It ends up that many of the locals come here as they can buy alcohol, have tapas and it was a cheap experience with friends. The concept worked as we stayed till closing time and made more friends. We also were lucky to try to local liquor… Aguardiente. This liquor is know as firewater and tasted like Greek Ouzo. The owner bought us this small box of it, so we felt like we had to take the shots (and then a second one when he poured). I mean we didn't want to be rude. Later in our trip, we saw locals drinking this all over Colombia and were offered shots on other outings.
We had so much fun, we returned the following night and made more friends. Definitely not a place that was in a guidebook or recommended by our hotel, but so glad we found it as it made our time in Bogota better and we were able to talk to a lot of the locals and learn about Colombia.
Museo del Oro or Gold Museum
While I don't go to every museum when I travel, I read this Gold Museum was worth the trip. The museum displays the biggest a selection of pre-Hispanic gold work collection in the world. It was quite interesting to see all the gold on display and here are a few of the pieces I liked.
After four days in Bogota, we were leaving in the morning for Cartagena. That's where all the locals go for holidays and for New Years Eve – so we were heading up there for the party!
Logistics:
Hotel Regina – Address: Carrera 5 15-16 and telephone: +5713345135
Zipaquira´s Salt Cathedral – www.catedraldesal.gov.co
We ended up hiring a driver for the day to take us up there (cost was 300,000 COP or $127 US) and this included all entrance fees to mine, lunch and transport. Many people said you could easily take a bus, transfer buses and then walk the last 20 minutes up hill to the mine. For safety reasons (and our limited Spanish in a city that has limited English), we decided it was safer to hire a driver and worth the extra money. The car ride also took about an hour and the bus option would have taken about 2.5 hours. When we left, the ticket lines to enter the mine were very long and that was when the first group on the bus had arrived – so much faster to get there in a car early in the morning to avoid crowds.
Restaurants
1. Kottbullar – This is the meatball place we went to at the Usaquen market. There is also another location in Bogota. Great meal that I would return for.
Usaquen – Calle 120A #5 – 61 and tel: (571) 620 1632
Bogota (La Macarena district) Calle 26C #3 – 05 and tel: (571) 704 2196
2. Marandua – This was the family run German deli/bar that we loved. The owner opened it and has been running it for the past 21 years.  Address: Ave 19 #4 – 25 and tel: 342 88 53