I've heard about the great California Poppy season for years but never made it out to see myself.  One of the best places to see the poppies is about an hour and a half from Los Angeles and generally is packed on the weekends.  Since I had a little extra time on my hands with the Coronavirus and was in need of a road trip (as I wasn't sure if my car still worked since I haven't driven in weeks due to the shelter in place), I figured why not take a road trip (by myself).  I also figured I was supposed to fly 2,500 miles to New York today, but since that flight was cancelled and gas is so cheap now, why not drive 75 miles for a little local adventure???  I read best time to see the poppies is early in the morning when they first open up so I was up and out early and funny enough…no traffic in LA.  It was quite a nice and easy drive.  One of the few benefits of the pandemic.
Generally, the poppy season is mid March till April/early May but this all depends on the rainy season.  I had heard the poppies were in fully bloom now so I set off on Friday, May 1st to see them.  Once you get to Lancaster, there is an official state park, but due to the Coronavirus, the park was closed (and all walking paths, facilities, restrooms and such).  Signs off the freeway were saying the poppy reserve was closed to deter tourists and crowds, but I heard there were some side fields you can see from the road and a few places you can park on the highway to see.  I will say…there were lots of signs/parking cones on the side of the road saying no parking, and I did see a police man driving by telling people no parking and ticketing cars with no one around.  So pay attention to signs to avoid tickets.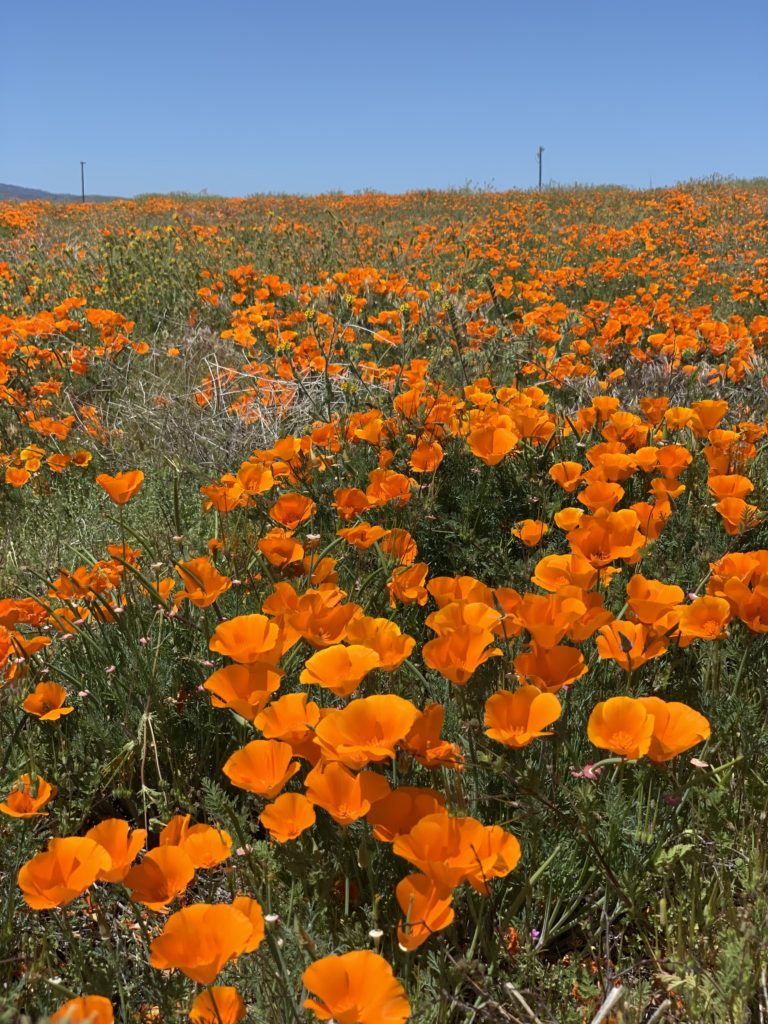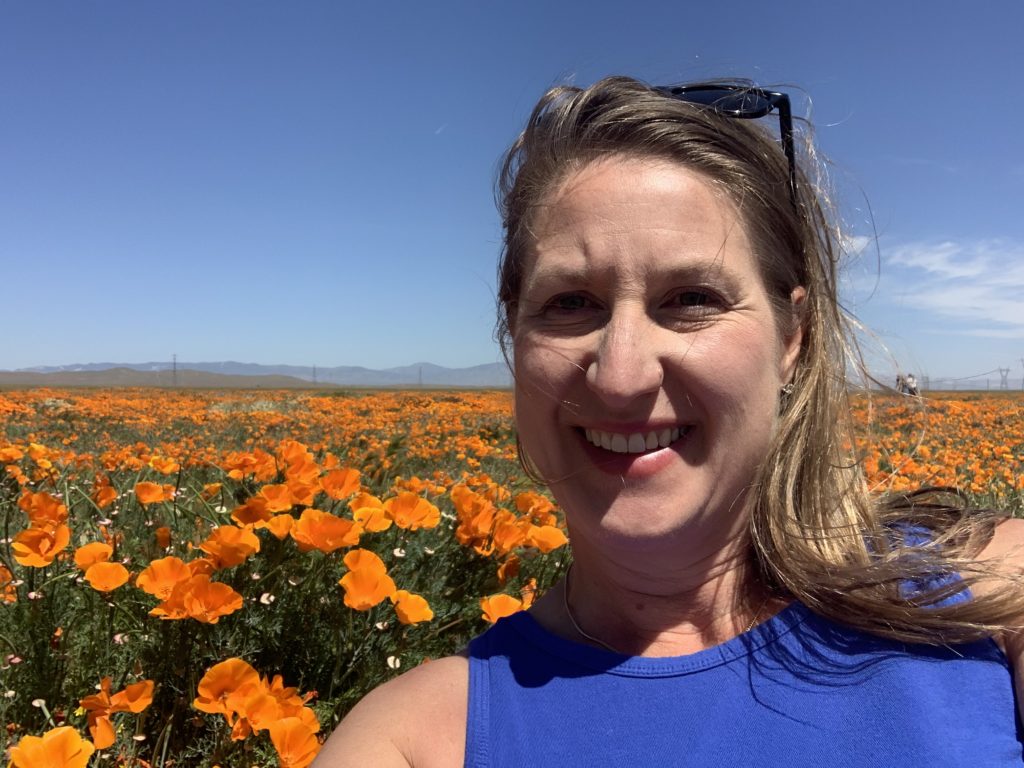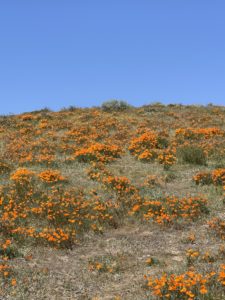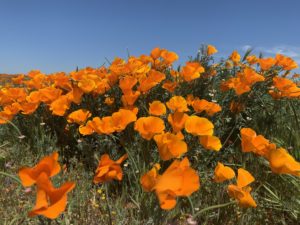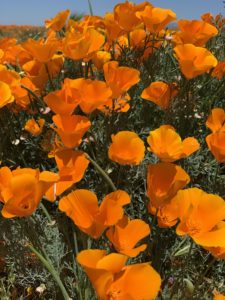 One thing that was odd…with all the people around, you couldn't ask anyone to take a photo of you as you don't want to share phones and such.  As I travel, I'm used to approaching groups and asking if they want a group photo of all of them (and then asking them to take one of me).  I did this once and then realized I can't touch their phone or them mine.  It was really weird when I recognized this and realized how odd our world is right now.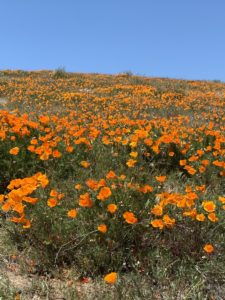 Even though the official park was closed, there were some side roads you could turn down, park and then get out and walk on dirt paths.  The people on the right photo were just walking through the fields which is a big no-no…but since it was outside of the official closed reserve, there wasn't much police to patrol this.  Biggest rule is stay off the flowers and don't walk in to the fields.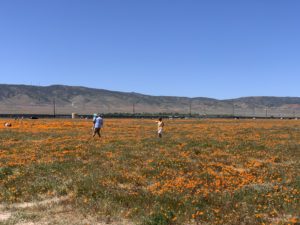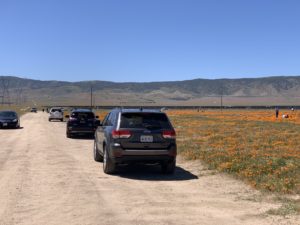 Do's and Don'ts:
Do's – If you do explore, Stay on the trail.  There are so many patches of poppies you can see plenty from the trails and get good photos.  All of mine were taken from the trails…I just walked further in to get nice photos.
Don'ts – Don't lay on, step on or pick the flowers—or the snakes will eat you (yes, I did see snakes and lizards as it's their home in the desert).  It was quite disturbing to see so many people walking over the flowers (or allowing their dogs or kids to stomp all over).
Something I read online prior to my trip that made me chuckle…but is true and thought was appropriate to post:
– Apparently there's some confusion about whether or not the poppy police will swarm upon you for picking one. Turns out picking any flower on state land is illegal. Plucking one of California's precious poppy blossoms? We suppose that's illegal and appallingly selfish. The same goes for trampling the flowers. You don't want to stray off of the trail anyway: that's Mojave green rattlesnake territory. They probably won't eat you. Probably.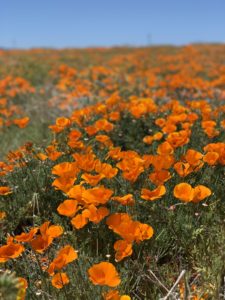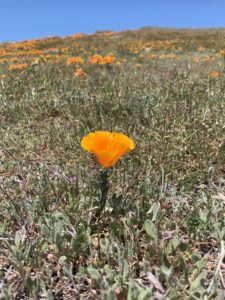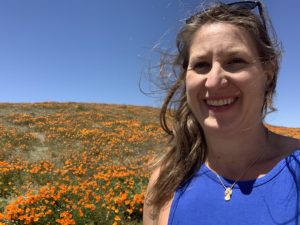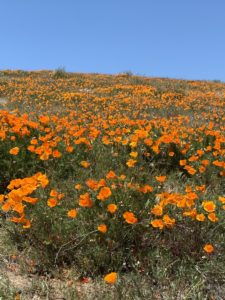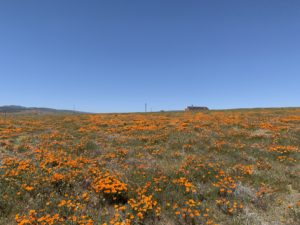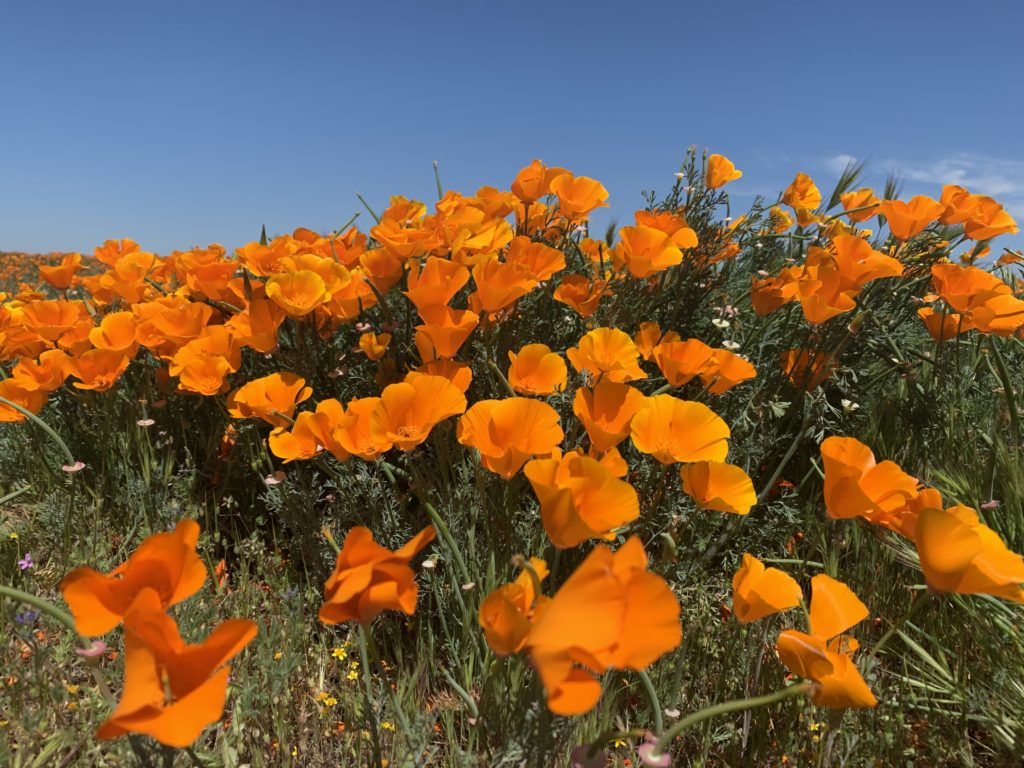 Logistics:
Antelope Valley California Poppy Reserve – Closed Mid-March – May (or later 2020).  The park has a $10 fee to park and access official trails and facilities (so maybe I'll go back next year).  I've read it's worth it to go to the park and park in their lot.
www.parks.ca.gov
If you are looking to bring a little bit of spring into your home virtually, there's the Antelope Valley California Poppy Reserve's live stream.
Address to add to GPS – but there were two areas I stopped at prior to this address and a few more after this address so it's just a guide to get up there and then drive around and see where they are blooming.
– It was about 75 miles from Los Angeles and took about an hour and a half with country roads the last 25 miles
– Make sure to have a full tank of gas as once you get off the freeway, there are no gas stations
– Bring food, water as no where to stop till you are back on the freeway.
– It's the high desert, so temperatures were warm and sunblock was needed.
– It's a very high wind area with no protection from the wind (and it was strong).  I was wearing a dress and ended up having to hold it down so not to flash others.
Subscribe to Blog via Email