A quick work trip to Chicago turned into a longer fun weekend away.   Patrick was able to join for the weekend which would be fun, and I had plans to meet with my friends Rachel and Ross over the weekend.  As I typed Rachel and Ross…it made me think of the TV Show "Friends", but Rachel and Ross haven't met yet (but hopefully they will as they are both my friends living in Chicago now).  Anyways…two days of work, and a few days in the windy city should turn out to be fun.
I knew one of the stops had to be to visit Ross at The Pump Room.  Ross was just brought out from New York to be the new Executive Chef for Jean-Georges's upscale restaurant,
The Pump Room
at the Public Hotel in Chicago.  This is a huge deal as Ross is the #1 guy in charge and is leading this restaurant in the right direction.   This was an amazing dining experience as all food was beautifully presented and delicious.  I would have loved to take some photos of the food, but since I went with a work colleague and it was a work dinner, I didn't want to be "that girl".  Ross was able to take a quick break from the kitchen to come out and visit at the end of dinner as we were leaving.
My friend Rachel, who moved to Chicago four years ago, was super sweet (killed time shopping after work to wait till my dinner was over) and met us for drinks.  Last time I saw Rachel was in Croatia a year and half ago, so it was fun to catch up with her.
After my work was done on Friday, Patrick and I wandered around downtown a little bit, visiting the giant silver bean.
I also love the iconic Crain's Building (with the diamond slanted rooftop.  Every time I see this building, I think of the movie "Adventures in Babysitting" as they scale the outside of this building and it's such an iconic building from the skyline.
We also stumbled into Dylan's Candy Shop (just like the one in New York).   Every kind of candy was there  and I loved these over sized lollipops.
We also were in town for the NFL draft.  Who knew how busy the city would be, but it was.  One of the plaza's had all the football team's  helmets on display, so we got to be silly tourists and take photos with our favorite teams.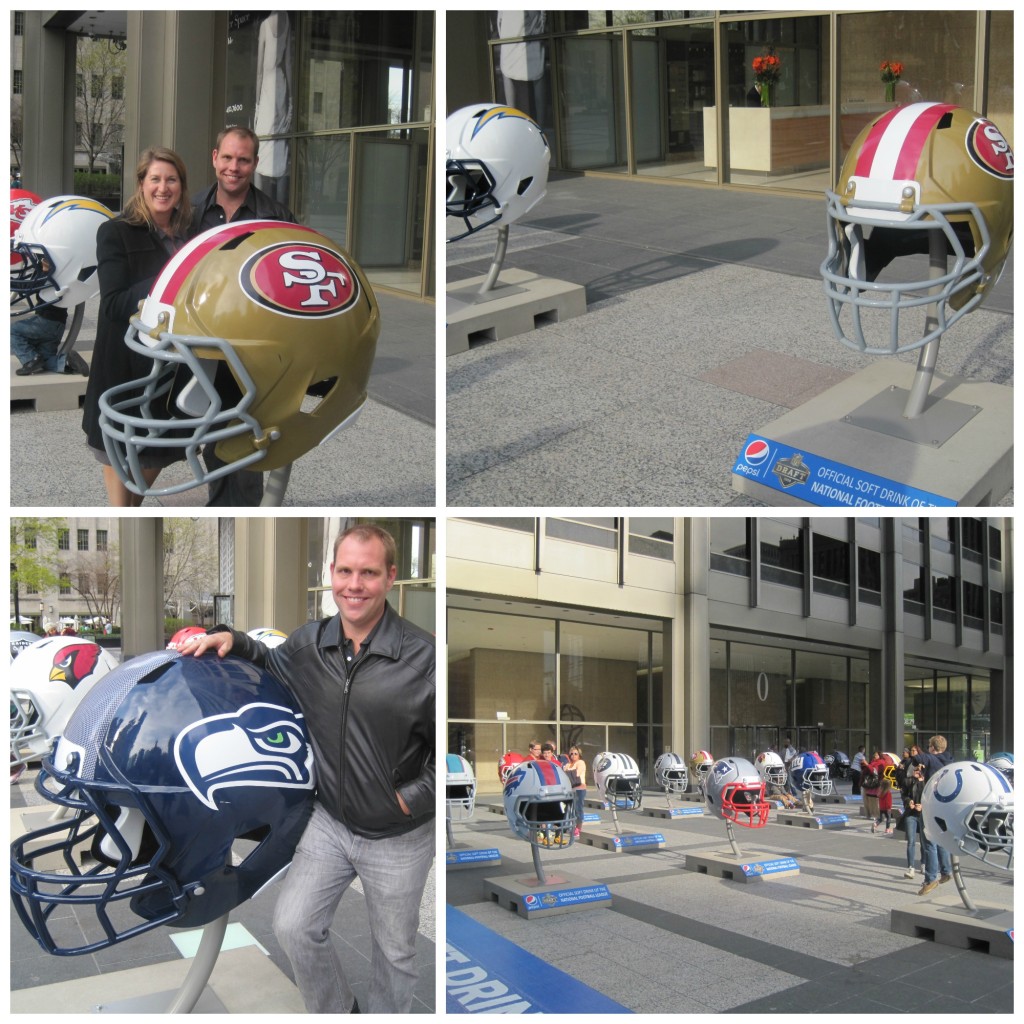 One of the goals for Chicago was to go see a baseball game and the Chicago Cubs were playing the Brewers and that was enough to get us motivated.  It was one of the sunniest days in Chicago and everyone in the city was outside drinking, hanging out and enjoying the sun.  It was a nice sunny 70 day and coming from Los Angeles, it felt like a normal sunny day for us, but I had to remember how cold Chicago has been (for months) and understand how glorious this day way for all the locals.
So my first visit to Wrigley field was a success.  We got there early to buy/scalp tickets, have a drink on a rooftop bar overlooking the ballpark and get in for the first pitch.  The ballpark felt very small and intimate compared to other parks I've been to, plus the entire bleacher section was under construction, so all the other seats were pretty packed.   There was a positive and fun energy in the park which was fun.
There were buildings across the street from the ballpark that had rooftop stadium seats on random buildings.  It was so odd to see seats across the street, but Rachel said many companies use them for corporate events.    So another option when you go to Wrigley field.
After the game, Rachel had a great idea and took us to "Headquarters Beercade".  This was a bar with all sorts of vintage video games.  All the games were free and we could drink while playing.  I was very excited to see Ms. Pac Man and Super Mario Bros.  Brought back too many fun memories of playing games as a kid.
Our final day in Chicago started off with a great brunch with Ross, since he got the day off from the restaurant.  We also were able to walk and explore by the river, the navy pier and found the beer garden at the end of the Pier to reward ourselves.  According to my Fitbit…we walked almost 20,000 steps (10 miles) and saw everything we wanted to in Chicago.
Great 4 days in Chicago working, visiting friends and exploring a new city.  Can't wait to come back again.
Subscribe to Blog via Email
Logistics:
Dinner:
This is one of the 3 top Chicago Style Deep Dish Pizza places.  I went to this one years ago, loved it and was happy to go back.  We actually ate here 2 nights (and I took some frozen pies with me on the plane).  Yes…I like it that much.
Amazing $35 prix fix dinner (Sun-Thurs).  That's what we had I'd get it again in a heartbeat.  Also, the Passion Chili cocktail was amazing.  Must try.
1301 North State parkway, Chicago, IL 60610 | 312.787.3700
Brunch
Rachel chose this place for brunch.  It's a great Swedish place and is known to have the best cinnamon buns (served 2 large buns as a side to your entrée).  It's also BYOB, so bring the bubbles or vodka for bloody Mary's as they have the fixings and welcome your alcohol.  Great brunch I'd go to again.  We went to the one in Belmont (closer to Wrigley field) but there are two other locations in Chicago town I think.
Great iconic brunch place that Ross selected.  When I walked up to it, I remembered I was there on my first visit to Chicago in 2006.  The food was just as amazing 9 years later and a place I'd recommend.
We were lucky to stay at the Peninsulas Hotel.  This has to be one of the top hotels in the US.  I had to stay for work, and the corporate rate was reasonable to why not stay and enjoy the amazing hotel?  Normally the hotel rate is quite expensive, but I would say this is a splurge hotel and if you can get any sort of corporate rate or last minute deal…it's worth it.