– I know I have become quite the beach bum in the past months, but I figured if I am going to do something, do it to the best of my ability…and I think I have done that! But I figured it was time for me to get a little culture and had to go out to visit Chichén Itzá Ruins. Especially as its one of the seven modern wonders of the world. From Tulum, it was a much shorter trip at just over two hours. So Eliza, Mel, Liz and I headed off for our adventure.
Day at Chichén Itzá Ruins
– Chichén Itzá is one of Mexico's most famed archaeological sights from the Maya world. Sadly we were not allowed to climb anything as a woman fell to her death in 2006 and ruined climbing for the rest of us. Since we signed up for a tour, we had a cute little Mayan guide named Raul. He was informative and funny at the same time and kept us moving to see what we could before giving us free time to explore.
– We started off at the Great Plaza, where the giant "El Castillo" (or The Castle Pyramid) was located. This was designed to represent the Maya calendar in stone and is very popular place to visit on the spring and autumn equinoxes.
– From there we cruised the Gan Juego de Pelota, which is the largest ball court in Mesoamerica and where the Mayan would play basketball. Now only the priests were allowed to play as it was an honor and the priests had the stones in their noses (guess this was the first nose piercings!). This ball court also had amazing acoustics as we were able to clap and hear the echo and every voice called a long way.
– We we were walking, there were so many hawkers trying to sell us everything under the sun and they had no shame and would walk up to use as our guide was talking to us and try to sell us. The joke was…everything was one dollar (or so they said). Then you got closer and asked for an item and gave them a dollar and they said that wasn't a dollar it was 10 ten dollars. Talk about bait and switch…but they all do it.
– At one point, a little Mayan girl came up to us with her mom and our guide knew the girl and he asked her if she would sing for us. So at five years old, she sang the Mayan anthem and was precious. We were told not to tip her, but if we wanted to buy a hankie from her, they were 10 peso. I had to and asked her mom if I could take a photo with her. So cute!
– Mayan Girl Singing at Chichén Itzá (copy and paste this link into a web browser if it doesn't open from click)
www.youtube.com/watch?v=wW7fWhJ12n0
– After the tour was over, Eliza and I went to wander. She was interested in buying something there, but once again, the lure of the one dollar was a lie. The Mayan calendar she wanted was 140 pesos, which we thought was too much. I asked her if she wanted it and I would help her negotiate it down. Finally after enough talking, discussions of our bus leaving in 5 minutes and having to go, I was able to get the price down to 120, 100, 80 and he finally agreed on my price of 50 pesos and Eliza was thrilled. But then she felt bad like she was cheating them, and I explained they wouldn't have sold it if they weren't making a profit and they know the break even point. When she tried to buy something else, her price wasn't high enough and the guy wouldn't sell…so she felt better about the first item and she got a fair price for it.
– Final stop at Chichen Itza was the Cenot Sagrado (Sacred Cenote). This was were many people were sacrificed and over 250 skeletons have been recovered from it. This was a bright green color, as there is no movement in the water and guess a lot of algae. This was one cenote I didn't want to scuba dive in as who knows what would find!
My first potential run in with a fine and jail!
– I had decided I wanted to get my Mexico beer photo at the ruins and brought my own beer with me, as I didn't think they would sell them inside. So I head towards the main pyramid ruin to place the beer on the grass. I got a few shots, then got flat on the grass to get the right angle for my shot when an official came up to me. He told me no and it was prohibited. I thought he was telling me I wasn't allowed to drink the beer, but the cap was still on it. He was getting more forceful and took the beer and started to motion to put it in my bag. I was sad as I wanted one more photo, but didn't want to cause problems. When I got back to the bus and told the tour leader, she was shocked. She said it is prohibited from taking any photos in the ruins that had commercial items. She asked if i was fined and I said no. She was relieved as its a $1,000 US fine and she has had two tourists in the past get this fine and there could have been 10 years in jail! I said she may want to tell her groups this next time to prevent this! She loved the photos and said I was brave and said I could probably sell this to Corona since they can't get any photos like this. So when I'm back…maybe I'll see if I can strike up a deal!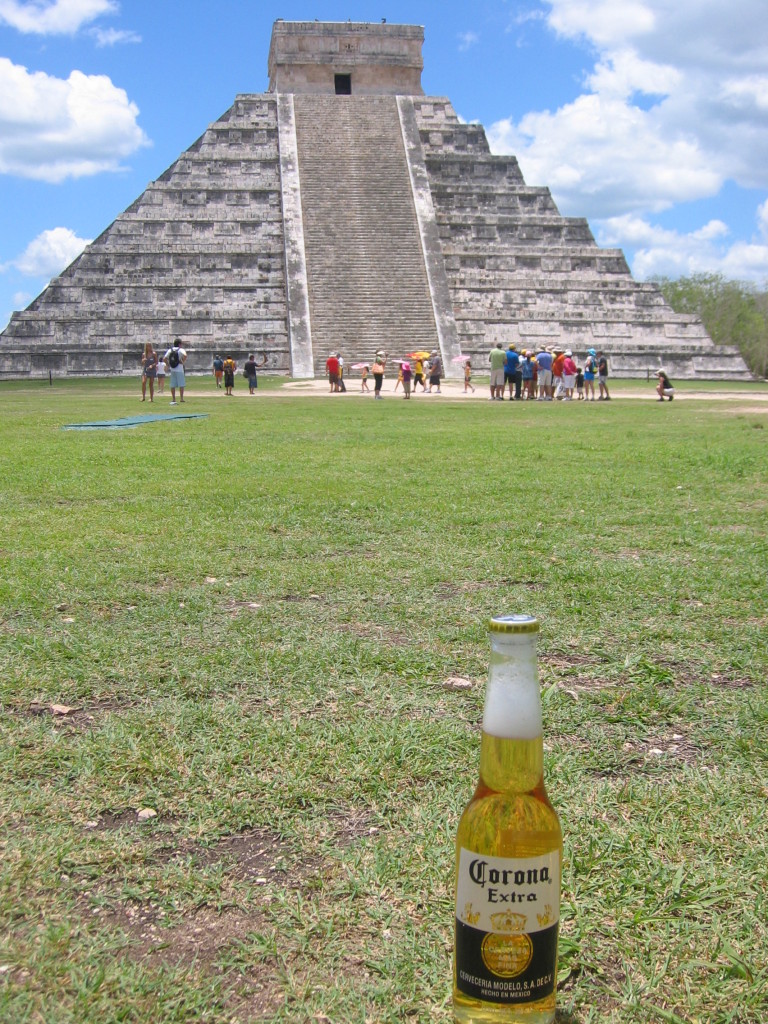 – All in all, a great day at the ruins. It was super hot and we got the right amount of history and information plus free time to explore.
– On the bus ride back, we got to stop at another cenote for a quick swim, since it was super hot. We stopped at Cenote Samula and this was a deep sink hole as the ground level to the water was 17 meters (about the depth of a scuba dive). Here, there was a giant tree that had long roots that reached all the way down to the water so that was fun to see. The water was super cold, but felt refreshing none the less.
– Last stop on the tour was a little colonial town called Bahia. It reminded me of many south American and central American colonial towns with the architecture, worn down paint jobs and old time feel. I think this town only comes alive from 3-5pm when all the tour buses stop. Other than that, it must be a small town.
Playa de Carmen
– After the week in Tulum, it was time to move north to Playa de Carmen…and I was expecting tourism at its greatest. What I didn't know was Playa (as its known here) was only created 15 years ago. Cozemel was the main tourist stop for cruise ships and Playa was only 30 minutes away by ferry and Playa was just a port town. 15 years ago, development started to add services for tourists that wanted an afternoon or overnight before heading back to the cruise ship. So a newer town, which much stricter zoning laws than Cancun, so no high raises allowed
– Once we settled into a new hostel, Eliza and I headed out to explore. One Starbucks, one Burger King, two Hagan Daz, and then two McD's. I feel like I am back home. All the people are white tourists with kids in tow. All the locals are yelling to us to come look at their store, asking us to buy something for our novio…then they say boyfriend in case we don't know what novio is. It was funny at first, but now a few days later, the people are annoying. I try to walk down the middle of the street to best avoid the hawkers, but its hard to do that!
– Playa has amazing turquoise beaches, but too many tourists for me. I guess that's why people come here…they feel like they are away some where exotic, some people speak Spanish (but honestly there is more English than Spanish) and the food is no better than the Mexican restaurants at home. It looks like families are coming here more as its safe and clean, but different from home. So if that's what you want in a trip…head on down here. If not, there are better places to vacation in my mind.
– Eliza, Mel and Liz and I wanted to go out in Playa to see what the night life was like as it was supposed to be fun. At midnight, there were lots of people out and the bars were spilling over into the streets. In my mind, not great music, and just a scene to be out. So after a few stops, couple of drinks and laughing at some dumb tourists that were trying to dance on the dance floor, we headed home at 3am as that was enough.
– The big highlight to Playa was going to Wal Mart. I know…I'm a nerd. I have´'t been to a big mega store like this for a long time and there were things I wanted to stock up for Cuba and I knew they would have it there. It was so fun to wander the aisles and get odds and ends and soak in the choices. I haven't had choices in what I buy like this fora long time. Plus there was a grocery store inside so we were able to get cheese. That night Eliza and I got a dinner of nice wine, cheese, crackers and grapes and felt like princesses. Its these things that are more fun than eating or taking tequila shots at Senior Frogs! Yes, there are two Senior Frogs that I have seen already in Playa.
– As it's Saturday, June 13th, I have one more day at the beach in Playa de Carmen as I leave for CUBA TOMORROW! I'm very excited for this (and wanted to catch up on my website as I was told there is little to Internet in Cuba). So hopefully I'll be back to update my site in July when I get to Canada.
Logistics:
Playa de Carmen – Happy Gecko Hostel. www.happygecko.com.mx Close to the beach with nice air con rooms for $9.