Subscribe to Blog via Email
In sort of a quick discussion, I decided to join some friends on a week long trip over Christmas.  They had planned to go to Cuba and I thought…why not.  I went 10 years ago in 2009 and said I would want to return one day when I went with friends and had some extra money to spend as I was on such a tight budget the first time.  So we started to plan how to spend the week, where to scuba dive and how to maximize a short amount of time in a large island country.
As I had a little more flexibility, I decided to fly two days prior as I wanted to spend a little more time in Havana this time.   There are a whole lot of new rules, processes and such for entering Cuba which I'll outline at the bottom under logistics.
Wednesday, December 18th – Arrival in Havana
After a red eye flight from Los Angeles to Miami and then on to Havana, I arrived.  I knew up front to "EXPECT THE UNEXPECTED" but didn't realize how much that would be a theme to our trip.  I waited over an hour to get my one checked bag as the entire plane had about 5 bags each so the bags came slow and in bunches as all the locals were importing lots of bags and plastic wrapped items.  I had arranged an airport pickup and was glad as I was just wrecked after the journey which was unusual for me, but I finally made it to my casa particular and met my host Maritza who was a lovely local woman and helped me get set up in the apartment I rented for the first 3 days.   I was able to get out and walk and see a little before the rain started.
I was not expecting pouring rain and Havana isn't a city that is used to that much rain (like Los Angeles) so when it rains, it doesn't drain and the streets flood.  I still wanted to get out a bit and trudged around in the rain, attempted a walking tour with some college students but finally gave up as the downpour wasn't fun and found a fun place for mojitos, dinner and chance to talk to other locals or tourists.
Thursday, December 19th – Day 2 in Havana
I had the whole day to myself before the others arrived Friday afternoon. I had nigh hopes of finding a Cuban cooking class or something fun for the day, but it was too much effott at the last minute so figured I'd try to get out and walk and see more of Havana.  The walking tour from previous day said they went again at 10:30am, I could join then, but when I showed up they weren't there.  So I started to walk on my own as I knew the key plazas and things I wanted to see.   There was more rain, but I now has an umbrella and kept trekking around the city.   I stumbled across these guys unloading bootleg alcohol from the car to a bike.  They kept looking around for others, like they knew they shouldn't be doing it so I was trying to be discreet in my photos but it made me laugh.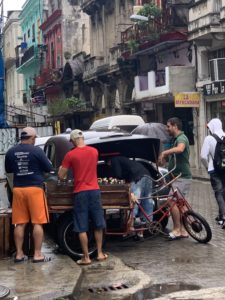 I ended up going through the Chinatown gates (Barrio Chino) which hasn't changed at all since 2009.  Then wandered more of the streets to visit what I thought was the current cigar factory.  I wanted to buy a few cigars here to bring back and maybe take a tour again given the rain, but I found the factory moved 9 years ago the building is now used as a cigar retail store so I was able to ask questions and buy a variety of cigars to bring back.
After I was walking down the Malacon,  I met and ended up talking to a mother daughter duo from the US and spent a few hours walking and talking with them as they also just arrived the night before.  It was fun to explore the city and chat with them.
I walked around Parque Central which was right on the border of Old Havana and Central Havana and continued down Paseo de Marti (a long pedestrian tree lined road).  There were little kids playing soccer between the stone benches, and others just enjoying the car free walk.
Some of the buildings that lined Paseo de Marti. They all had lots of old city charm.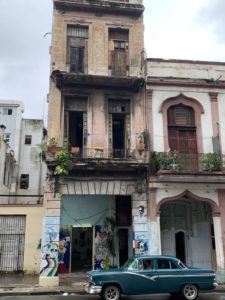 As I was looking across the water at the Fortress, the waves came up really high and crashed over the wall. There were some local kids playing around which brought a lot of entertainment.  I got a short video of the kids here and the last wave at 20 seconds almost took them out.
Video of kids playing with waves by fortress: https://youtu.be/0FQE1DJH2Zc
After walking further, I came across the Museo de la Revolucion.  This used to be the Presidential Palace, but now is a museum and in the back has lots of old trucks, planes, tanks and such on display.
Continuing my walk around Old Havana, more charming streets, art on walls and this cigar smoking gorilla was one of my favorites.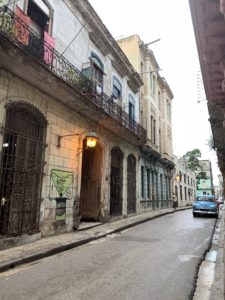 After a full day of walking around, I ventured out to dinner at O'Reilly 304 as heard great reviews for the food and cocktails.  The place was hopping and fun and just jammed packed.  I got the last seat at the bar and it was the perfect place to people walk.  So a few passion fruit mojitos later, I started talking to a fun couple from Ireland and we ended up chatting till after the placed closed.
At this time, it was dark, rainy I wasn't about to walk home.  So the bar hailed a taxi for me and up rolls a 1950 Cadillac.  Quite trippy going home in the dark in this old fashion car….felt like I was going back in time in an old movie.  But I got home and off to bed and excited for Milena, Dave and Tim to arrive the next day.
Friday, December 20th – 3rd day in Havana…Friends arrive
My casa host Maritza arrives in the morning to clean and get things ready for the others to arrive.  They had a taxi arranged to pick them up at the airport so I was just waiting for them to show up around 11am or noon.  Around 11am, Maritza came to me and in her limited English and my limited Spanish…we communicated there was an issue.  The taxi driver wasn't going to be there at the airport to pick them up.  Not sure why…but she asked if Milena had the address.  I showed her the addressed we were given and she said that was wrong.  That's when I knew there would be an issue as I couldn't call or email Milena to give her the correct address, and we were trying to figure out options to find the group at the airport and get them to the casa.   When they didn't see a sign for them at the airport, the others got a new taxi at the airport and headed to Old Havana with the wrong address.  It wasn't until they were halfway here that the driver realized the address wasn't complete.  Dave had remembered a photo I posted my first day (and Milena assumed that was our front door…and she was right).  So the driver was going to drive around and look for that door (hummm…not sure that would work).   Luckily partway through the taxi ride in, Milena had turned on her international text message we reached out, and I was able to text correct address from Maritza's phone.  I had also walked over to the store 10 minutes away that had wifi so I could try to text and email as well thinking Milena would go to a big hotel to try to connect to email to try to find me.   Once they all arrived, I learned they had a much harder red eye journey as Milena's bag was never loaded on the plane in Los Angeles…which caused her challenges all week long.
But…on to the fun stuff…they arrived and the guys and I went to out to lunch when Milena took a nap.  We got all caught up and enjoyed this view from lunch as the rain stopped this morning and the sky was blue.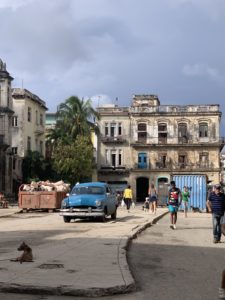 I went with Milena to the internet place with the strongest signal to try to call about her bag and deal with this…which took us 2.5 hours, and we both knew this was going to be tough to get info.  We also knew that Milena needed some more clothes as we weren't sure if/when her bag would come.  We found a "Jennifer Lopez" store that sold some interesting items (wish I would have taken some photos).  Milena and I gathered up anything we thought possible and she was able to find a dress to wear.  We don't think Jennifer Lopez would be happy with the selection there but her photo was all around the store.  After this, we met the guys and were off to drink, share stories of our journey/challenges to get to Cuba and enjoy our first night out.
Saturday, December 21st – Fourth Day and off to Varadero Beach
We hired a taxi to take us about 2 hours east to Varadero beach as we planned to scuba dive for the next two days.    We figured a couple days at the beach, at all inclusive resorts could be a nice break and Cuba is supposed to have some of the best scuba in the Caribbean.   When we arrived, it was a bit rainy, dark and such and we weren't sure about the scuba in the morning, but we were going to play it by ear.  Milena was able to do some shopping in the hotel gift shop and get a few more things to wear and the rest of us grabbed some drinks.  We enjoyed the beach at night as the colors were great.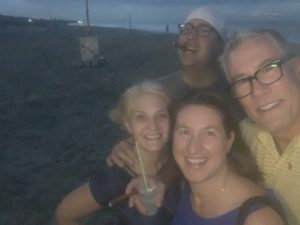 We found the 24 hour bar which happens to be the furthest from the hotel lobby, but right on the beach.  We made friends with the bartender Dario and he was great.  He even taught me how to make the mojitos his way and then I kept going back to make more.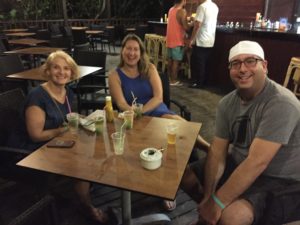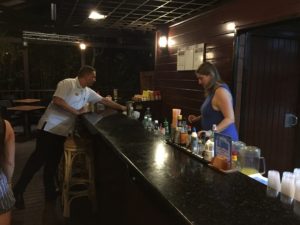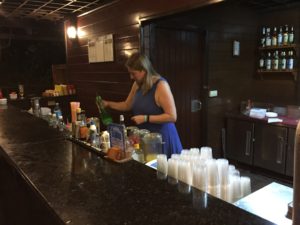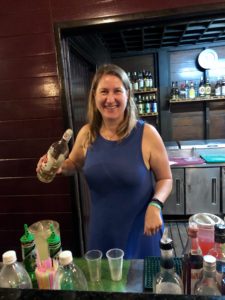 December 22nd – 5th day in Cuba
When we woke up, the weather seemed good, the sun was out and the rain stopped so we assumed we were off to scuba for the morning.  When we met the scuba people at 8:30am, they said the conditions were not great in Varadero and they decided to take us all to the Bay of Pigs (Playa Giron) which was over 2 hours south.  So we would leave then and not get back until 8:30pm…and we decided to skip it as we didn't want to spend the whole day in transit for two dives.
So Dave, Tim and I decided to go walk the beach and walked about 4 miles in the sand chatting and people watching as all the resorts had a beach area.
We decided to take the open air bus into town to do some shopping, sightseeing and see the eastern part of Varadero which was a nice afternoon excursion.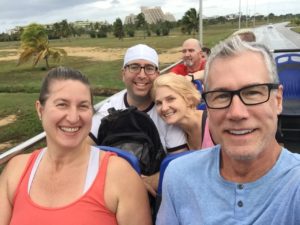 When we got off the bus, we saw this guy selling pina colada's.  Milena was all over this and when she asked, he said he was out of the pineapple, but he was expecting more soon so come back.  After we went to the cigar store, we saw a guy ride up on a bike with more pineapples in a bag (pineapple express much?) to make more so Milena and Dave tried them.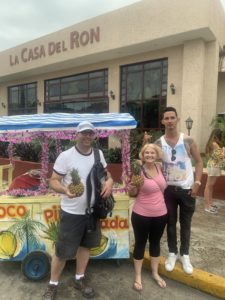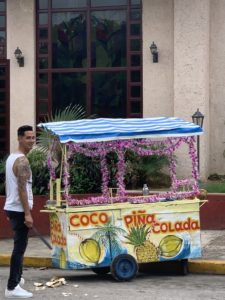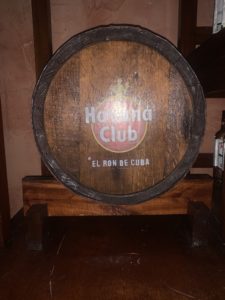 We were hoping to go scuba diving the next morning so kept a mellow night…but had to return to the beach bar for a bit as we had so much fun the night before.
Monday, December 23rd – last day in Varadero and return trip to Havana – my 6th day in Cuba
Waking up, the sun was coming up, it appeared clear and we assumed we would be going scuba diving so off we went.  Tim was going to do a discover scuba course first and then join us for the second dive, but for some reason, they didn't get our reservation right and there wasn't enough room for us all to scuba and him the course, so Tim opted out so the 3 of us could dive (Thanks Tim!).  He came down for our briefing to listen and learn and hopefully Tim will try scuba another time (or on our next trip).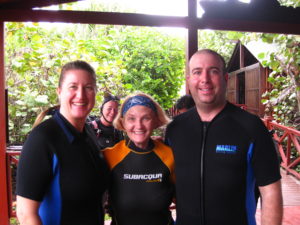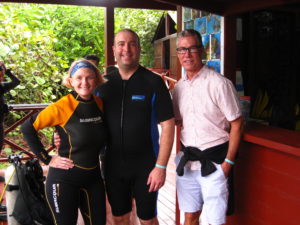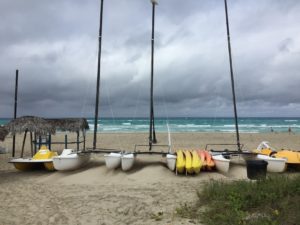 After walking out in shallow water to meet our boat, we cruised about 15 minutes to start our diving.   On the first dive, we saw a shark and eagle ray as highlights and our dive instructor said that was his first shark (as they aren't common to Cuba).  The photo I got was too away to post but it was about a 6 foot shark.
After the second scuba dive, it took us much longer to get back on the boat as the weather conditions worsened and the water was pretty rough.  We were about an hour late getting back so right when we got back to shore, we had to hustle to change clothes and hop in the prearranged taxi for our 2 hour journey back to Havana.  No lunch for us (but maybe that was a good thing as the food wasn't very good at the resort).   Our taxi driver Nelson was great.  After dropping Tim and me at the new casa, he took care of Milena and Dave and took them onto the airport in Havana to try to find her bag.  After Milena and Dave got back to our casa….they were ready to drink as no success at the airport (and that's putting it nicely).  Dave tells an animated story which all we could do was laugh about and keep drinking.  Sounds like the airport "Lost and Found" is a total unorganized mess of chaos and no one there could even help they see if her bag was there.  So when they were back, we all quickly headed out for the night as drinking was necessary for all!
So we started off at one of the famous tourist places, El Floridita.  The place is known as Hemmingway's favorite bar (but a tour guide later told us that every bar in Havana was his favorite as he just linked to drink).  This place is supposedly where the daiquiri was created so we had to try it.  Lively place with great musicians playing.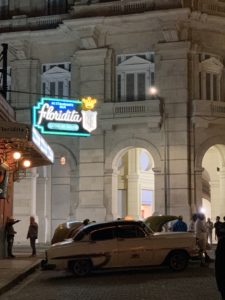 After this, we headed down the streets for the next bar and dinner.  We came to O'Reilly's 304 (where I was a few days earlier and loved) and had dinner and more drinks.  O'Reilly's 304 even had custom made beer wrappers.  No way this was done in Cuba…so someone must have a connection to Etsy or some printer in the US.
December 24 – 7th day in Cuba and Christmas Eve
We had two more days in Havana and had planned a convertible Cadillac tour around town.  So we met our guide Michael and driver.  Both are local Cubans and they took us around town on a combination Art Deco and Mob tour.  The is a great way to see more of the city and hear more of the history and stories to go along with it.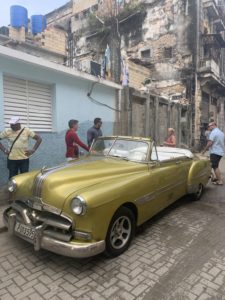 Lots of people just hanging out in doorways.  Its the national pastime to sit in the doorways, talk to those walking by and pet all the dogs and cats that wander by.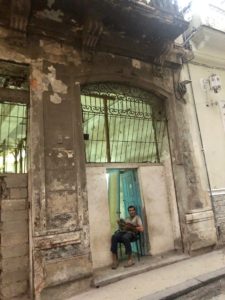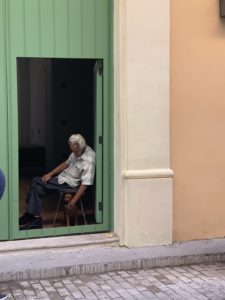 Back in our apartment, we also took up people watching.  We'd see women across the street lower baskets to the street to get goods sent up.  I mean….why walk all the way down the stairs when you can send a basket down?  We also got obsessed with the chickens across the way.  There were about 6 chickens in the separate chicken huts.  Two of them would sit on the rail and then fly across the the roof and back again.  The white rooster woke us up every morning at 3:45am, then again at 6:50…like clockwork.  This rooster got in trouble by the man of the house on Christmas Eve and I thought he may become dinner that night by the actions the man was taking.  Ends up, he was sent to rooster jail for 24 hours and was essentially grounded.  He wasn't allowed to sit on the rail with his brown chicken friend but he lived to see Christmas day.  We spent a lot of time in the apartment looking out and being on chicken watch as it was entertaining.
In Cuba, Christmas Eve is the large celebration and everyone was out with parties and fun time.
December 25th – 8th and final day in Cuba
On Christmas morning it was super quiet on the street (well except for our rooster friend).  We had a relaxing day walking around and trying a few new bars and restaurants and shopping for Cuban cigars.  We even went to the place that had the largest cigar in the world.   It was long and appeared to be too heavy to hold on your own.  May need a team of friends to help hold and smoke it.
One of the bars encouraged you to write on the wall, so we nominated Tim as the tallest of the group to get on a table and write up high so maybe we would stick on the wall for a while.  We also got to watch some local kids plat a game of baseball in the streets right from the bar, so ballgame and drinks on Christmas…all good!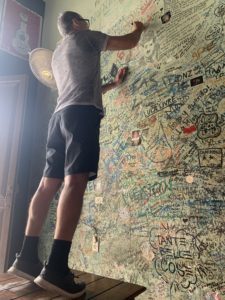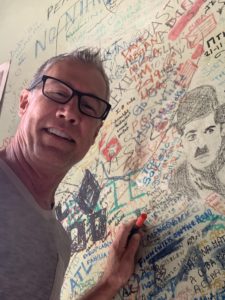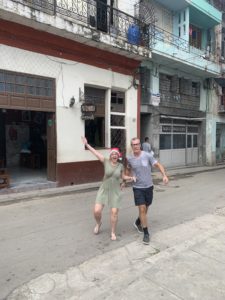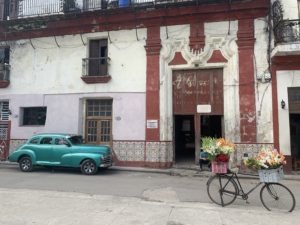 After lunch, we all split up to do a little wandering and shopping.  We decided to do a little white elephant Christmas gift exchange and were all off to find fun items in town.  When I got back from my shopping, everyone was napping so I took advantage of the time before dinner and got a lovely massage at the place next door.  That was my Christmas gift to myself as I was super achy and it was perfect and an hour massage for 35 CUC ($35) was a deal!
Our Christmas Tree got decked out and was a fun time in Cuba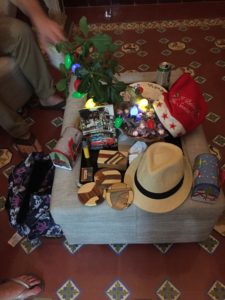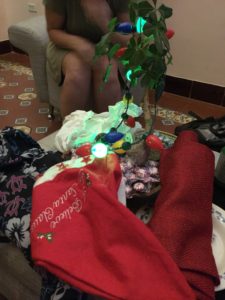 Our final dinner in town was at a local family run place.  Afterwards, we did a little Christmas Day bar crawl to hit the last few bars we wanted to try.     We stopped again at the local churro stand and bought churros for the 3 kids in line in front.  This churro stand only charged 50 cents for a churro (and they so could charge more as there was always a long line).
Next bar called "Mojito" had great drinks and fun Santa cap seat covers.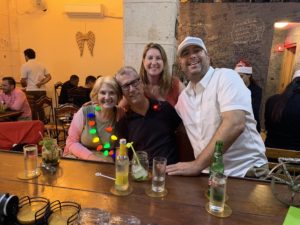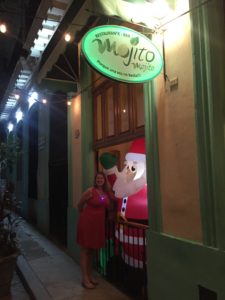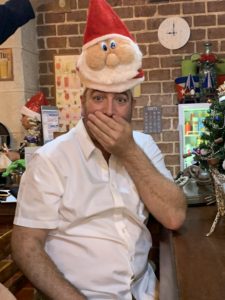 Last bar of the night "Azucar" had a great view of the Plaza Vieja.
Thursday, December 26th – Time to go home…
Our favorite Rooster woke me up at 3:45am again, so the silver lining for the early wake up was I got some pretty sunrise photos before departing for the airport.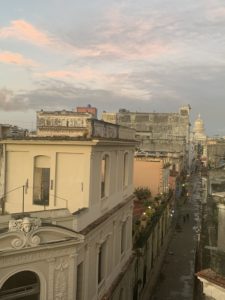 Tim and I were heading off on flights to Miami and then Los Angeles.  I was able to get us upgraded to first class on American Airlines so that was a nice treat.
While in Miami, we learned our next leg had a flight delay, then maintenance issue, then longer delay before our plane was taken out of service.  The next flight I could get us rebooked didn't take off for another 3 hours, so we were going to wait for a new plane to be swapped out.  We eventually boarded 5 hours later and were home.  Total journey should have been 9 hours of transit and ended up being 16 hours.  Every journey is worth it for the fun times with friends and great memories from the trip.
I love to go back to countries I've been to before as there area always new things and it's quite fun to see how things have changed.  In Cuba's situation, very little has changed in 10 years.  A few things I noted that were different….there is limited wifi now (basically none before).  There are some other cars in town (saw a Prius, Audi, Mercedes) when before only old Cadillac's.   There are more basic goods sold in stores and you could actually buy snacks on the street as both of these didn't exist.  So more commerce available and more availability to goods from other countries.  in 2009, if you could find chocolate, it was only Nestle chocolates that were made in Venezuela as no others could be imported.  A friend asked if I would ever go back….and I said yes, but maybe in another 10 years in hopes things have changed more it would be fun to see what another decade brings the country.
Cuban Flag and Beer Shots:
Subscribe to Blog via Email
Logistics:
Entry to Cuba – The rules keep changing so not going to say too much here.  We were able to go to Cuba under one of the 12 reasons allowed.  We selected "To Support the Cuban People" which meant we were supposed to stay in Casa's (not hotels) and do activities that directly support the local people.  So we planned our detailed itinerary (and kept it with us if stopped or needed at US Customs).    We met someone from US that was there to "Improve her trade" as she is a scuba diving instructor.   Another mother/daughter group I met were there for "Education purposes" as the mother home schooled her daughter.  So there are ways to visit, just make sure to follow advice for the reason you choose.
Visas – You need to get a "Tourist Card" which is sorta like a visa.  I flew in American Airlines via Miami and I could have bought it at the gate before boarding.  I didn't know how long it would take, so I opted to buy in advance ($110 with shipping vs $100 at the gate).  The other three flew via Cancun and were only able to buy in person and it was only $25.