-Amanda arrived Friday night and after a quick change, Colin, Amanda and I were catching up with a bottle of champagne. I guess it was fitting as it was a farewell to Colin, after traveling with me for 2 months, and a welcome for Amanda. When we finished the bottle (not that long for the three of us), we were off to have a night on the town in San Jose (or so we thought…).
-We headed out to an area called "El Pueblo" as that was supposed to be an area with lots of bars, pubs and places to eat and drink. We figured once we got there, we could find a fun place. What we found was a courtyard or mall like area with six places with thumping music, strobe lights and really skanky dressed people. The three of us were laughing as this was not our scene now (nor ever) and we finally settled into the only restaurant that wasn`t thumping to have a bottle of wine. As we were leaving, a large police wagon pulled up with lots of sirens, and we thought they were breaking up a fight or something. That was until a dozen slutty dressed female "cops" came out for the party. I guess they were party girls kept the party going in the clubs. This was our sign that it was time to go home.
-On Saturday, April 18th, Colin was off to the airport to fly back to the USA and Amanda and I were heading to the bus station to and onto Manual Antonio. After three and a half hours on the public bus, Amanda and I were at our hotel at the beach in Manual Antonio.
– Only we ran into a big problem right when we arrived. The hotel room we reserved wasn`t correct and the check in person started to argue with Amanda that the room was right. (We reserved two beds and they gave us one tiny full bed which was not going to work for 3 nights and we didn`t want to keep moving rooms). We tried to get her to work with us, but she said she couldn`t do anything and we had to come back in an hour to talk to someone else.
– To cheer ourselves up from this ordeal, Amanda and I had to go out for a cocktail, and our favorite was the mango daiquiris. So yummy!
– Then we came back to the original hotel and that person couldn`t help, and we were so frustrated and just wanted to settle into our room. So we went walking around the street to see what we could find for other rooms. It was annoying as we had written confirmation showing our room type, and they kept saying we made the mistake not them (HA!). Not much for customer service. At the end of ordeal, we decided to switch hotels to one across the road and were much happier. (We also were praying they don`t charge Amanda`s credit card since she faxed in her authorization from the states). With our new room, we were thrilled as Amanda and I were able to negotiate our room for half the price, and we now had TV, A/C and a pool plus such friendly staff. In the end, this hotel was wonderful, and I would highly recommend it.
– Once we got to our new hotel, we went out for happy hour. Sadly, it was a disappointing happy hour (with horrible guacamole and even worse mojitos). At least we had brought travel scrabble and played right there at the bar so we still had smiles! At this point, we thought we would cut our losses and buy a bottle of wine to enjoy at our hotel. Too bad once we opened it, we knew it was corked from the minute I poured it. So what we would do…throw it out and give up with it or take it back to try to exchange it for another? We decided to change back into our clothes (as we were in our pajamas) and head back to the liquor store where we tried to explain (in Spanish) this wine was bad. Lucky there was another local there that spoke English a little (and knows about wine) and she looked at the color of the wine, poured some into the palm of her hand and then slurped it up and agreed it was a bad bottle. So we were able to get something else and pay the difference. Little victory!
Manual Antonio National Park (and beach)
– We came to Manual Antonio as we heard it was the most amazing beach area and there was a national park where we could hike from beach to beach. Sounded like a good plan. So Sunday morning, we were off early for the park, but in true Amanda and Megan fashion…we just started walking along the beach and ended up walking to the exit only and were turned away by the guard. Guess we missed the little dirt path which some how leads to the park entrance. But we finally reached there and were lucky to walk right behind a few small groups that hired a guide to point out wide life…so we were able to stop with them and see animals as well.
– The new animal in Costa Rica was the sloth. I honestly had never heard of this animal until Colin brought it up the week before. He really wanted to see one, but we didn`t on the Caribbean side and Amanda and I were lucky enough to see about 10 sloths hanging in the trees eating leaves. They remind me of the koala bears as they sleep 20 hours a day in trees, eat leaves that make them appear really slow and drunk and just hang.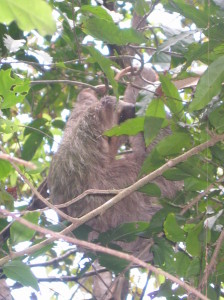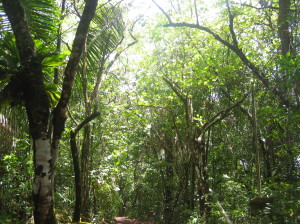 – So once we got into the heart of the park, Amanda and I hiked to the biggest beach first and relaxed for a while. As we were laying on the sand…a large iguana just walked up towards us and stopped to check us out. It was funny as he just sat there on the sand near me for 30 minutes or so and then other tourist noticed him and came to check him out. On this trip I have now different animals on the beach including cows, pigs and iguanas. What`s next???
– Soon after, we watched naughty monkeys come down from the trees, open other people`s plastic bags and run away up a tree with little bags of chips. It was amazing how quickly the monkeys were down, grabbing and running up the tree with only one hand on the tree and the other around the food. Guess they learned how to be quick thieves. When another monkey came down to steal more, I got up and went over to try to stop it. The monkey flinched a little, then snarled at me…to the point I saw huge monkey teeth and Amanda got nervous that I was too close. I wasn`t that close nor scared as I knew the monkey just wanted the food and was too far from me to do anything. He ended up loosing the chips when I kicked sand up towards him.
– After baking ourselves in the sun, we were off to hike to another beach. Sadly, this beach wasn`t as nice as the first and the water was very rocky and rough. So we thought we would go back to the first beach and then out of the park. But we took a wrong path in the park and ended up hiking another hour to another lookout point. At least we got more exercise and saw more of the park! All in all, we weren`t that impressed with the Manual Antonio National Park or the beaches within. The beaches were nice, but not worth all the effort to get to this part of Costa Rica nor paying the park entrance fee just to walk in. There were the same beaches right outside the park and much closer to our hotel. Glad we went for a day, but no reason to return.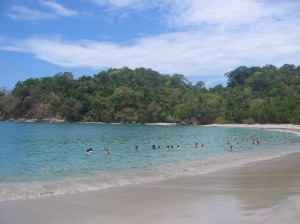 – The rest of the time at the beach was spent chasing sunsets (literally finding the best place to go for sunset cocktails) and then finding dinner afterwards. I wasn`t too impressed with the food and most of the restaurants were really targeting tourists…I mean chicken fingers in Costa Rica – not too traditional. Amanda and I did find one great place to eat where we had lots of guacamole, burritos, quesadillas and such…but it still felt more like Mexican food and not Costa Rican.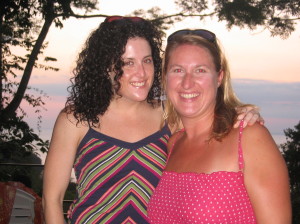 – One good find was called El Avion. This place was built in and around an airplane which was actually shot down by the Sandinista army, and led to a scandal that uncovered illegal CIA supply missions to the Contra rebels in Nicaragua. Years later, the plane was taken apart and brought to Costa Rica and the restaurant and bar was built for us to enjoy. The inside of the fuselage became the bar area and was pretty cool. Plus, yummy food!
– As much as I love a great beach, I was disappointed with the Manual Antonio area in general and much prefer the tranquility of the beaches on the Caribbean side of Costa Rica (not to mention the much better food and less tourist feel). That said…I have been to so many amazing beaches and places and can`t win them all. I`m glad I came here as I always wanted to go to Costa Rica and Amanda and I still had a great time there as we made our own fun and silliness with lots of cocktails and bottles of wine.
– We planned to head north for the cloud forest and debated between the public bus or the shuttle bus geared for tourists. The price difference was $6 vs $39. After thinking it was only 1 hour longer for the public bus and we got to stop halfway to switch buses and have lunch, we were going to do this. That was until we stopped into the office for the private transfer and asked if they had any specials or deals for the two of us. She said no, but then we asked about any discount and she made a call and offered us $22 each (vs $39). So this was a no brainer and we did the group shuttle and leave in the afternoon so we could enjoy another trip to the beach.
– As we spent the morning at the beach, we rented beach chairs (and even negotiated these down) and had some entertainment in the waves. Lots of surfers and even a surfing dog. This one guy was either surfing with his dog on his board or a few times, he sent the dog off alone on the board to surf the waves. It was funny!
– When it was time to leave the beach, our shuttle showed up and we were the only two booked on it, so we had a private transfer and four hours later, we were in Santa Elena – the town closest to Monteverde. This was going to be our nature part of the trip as this area is known for its cloud forest, zip line canopy tours and lots of animals.
Monteverde
– The shuttle dropped us off at the pension we reserved but unfortunately, there were problems here. Since we didn`t rent a car, we wanted to stay in the town of Santa Elena so we had access to restaurants and tour agencies, but this also meant it was full of simple accommodations as those that want nicer places, tend to rent cars and drive out there. The place we reserved didn`t save the right room for us and only had a full size bed. Plus, this was much more simplistic than expected and we decided to look elsewhere to see what we could find. Why did both hotels mess our our room type? We were going to be here for 4 nights and just didn`t want to worry about moving rooms.
– After looking at five other places, we decided to stay at the tree house hotel (as we were able to negotiate a better rate for the 4 nights). This ended up being perfect as we had a large room, balcony and a fabulous breakfast included each morning. We also had a TV and were able to watch silly TV at night which was good as the whole town shuts down early and TV was good entertainment with our scrabble games.
– Our hotel was called Tree House as the whole places was built around a huge fig tree. This was also the best restaurant in town (best as it was the only one that was packed and had live music). The food was fine, but normal tourist fare. I just loved looking around the tree as it was huge and so fun to eat in a tree house.
– Monteverde is best described by Amanda as "crunchy". To me, it reminded me or Oregon or Washington with lots of nature and "granola like people". For Amanda….she thought it was too crunchy and I think she missed city life.
– Our first day we decided to walk the main road and see what we came to as we were told there was a great Argentinean chocolate shop, which made Amanda`s ears perk right up as she loves Argentina chocolate. It ended up being another negative experience as the owners were really snotty to us as we asked some questions and then ordered 10 pieces to share. Amanda really wanted the peanut butter cup (and we made sure to say not the carmel one). So when the wrong one was brought out and we didn`t know until we bite into it, we told them man and he got all huffy like it was our fault he gave us the wrong one and didn`t want to give us the one we paid for. So strange as this just made us want to leave and not buy more. Not sure what happened to customer service, but this place really lacked it.
– One of our goals for the day was to make it to the Monteverde Cheese Factory and this ended up being really fun. We had a very entertaining guide (for a short bit at least). I say this as his name was Ronald (like Ronald McDonald as he told us). Now Ronald was a wealth of information about cheese, the process of making it, how they get the milk from local farmers and explaining what we were seeing as it was being made. After about 10 minutes, Amanda and both noticed how confident Ronald was and how much he loved himself and bringing everything back to himself. In the training world, I would say he had a SUPER high self orientation and wanted everything he said to relate back to him. It got to the point that is was annoying, but we still loved the cheese process and sampling the cheeses.
– That night, we decided to visit the Monteverde Cloud forest for a guided night walk as this is supposedly one of the highlights to the area. So at 7:30, we were picked up and met another couple (making our tour of only four people). They were from San Francisco and were very into nature. Now we didn`t know what to expect from the night tour, but we ended up seeing a metallic beetle, tarantula, many bats, large crickets and teeny winy frogs that I have no idea how the guide found them. These frogs were the size of my tiny thumb nail – no joke! All in all, the night tour was nothing to write home about as there wasn`t much for animals and even with our dim flashlights, we didn`t see much. Amanda and I are really ready to be excited for something…but Costa Rica has turned out to be less than we expected.
– The real highlight came the next day as we were on a canopy tour (zip lining through the cloud forest). Monteverde is where zip lining was invented (like bungee jumping was invented in New Zealand) so we knew we wanted to do this. Amanda had never gone zip lining before and was a little nervous, but after the first line, she was a pro! These zip lines were amazing as we were really zipping through the forest (while it was raining on us in the rain forest). As it rained more, and the oil on the cable got wet and dripped…my pink shirt paid the price. I first got mud drips and then black oil drips and at the end, my shirt was ruined, my face was muddy but I still had a huge smile as it was so fun. I did try to scrub the shirt, but the oil set in and the shirt is staying in Monteverde for someone else to wear.
– On our zip line tour, we met Judy, who was from Tampa. She was so nervous for the zip lines and was crying before the first one and asked to go with a guide. Towards the end, there was a Tarzan swing that was 30 feet tall and essentially you just step off this platform and t hen drop a lot and swing out like Tarzan. It looked scary, but I decided to do it as it was something different and looked fun. Now getting back to Judy…she was so scared of the zip lines and even more for the optional Tarzan swing. But after some encouragement from me (after I did it) and encouragement from Amanda in line, Judy did it and was so happy. She thanked both of us for encouraging her and she said couldn`t have done it without us (and said first round of drinks were on her). The zip lines were really a great afternoon and getting muddy, oily and dirty added to it.
– The cloud forest was amazing as it's a mixture of the water pressure from the ocean and the altitude which creates these layers of thick clouds that just hang in the forest. Even as we were walking around the forest, we would be within the trees, and then see clouds floating by and then it would start to rain on us and then the sun would peak through. There was no constant in weather and the clouds were just fun to watch.
– For our final day in town, we went walked around town and way out to the butterfly garden. This ended up being much more interesting than we thought. We got on a tour with one of the most entertaining guides. She had such a passion for bugs, insects and butterflies and was happy to tell us everything…including pointing out two stick bugs that were currently engaged in sex and had been fore 3 days straight. She pulled out the magnifying glass to give us all a better look at where they were attached together. Then we were looking at some butterfly cocoons that were close to opening and we were there at the right time and watch a butterfly hatch and spread it`s wings for the first time. Right then, the guide said to keep watching at the new butterfly was about to take a big poo (as it had been stored in the cocoon for soon long) and then it went. Such fun in nature. The guide then led us to four different butterfly gardens including blue morphos, other translucent butterflies (yes the wings are translucent) and Amanda and I also got to set a brand new butterfly free in the garden. Our new butterflies had just hatched and were ready for their maiden flight.
– So this week in Costa Rica with Amanda on the Pacific beach and in Monteverde was quite different than my week with Colin on the Caribbean beach. With every destination I go to, people always ask what I liked and didn`t for future trips. I had to say I wouldn`t recommend Costa Rica as a destination to others. I`m glad I came and being here with Colin and Amanda made it fun, not as much the destination. I would say there are other countries with better beaches, wonderful nature, more authentic food and culture and much cheaper. Costa Rica has fallen into the trap of tourism and we really felt it. So I would say why pay to fly here when you can go somewhere else for less and get so much more. Nothing wrong with Costa Rica, but I dont` think I will rush back here and would actually recommend other countries to friends.
Logistics:
Manual Antonio – Hotel Villabosque at www.hotelvillabosque.com – tel: 506.2777.0463
Manual Antonio – El Avion – Go here for dinner as you eat inside an old airplane fuselage.  Good food and drinks and lots of people.
Santa Elena/Monteverde – Tree House Hotel