I missed posting some of my trips in the past couple years…so with extra time during the Covid lockdown, I'm slowly starting to get them finalized and posted.  So maybe we can all enjoy a little more travel fun and look forward to some new places when safe to openly travel again. Enjoy a blast from the past…so here's one from 2 years ago in Aruba in 2018-2019.
After spending Christmas in San Francisco with the family, and enduring the cold and rain, I was off to Aruba and Bonaire for a week of sun and scuba diving with Milena.  Most people asked me "where is Bonaire".  Its one of the 3 islands known as the ABC islands (Aruba, Bonaire and Curacao) and they are the group of islands at the southern part of the Caribbean and just outside the "Hurricane Belt" so makes for great travel year round. 
I will say, it wasn't fun to pack my suitcase with jackets/sweaters and then sundresses/swimsuits but I knew I'd end up in the warm part at the end. 
After a tasty Christmas Eve dinner with the family, my dad dropped me off at BART, and I was off to SFO with my sequin antlers and hoping to see Santa Claus and his reindeer from the airport as I flew east to Miami and then onto Aruba.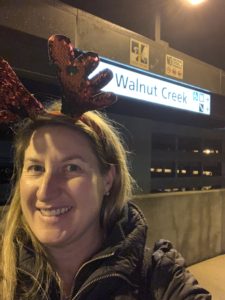 I met up with Milena at the Aruba airport on Christmas Day, and we were off to our hotel on Palm Beach (to take a quick nap and rally for dinner out for Christmas Day). 
While looking for a dinner spot, our hotel said there was a Benihana nearby, so we did check it out as I oh so love Benihana (as I have tried to go to as many Benihana's around the world as I could), but we just couldn't do that for Christmas Day dinner…and I laugh as it was located next to Hooters.
Milena and I were able to celebrate Christmas day with a little Italian dinner, drinks and festive headgear. 
When we first started our planning for the trip, Milena and I knew we wanted to do as much scuba diving as possible and Aruba was known for great scuba. 
What we didn't know when we booked the flight is Aruba is known for a lot of shipwreck and airplane wreck diving, which isn't our favorite.  So we decided to do just one day of scuba diving in Aruba it turned out to be great. 
Our first dive took us down to see a cargo ship that was once used to smuggle drugs from South America.  This wreck had great sea life, large schools of bright fish and a giant moray eel that was keeping watch.  Here's a few of the photos from the dives.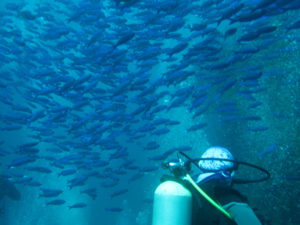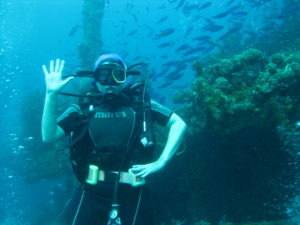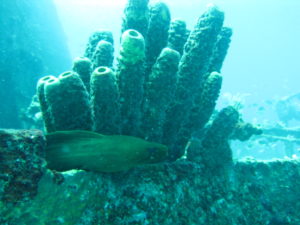 On the ride back, Milena was so cold (in Aruba???) and she needed her North Face Jacket and hot tea.  We also passed another abandoned ship that may one day be sunk.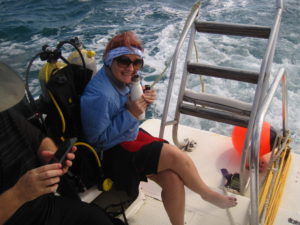 After coming up from our first dive, we had a little break on the beach and I took this photo on the beach…little did I know this would be the last photo my camera and underwater housing would ever take.  I guess the seal broke and water had leaked in and my camera was finally dead.  I have used this camera for the last 10 years, so I'll have to go out and find a new one as I really like taking under water shots.  So the rest of the scuba diving I was going to do was just something to keep in my memory…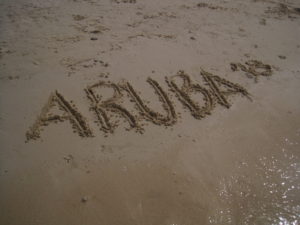 Before leaving the states, I was told about "Fred's Restaurant" and also knew it was known as a special dining experience.  You normally need to make reservations months in advance as they only do one seating a  night at 7pm for 16 guests.  It's a set 5 course dinner for $100 (plus wine pairings as you like).  I emailed to get on the waiting list and luckily got in when they got last minute cancellation a week before we departed.  This turned out to be such an amazing dinner, experience and night and well worth the price.
The next morning we were off to the island of Bonaire for 3 days of scuba diving (more to come under Bonaire posting) and then returned to Aruba for one more day before returning to the USA.
While traveling has it's comical moments, our "short" flight back from Bonaire to Aruba should have taken a  total of 1 hour (flight was only 15 minutes between each island).  So this hour included take off 15 minutes of flight time, stop in Curacao and then onto Aruba.  Without going into the painful flight details, we were at the airport in Bonaire at 2pm and finally landed in Aruba 8pm and most of this time was sitting on the runways at both Bonaire and Curacao with plane issues.
On the return to Aruba, we decided to stay in downtown Oranjestad as I was able to use points and stay at the Renaissance Aruba (Marriott Property) which was a treat.  This also gave us access to the Renaissance's private island (10 minute boat ride away) that was home to a flock of flamingos. 
So we knew that this day in Aruba was going to be the start to the last day of the year and it was fun.    As a guest, you could use this island anytime (we heard you could buy a day pass for either $125/$150 per person but you would have to be at hotel by 6am to get in line to buy a pass at 7am and there was a limited number for sale).  That said…makes more sense to just stay at the hotel, but there is a way if you want.  One plus…the flamingo side of the island is on the adults only side.  They do allow kids to come over from 10-10:30 for photos, so if you are planning on going to take the kids, keep this in mind.  The other beach for families has iguanas so fun too.
So as hotel guests, Milena and I had a lot of fun on the island sipping cocktails and watching and listening to the LOUD flamingos.  They were so fun to watch and the people watching with others interacting with the flamingos was also entertaining.   You can also buy flamingo food and hand feed them.
| | |
| --- | --- |
|   | Subscribe to Blog via Email |
Logistics:
Palm Beach Area
Hotel – Brickell Bay Beach Club & Spa (adults only). J.E. Irausquin Blvd #370, Noord, AW (+2975860900).  $235 a night (including all fees/taxes).  So many of the hotels were quite expensive, but this works and location was key. Great location across street from beach, right on major street with all the restaurants and bars.    There is a strip of about 15 places to eat and drink at around the corner. 
www.brickellbayaruba.com
Scuba – Most of the scuba in Aruba is wreck diving and most of the scuba companies cater to the cruise ships so be aware of this if booking.  We found a company in downtown that dives in the morning and has better location flexibility.     We paid $127 for 2 tank dives and all equipment.  Milena did a lot of research on best companies and safety and this was our winner.  Good company and I'd use again.
S.E. Aruba Fly N Dive (tel +297 5881150)
www.se-aruba.com
Breakfast – Diana's Pancake Place.  We heard this was the best and it happened to be around the corner from our hotel (upstairs above the "I Love Aruba" store).  These are thin Dutch pancakes and quite delicious.  They open at 8am and there was a line when I got there at 7:50am.   They serve them with cheap American syrup and also traditional Dutch Beet Syrup (which was sweet and tasty).
Downtown Area – Oranjestad
Hotel – Renaissance Aruba Resort & Casino.  There is an adult only resort and kid friendly so be aware when booking.  L.G. Smith Blvd, 82 Oranjestad Aruba (+297 583 6000).  I used hotel points for this (35k) but it would have been over $500 a night.  This does give you free access to the private island with flamingos so if important, worth the spend.
www.marriott.com/hotels/travel/auabr-renaissance-aruba-resort-and-casino
Fred's Restaurant – www.fredaruba.com  Must make reservations weeks (or months in advance).  Worth contacting for last minute cancels as that is how we got our spot 2 weeks prior.  Dinner is set menu for $100 a person and they are always booked as one seating a night for 16 guests.