This is a long one…so grab a drink and get comfy
As I arrived in St. Petersburg, I soon realized I was not in Kansas anymore….
The Train Station:
I had no idea which train station I arrived at (and there were no signs, maps, or no one spoke English includng a couple cops and conductors I asked).  So I wandered around tried to find something to help me get my bearings.  It's really had to get to (or find the metro) if you don't know where you are.
Getting Money:
I searched for an ATM to get cash and couldn't find one.  This is a train station and ATM machines usually are everywhere.  I even looked for an exchange booth to exchange cash but also couldn't find any.  So strange.  As I was about to head downstairs and look for something on the street, I found two ATM's.  Yes!  Tried the first one and it wouldn't take my ATM card.  But I noticed a local using the one next to me so I waited and it worked so 3,000 rubles was mine (about $120) – that was the max it would let me take out.
Then I met George (57 year old from Lake Tahoe).  Oh the hours of fun and enjoyment he has brought me is priceless:
When I finished with my ATM withdrawal, I looked over and saw him having problems.  I saw he had a Bank of America ATM card so I asked if he was from the states.  Ends up that he is from Lake Tahoe – 3 hours from where I grew up.  So he and I decide to team up together to try to figure out where we were, and how to get to where we needed to.  Only problem…George's ATM card did not work…ANYWHERE.  He tried the 2 ATM's upstairs, then we found another 10 downstairs and none worked.  He also didn`t have any US cash to exchange (as I found an exchange window) and e didn't have any cash from his last country to exchange.  He was really SOL (well if it wasn't for me).   I really can't image arriving in a city where the language is so tough to speak or read and having no cash at all just in case.
George also didn't have a hostel reservation, and said he would be looking for a once he arrived.  I offered for him to join me as I was going to try to find the metro and get to my hostel (and there could be a free bed/room there).  He said my place was one of the more expensive, and he wanted to try to figure it out to stay cheaper and may dig out the emergency cash at the bottom of his backpack. For me, the extra cost was worth it as the location was right at all the sights so very safe and convenient.   At that point, I said I wanted to get going as I was tired from the long overnight train.  So I offered to buy him a metro ticket if he wanted to come with me (as he thought he would go that way) but he decided to stay at the train station and try to figure it out.  I felt bad, so I gave him 100 rubles as that would get him a couple metro rides if he wanted to head out and his ATM wasn't still working outside.  Figured I couldn't just leave him there with no money and he seemed really nice.  So we parted ways…
I found the metro across the street and got in the line about 45 people deep to buy a token. As I'm waiting in line, up comes George as he said he would rather figure it out with me and head out on the metro together.  So we get our tokens, looked at a map – too bad we couldn't read it and had no idea where to go.  After asking one local and a cop, we figured out how to take one train, transfer and then another.  Only problem is after we got to the platform, we didn't know which side to take as we didn't recognize any of the lettering.
Finally after 1 hour, we got from the train station to the right metro stop.  At this point, George didn't know where he was going, and I was exhausted.   I finally said I was leaving and wished him good luck.  An hour after I found my hostel, he ended up coming as he couldn't find anything else.  From there George and I have been friends and had a great time seeing the city, eating and drinking many beers.
So exploring St. Petersburg – Monday, June 9th:
It's starts to rain, and rain some more and continue to rain for 3 days straight.  Doesn't make for a happy traveler in a new city.  I guess it was what you expect Russia to be.  Grey, gloomy and not a happy place.
But, since I was here, I was going to put on a happy face and go see it all.  First stop was the Hermitage – too bad it was closed on Monday 🙁
On the way there, a nice guy from Tunisia came up to me and started talking English.  He was studying in St. Petersburg and wanted to talk to me to practice his English.  He was nice, and offered to show me around the city and give me a tour.  Normally I would have thought that was nice and may have gone with him walking in well populated areas, but I was tired, cranky and didn`t want to talk to anyone so I nicely said no which he was offended but finally understood once I told him.
Later that night, George and I went out for our first Blini (Russian Pancake).  These are so yummy – kinda like French crepes, but they all have mushrooms and cheese which is great.  After that, we went back to the hostel with more beers to chat with others and figure out what else to do the next day once the rain stops.  Did I mention the door code in front didn`t work before we went to dinner, so we didn`t know if we would get back in.  We figured it was only 10pm and we could chance it and hope it was working or someone else would come later and it would work.  Lucky for us, it did work and we got back in.
Tuesday, June 10th
This  was a day I wanted to go see it all.  So I went back to the Hermitage first and at 12:30, the line was so long, around the courtyard and then some…I decided to try the next day and get up early.  It was about 400 people deep.  Even the line for the toilet was about 40 people deep.  Check out the photos?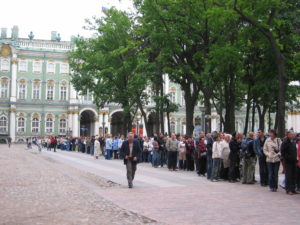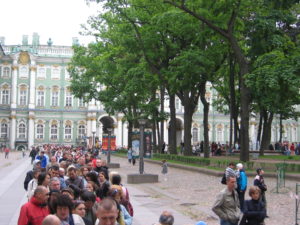 So I decided to wander around and see where I turned up.  I found the river which was nice and very pretty and continued down to see St. Isaac`s Cathedral. This was built between 1818-1858 (long time to build a cathedral if you ask me).  The inside was very ornate with baroque style and the best part was the 289 stair climb to the top of the tower (love how I pay to climb things), but you could see the whole city!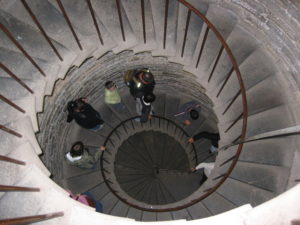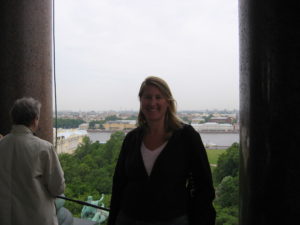 As I came down from the tower…rain and then more rain.  I stopped off at the Admiralty, which used to be the Russian Navy base and then saw the wonderful Russian dress that you can see a photo of.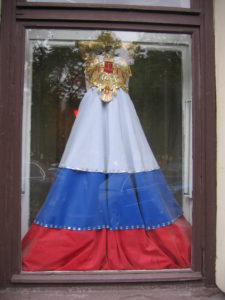 Finally, it was time to stop for some lunch and came across a McDonald`s – too bad it was chaos inside and huge lines.  So I left and went to Teremok – this is the fast blini chain or Russia from the night before.  As I was slowly moving in line, many "friends" joined the people in front of me and as I got to the front of the line and was about the order, the cashier said no, pointed to the line next to me as she was going on break.  No warning just it was her time to leave.  I had waiting almost 15 minutes already, so I put the menu down and walked out (frustrated and hungry).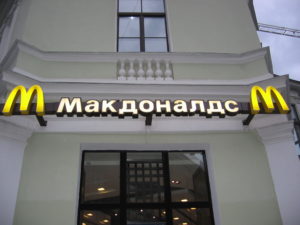 So I was walking further and came to a KFC and decided that would work.  Too bad it was crazy inside as well (and this is all at 3:00pm).  So annoyed and hungry, I went back to my hostel to have some soup that I had in my bag and found happiness.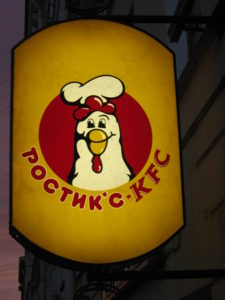 That night, George and I made friends with James (from Australia) and Ana Lucia from Ecuador.  The four of us had a great old time drinking beers and sharing stories and laughing the night away.  I have to say..James is the first Australian bloke that I have met that can`t hold his alcohol.  He was so drunk so quickly and we were all enjoying him as he provided a lot of entertainment.  I was laughing so hard at James as we all went to bed…I think I laughed myself to sleep.
Wednesday the 11th
I had high hopes of getting up early to go see the Hermitage, but I didn`t sleep too well.  George is a HUGE snoring.  So much that be brought a bag of ear plugs with him to pass out to anyone sharing a room with him.  Even with the ear plugs, I woke up at 4am to hear him and couldn`t get back to bed for a couple hours, so I finally got out of the hostel at noon and went to the Hermitage.  It took me 1 hour to get in.  I laugh as in Russia, one person goes to get in line (anywhere – food places, museums, bars…anywhere) and then when that person gets closer, the entire family comes to jump in line.  Not fair!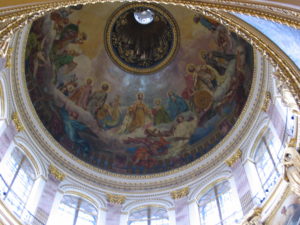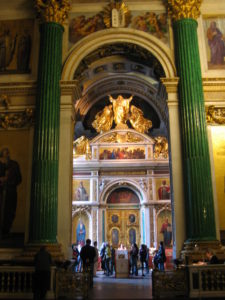 But I finally made it into the Hermitage.   This is also called the Winter Palace and there are over 1,057 rooms and this is one of the worlds greatest art museums with over 3 million pieces.  It is said if you looked at each one for 1 minute, it would take you 5 years to see it all.  I decided 4 hours was enough for me.  Amazing art from the Egyptians (even a mummy was there), to Van Gogh, Picasso, Cezanne, Matisse – lots of pieces I studies in Art History so very fun!
Since it was a clear day, I decided to walk down the main street, Nevsky Prospeckt where all the stores and places of interest are.  As I came to the Kazan Cathedral, I went inside.  This is famous for a saint and there was a long time of women inside that wanted to pray to a photo of the lady.  After a look, I went outside to find a massive downpour – to the point I couldn`t leave as I was in a short sleeve shirt, so I sat down and played Sudoku for an hour until it let up enough to let me walk back and not get too wet.
It was this night that George and I decided to try the 300 ruble dinner special.  There are rules: Main rule was you pay 300 rules for all you can eat and drink beer/wine in an  hour  If you stay over, you pay an other 300 rubles.  So George, Melina (who just met from New York – literally lives 5 apartments away from me on 76th between 1st and York – small world) all headed out to dinner.  Best veggies and salad I had and I made full use of the drinks.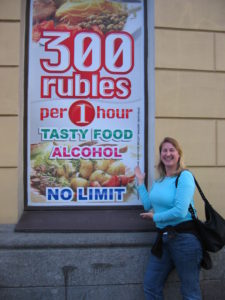 Since it was a nice nights afterwards, we walked around the city and went to the "Church on Spilled Blood".  This was built on the place that Alexander II was assassinated in 1881.  From the outside, it`s what you imagine when you think Russian cathedral with the colorful domes (that are supposed to be candle wicks).  It was truly beautiful!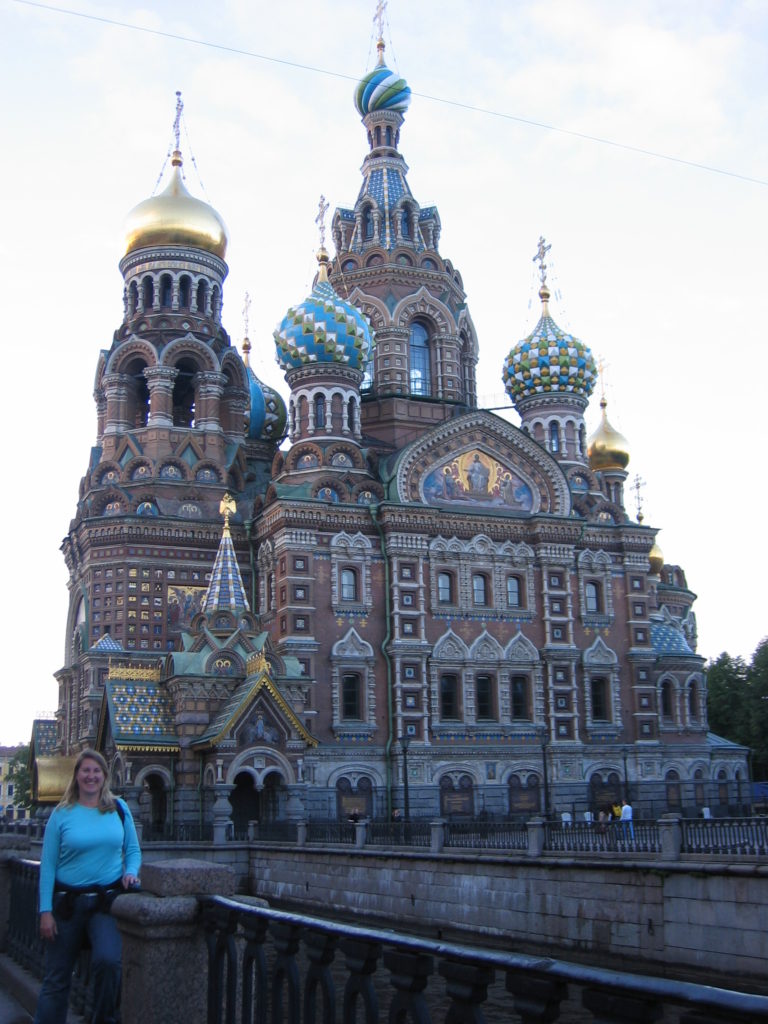 Final full day in St. Petersburg – Thursday the 12th
I decided to wander the city a little more and head over to the Peter and Paul Fortress across the river.  It was the original military fortress and was used as a political prison up till 1917.  It has a beautiful needle-thin spire that you can see anywhere in the city.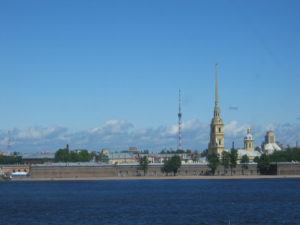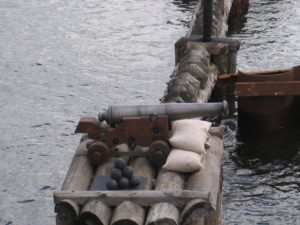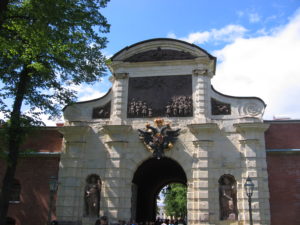 From there, I wandered around town . into the summer gardens and soaking up the atmosphere as it was Russia day (like 4th of July – it`s their Independence day, but they don`t want to call it Independence for many reasons).  All around town, people are having fun, and it`s CROWDED!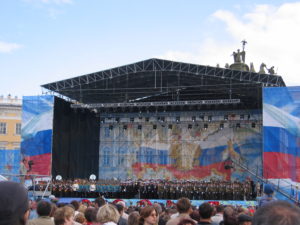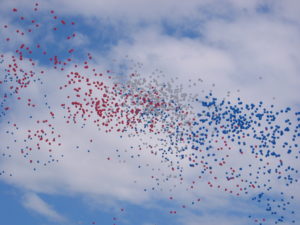 We decided to come back to chill for a while and then head out later for some of the concerts as they are so closer to where we are staying.  It should be light for about 22 hour tonight as tonight kicks off the "White nights" which is the 24 hours of daylight.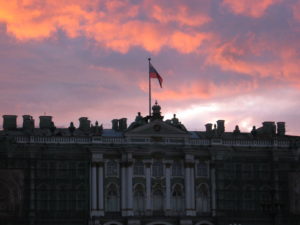 A few interesting notes of St. Petersburg:
1. Women wear nylons and open toe shoes and it`s not pretty.  Fishnets are also popular with the wrong kind of shoes.
2. Russians think mullets are an "in" hairstyle.  We all disagree and have been taking photos of mullets as memories.  I will post those when I finish in Moscow.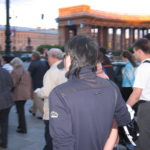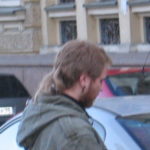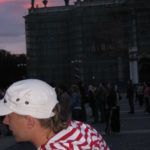 3. If you speak Russian, then say a word to someone and jump in line with them as that`s all right.  Everyone does it.  Happened again last night as a hot guy spoke to a not so attractive women in line and offered to buy her meal (we think) if she let him cut in front.  So not fair, but that`s normal here.
4. What you think is normal…is not
5. Bright blue eye shadow, pink frosted lipstick are in style in Russia – watch out!
6. It's totally normal to have a pet bear and sit next to him in town.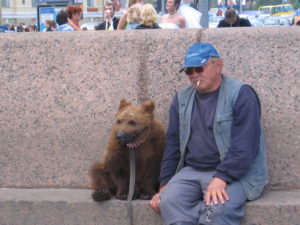 (So I wrote all this last night before going out and had to add to it since last nights party evening.)
Thursday night:
George and I decided to head out at 11pm to see what was still happening for Russia Day and the start to white nights.  As we were leaving, we met Sophia and Isabel (18 year old twins from Canada) that just checked into our rooms and decided to all go together.  So at 11pm, the official party was over, but we had our own drinks and went out to the canal/river to enjoy the view and our drinks.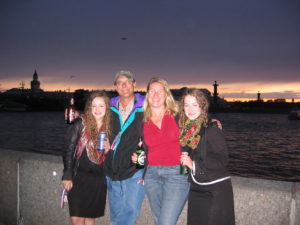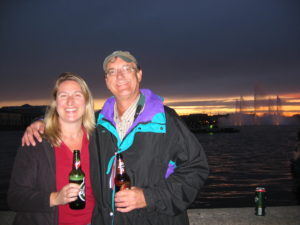 There, we met more locals and were taking shots of Russian vodka that the Sophia had brought with her.  International language of raising a shot works anywhere in the world.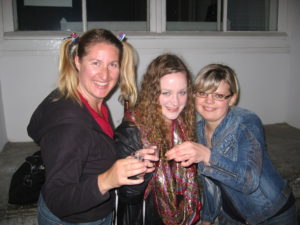 So we were out late, I think it was after 3am when we got back.  And we all got to experience using the porta potties.  These have new meaning as they were literally a bus that was converted to toilets.  Take a look at the photos.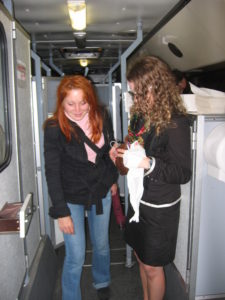 I never thought we would use them as they are so funny, but after all we drank, we needed to and it was an experience.  Like in America, when the line is too long for the women`s – go in the men`s as the three of us girls did. Interesting…
So that`s about it.  Now I`m off to Moscow in a few hours.  I`m going to try to take the metro and then a bus as it will cost me about $2 instead of the $36 shuttle.  That`s a big difference and I have time and patience to make it there (i hope).