Portugal has always been on my list to visit and we headed off for a 10 day adventure.  Portugal will be my 95th country I've visited and I'm excited as the 4 of us have never been to Portugal so it will be fun to explore together.
The unfortunate journey getting there…
As with any trip…getting there is half the adventure.  Unfortuately for Milena and I, getting to Portugal was not a fun adventure.  What should have been an easy flight from Los Angeles to Las Vegas to London Gatwick and then one more flight to Porto…our connecting flight from Las Vegas to London Gatwick was delayed over 3.5 hours and we knew we would miss our separate ticket flight to Porto.  Our friends Kasey and Molly were flying direct from Newark to Porto but it's a little harder to get to Portugal from California as you had to stop a couple times.  So after landing in London, we had to find a new way to get to Porto as there was only one flight a day on the carrier we had.  We looked at buying a new flight that night going sooner from Heathrow.  After considering all the time, costs and such, we decided to take the bus to Heathrow, fly to Lisbon and then figure out either a Uber or train to Porto.  Sadly, everything that could have gone wrong with these new connections did.  The 1 hour bus to Heathrow took us 3 hours in crazy traffic.  The bus took us to the wrong terminal at Heathrow, and we didn't know this until after we checked out bags and tried to go through security and the TSA woman said "oh loves…you are at the wrong terminal".  So we found the train to connect to other terminals, but this train was also delayed as they had to do a security check once the train got to our platform.  Luckily our new flight to Lisbon was delayed.  We finally got to Lisbon after midnight and took a 3.5 hour Uber drive north to Porto.  I think we arrived in Porto about 4:30am and just crashed.  We were in transit for 21 hours of real time plus the 8 hour time zone change.  All in all….we were in 5 airports, on 3 flights, on 1 bus, on 1 train and a long Uber ride.  Lots of transportation and in the end will be worth it to see Portugal.  Feels like we never experienced the 4th of July, but we made it and the fun begins…
Porto and Gaia Towns
We stayed down by the Douro river and were off to explore the city.   We climbed the stairs (I lost count after 500 stairs) to get to the top of the main bridge to walk across to Gaia town.  All the Port Caves were in Gaia town.  We learned the port companies used Gaia town to store port as the taxes were cheaper back in the day and it also faced north so better to keep caves cool for fermentation.
Calem Port Tasting
We knew we wanted to do some Port tasting and started at Calem.  This is one of the few companies that does not export Port outside of Portugal as they keep for local consumption.
They use these larger vats (in photo above right) for over 100 years before selling to Scotland to make whiskey.  At Calem, we tasted the White Port, Ruby Port and 10 year old Tawny.
We wanted to see another Port house that had more traditional caves and walked to the far part of Gaia to visit Ferreira next (and I loved the emu logo).  I learned the emu only moves forward when it walks (can't go sideways and never moves backwards) so this port house wanted to always move forward in production.  It also was started and run by a women (Dona Antonio) who has done a lot within Portugal when women didn't have that sort of role or power.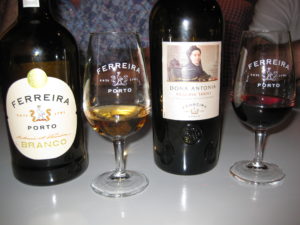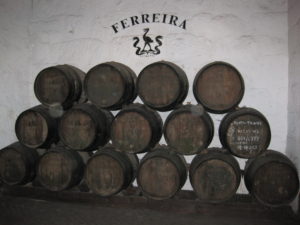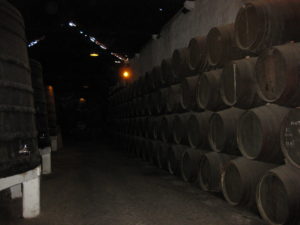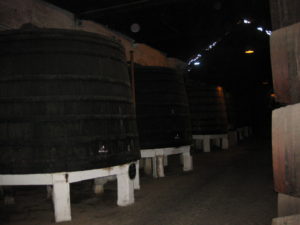 Douro Wine Valley
Our second day in Porto was set aside to do a wine tour of the Douro Valley.  Its about an hour and a half drive from Porto and we had our own driver "Jorge" for the day.  This was such a highlight as the countryside was breathtaking, the vines are all planted on terraced hills and everywhere you looked…it was just so pretty.  We were set for 3 different wineries and expected to try a lot of what they call "table wine" and some ports.  The table wines in Portugal are just delicious and all so reasonable priced.  We have had a lot of white wine here and really enjoyed.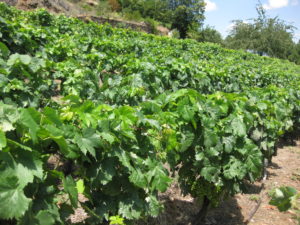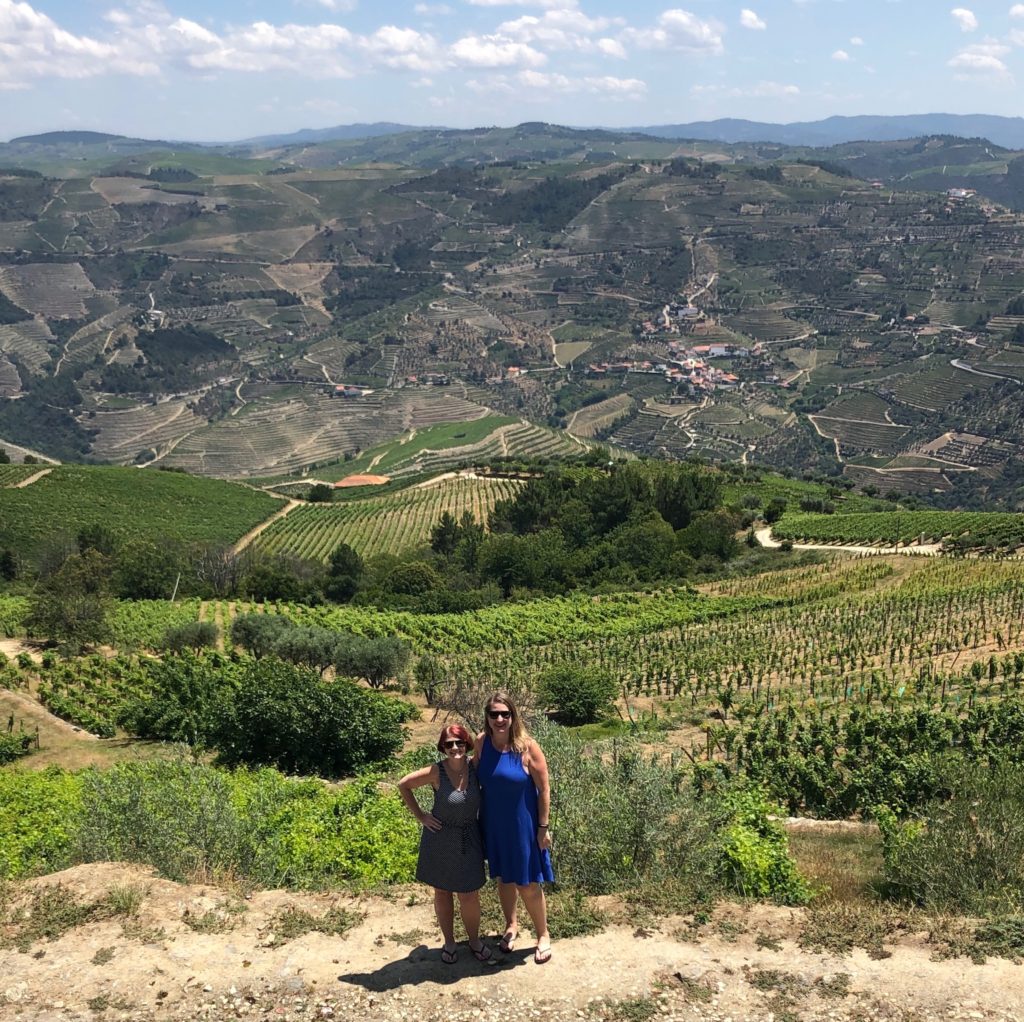 After returning from the Douro Valley, we wanted a nice seafood dinner.  Kasey and Molly had found a great place the previous night and we decided to go back to that area and try another one.  It was about a 20 minute drive from Porto.  So much fresh seafood everywhere.   We even stumbled on a local pirate festival and had a little fun walking around.
So that's it for our 2 days in Porto.  Such a charming town with some of the friendliest people ever.  We had great wines, food and lots of walking around on cobblestones.  I was really happy to have my tennis shoes the first day to walk around.  We fly down south to Faro and then onto the beachside town of Lagos for next few days.
Subscribe to Blog via Email
Logistics: 
HOTEL: Hotel Carris Porto Ribeira.  Rua do Infante D. Henrique, 1, Porto, 4050-296, PT, +351220965786.  It was about $165 a night.  Perfect location right down by the river and easy to walk to all you wanted.  I would stay there again for sure.  www.carrishoteles.com/en/hotels/hotel-carris-porto-ribeira–porto
Wine Tour to Douro Valley.  We booked with www.viator.com and they were great.  Max people were 8 in tour, but we got our own car based on other bookings and cars.  This included 3 wineries and lunch for $98 each.