I'm working to transfer all the data from my 2008-2009 Round the World trip to this new blog.  Since today, January 27, 2015,  is the 70th anniversary of the liberation of Auschwitz, I wanted to go back and re-read my blog post from 2008.  I'm hoping by reposting it today, others can learn, honor the survivors and remember those that did not survive so something like this doesn't ever happen again.
**************
Auschwitz-Birkenau was quite a powerful day.  On June 30th, Steph, Shana, Milena and I took a tour out to Auschwitz-Birkenau to learn more about the most well know cemetery in the world and place of genocide.  I wanted to keep this entry separate as this will be a history lesson and somber discussion and hopefully will be more awareness so something like this never happens again.
Auschwitz started in 1940 as a concentration camp for Polish political prisoners and in 1942 it became the center for extermination of European Jews.  From 1940-1945, the Nazi`s killed about 1.5 million people there, mainly Jews as well as Poles, Gypsies, Russians POW`s and members of other countries.   Almost all women, and children were killed as there was no work benefit from them.  Before taking this trip, I wasn`t too familiar with the specifics of this camp and learned a great deal during this somber yet powerful day.  I went to Dachu outside of Munich ten years ago, but this camp was much larger and extreme.
Our tour started with a 50 minute movie on the bus, to really introduce us to the history of what happened and the set up of the 4 camps.  Our first stop was KL Auschwitz I – which was the parent of "Stammlager" to a whole generation of new camps.  This camp housed many people in barracks and was where many techniques were tested out including the gas chambers, medical testing clinics and others items.  When we entered the camp, we walked through the main gate that read, "Arbeit Macht Frei" and means "Work brings freedom", yet almost no one was free until death and never walked out that gate.
Auschwitz I:
-The majority of people taken to Auschwitz were killed upon arrival.  On every new train arrival, about 25-30% of the people were chosen by the doctors to work (mostly men and some strong looking women without children and they were put to exhausting work).  Those fit to work would be separated to one side of the camp and the rest were taken directly to shower (or they were told).
– In the photos of people going to the camps, they appeared happy as they were told they would be reunited with loved ones after the disinfecting showers.  But this never happened. They were led to the changing room, told to undress and then forced into the gas chamber.  After the gas was dropped in and they all were killed (in about 20 minutes), their bodies were striped of gold teeth, glasses and hair was cut and to later be sold as it was very valuable.
-We were able to see a memorial room for all the items that were taken, including separate rooms of adult shoes, kids shoes, glass frames, suitcases with family names on it, brushes, artificial limbs and one of the most disturbing was a huge room of human hair was was braided and cut off to sell.  Seeing all these items and knowing the number of people these belonged to what very upsetting.  I couldn't even take photos of it.
-Block 11 was the death block.  Here the death courtyard was blocked off from everything.  Mostly Poles were executed in this courtyard and many were flogged or hung.  In the basement of this block, there were isolation cells, including a standing cell (1 sq yard) where 4 men were packed so close, you could only stand for over 24 hours
-There was a medical ward where experiments were done.  The doctors were trying to figure out how to sterilize women faster to stop the races from continuing and women were often killed to do the testing or killed during the tests.  Twin children were very valuable for testing purposes.
These are some of the areas we walked around.  Touring around with our guide and learning the history was very powerful and disturbing.
Birkenau – Next camp we visited
-This was 3 km from Auschwitz and was 425 acres of land with over 300 buildings.  This camp was plagued with lack of water, unsanitary conditions, rats and lack of food.
-The Nazis constructed most of the instruments of mass destruction, namely 4 crematoria with gas chambers.
-We saw the living quarters – long wooden bunks where the people were packed in and not able to move while sleeping.  We were told 10 people slept on each bed that I would say could fit 2 or maybe 3.
-The latrines were just rows and rows of stone holes.  People were punished if they took to long to go or did not ask permission before going.
-We walked along the train tracks that brought all the people in to camp, and only 7,000 prisoners were every liberated and saved from this camp – as there was not time to kill these 7,000 once the Nazis knew the Russians were coming.  They were more concerned with destroying the evidence of the crematoriums than killing these last sick and elderly people.
-At the end of the train tracks, we saw the remains of two of the crematoria and gas chambers that were blown up at the last hours to try to conceal what happened there.
-At the furthest part of the camp, there is an International Memorial to the Victims of Auschwitz and it was unveiled in 1967.  There was a plaque in each language for people that were killed there, and recently an English version was added for visiting English speaking people.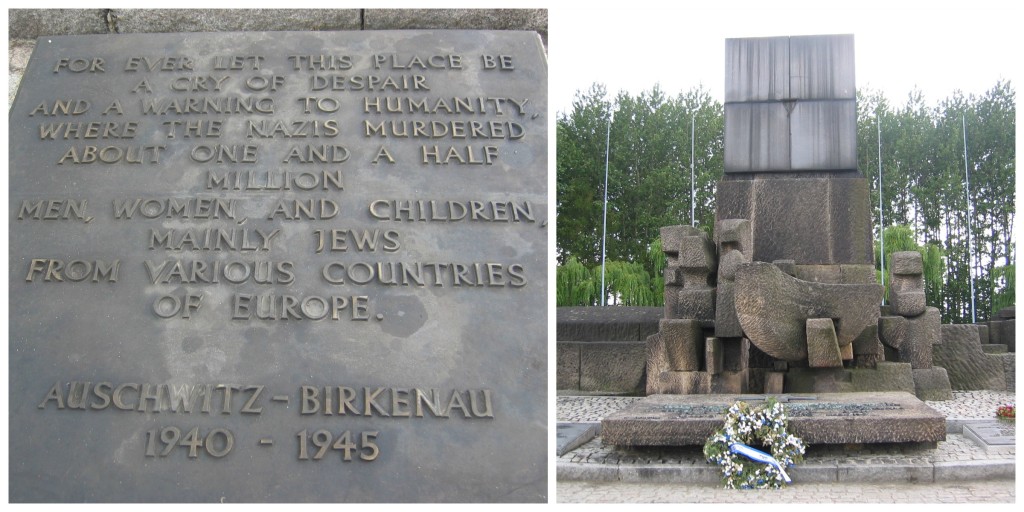 Many people asked why I would want to spend a day in such a sad and gloomy location, and I felt strongly that knowing more about history and what happened and bringing this back to others will help reduce this from happening again.  I could talk a lot about this topic as it was very moving, but hopefully this little amount brings new awareness.