A few months ago, Megan Lester and Alex and I were talking about going to Iceland.  It's been a place we've all wanted to go and finally decided to make it happen…and quick.  We wanted to see the Northern Lights and the season to view them generally ends in April.  So we figured out our schedules, and started planning.  For all of us, this was the quickest and most last minute International trip any of us have planned but in the end…we left the US with everything booked, and lots of fun adventures waiting for us!
Megan Lester (often just referred to as Lester and they just call me Gunn as it's much easier when two Megan's are traveling together) flew separately and Alex and I decided to fly via London.  So with my new fancy credit card (giving me free airport lounge access most places), Alex and I spent a little time in the United Lounge before our 11 hour flight to London.
We continued our Lounge experience in London Heathrow as we went to the Aspire Lounge and Spa for an hour to have lunch and then were off to Reykjavik.
A small little snafu happened at the Reykjavik airport…Alex and I had a shuttle reserved and paid for and all the instructions of where to meet them.  Lester took the same shuttle earlier that morning when she arrived and Alex and I got to the meeting point and waited and waited and waited.  No shuttle.  We asked the info desk and they said we were in the right spot.  Finally we saw more people that were waiting too and we were all confused.  Alex made friends with a rental car company and they called for us and we learned the shuttle people stop working at 5pm (and our flight landed at 5:15pm and we were booked for a 6:15pm pick up).  So how do they take our money and not say they are not working at the hour of our pickup???  It all ended up ok as Alex worked her magic and we got a refund and then booked another shuttle company for 7:30pm.  Just a little delay getting in and our 8:00pm dinner reservation wasn't going to happen anymore.
When we arrived at our apartment right in downtown Reykjavik, it was a cute 2 bedroom apartment on the top floor and a fun view of town.
We quickly changed and were off to dinner and seated to eat at 10pm.  We were all ready to eat anything and ended up having a wonderful meal.  Lester ordered the local Minke Whale, which surprising was very much like a steak…just a little chewier.  Since the whale was there, and our waitress was going on about how "gorgeous" it was, we all tried a bit. We also tried the local salmon and supreme burger with a fried egg.  All three were delicious.
After a long travel day for Alex and me to get to Iceland, and Lester walked the city all day before we arrived, we were all beat and ready for bed.  We had an early morning pick up for our two day tour out of town so ready for our first adventure.
| | |
| --- | --- |
| 1 | Subscribe to Blog via Email |
Logistics:
Apartment: Central Premium Luxury Apartments (#401: Top Floor 2 Bedroom Apt, 4 Beds for $214 a night)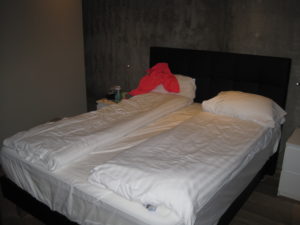 Dinner – Solon Bistro Bar – http://solon.is
Dinner Entrees (See photos above) were about 2,900-5,500 ISK ($25-$48) and a pint of beer was about $10.