After some flight delays leaving Rome, I finally made it to Athens to find there was a metro strike and that was the way I had dırections to get from the airport to my hostel.  Strange part – the strike was scheduled to end at 4:00 PM.  Who plans a strike with an ending time so it can get all the commuters home on tıme?  What`s the point of that as no one is really effected but poor travelers like me???
So I had to fınd a plan B and find an information desk and find other options as cabs were way too expensive.  I found a local bus that would take me to the main city in an hour and then I could take the metro (that should be running when I got there) to my hostel.  As the seasoned traveler that I am, I had no problem and made it there in one piece and even had a little down time to read a new book.
I have to stop here and clear up misconceptions about Athens.  If you were to ask me before this trip what I thought of Athens, I would have said that 10 years it ago it was just a "big dirty city and outside of the Acropolis, see it and get out to the islands fast".  My perception has changed as the city has completely cleaned itself up (probably since the Olympics). Regardless, the airport is new and super nice, the streets are all very clean, the metro is brand spanking new and fast and connects to the aırport.  I will say it`s a new city and worth a good day or two.
My Athens hostel was great with a rooftop bar that had a direct view of the Acropolis – who could ask for more?  I had 24 hours to get myself ready for Colin to arrive the next day – so I got all my logistics done in a day and lots of sleep as I knew he was excited to see everything possible.
I was looking forward to Colin`s visit as it had been almost 3 months since I left New York and saıd I wıll see you later to Colın.  I knew it would be a fun two weeks once he arrıved.  Colin had also done lots of research for our trip and I knew he would be eager to see it all and have a plan (so I got a little holiday from the planning and thinking part to my trip – yea!).  As much as I love to plan, it was really nice to let him decide what he wanted to see and where to go each day, and he planned a great route each tıme!
Colin had heard about the open air theater called The Odeion, and thıs was at the base of the Acropolis.  He found out there was a concert our fırst nıght ın Athens, so we got tickets to see a "Night of Percussion from Greece".  We were in the oldest venue I have seen a concert in, and there were over 200 performers on stage from many cities in Greece.  Lots of drums, singing, step dancing and really traditional dance moves.  We also had front row seats which gave the best view possible.  We also found out how hard REAL MARBLE seats are….  We had small cushions to sıt on (wıth backless seats), but we were both soar from sitting there for over 2 hours and my back was paying the price for the next couple days as I had a lot of trouble walking and we think the marble seats were the main culprit – but still I am so happy we went as it was a great kick off to Greece.
The next morning was going to be our main sightseeing day in Athens.  As I had been to Athens before I was happy to see whatever Colin wanted, and we really saw the whole city in a full and very hot day.    It was close to 100 degrees, and we were dripping with sweat the entire day!  I remember visiting the Acropolis with Vanessa in October, 1998 and there were tourists there, but this time it was crazy packed with tourists everywhere – even super early in the morning when we got there.  It was infuriatingly crowded and really overwhelming with all the people.  I just kept wanting to get away from all the tour groups, but I guess that what we get for high season.
Once we climbed the steep hill to the top of the Acropolis, we were rewarded with speculator views of the whole city.  Within the Acropolis, we say the Temple of Athena Nike, The Parthenon, which is the most important religious shrine there.  We also saw the Erechtheion with the Caryatids (four statues of women that are holding it up – yes the women are always holding all the weight and doing the work…hee hee.
Colin is very interested in ruins, so we were off to see as many as we could including:
1. Ancient Agora – Athens`s commercial marketplace.  People used these buildings for a wide range of political, educational, philosophical, theatrical, and athletic purposes — which may be why it now seems such a jumble of ancient buildings, inscriptions, and fragments of sculpture.
2. Roman Agora – The Roman Agora`s most endearing monument is the octagonal Tower of the Winds, with its relief sculptures of eight gods of the winds.
3. Temple of Olympian Zeus – This was was one of the largest temples in the ancient world and took over 700 years to buıld.  Today, it was mostly a ruin with only a few columns left standıng.
4. Hadrian`s Arch – The Roman emperor Hadrian built a number of monuments in Athens.  He didn`t hesitate to use his arch to let the Athenians know who was boss: An inscription facing the Acropolis side reads THIS IS ATHENS, THE ANCIENT CITY OF THESEUS. On the other side it states THIS IS THE CITY OF HADRIAN, NOT OF THESEUS. and is still a symbolic entrance to Athens.   It was built as a combination sundial and water-powered clock, it became a home for whirling dervishes (which we later saw in Turkey – more explained later)
5. Theater of Dionysos – The new theater seated some 17,000 spectators, yet its hard to imagine as it`s all ruins now, but we could see how far up the seats would have gone on the hillside.
We made a fun day of seeing the city, stopping for beers, seeing more sıtes, eating and drinking more.  It was the only way to deal with the heat and exhaustion.  I didn`t realize how hard walking on the cobblestones would be but my legs, back and feet were super achy.
On Sunday, July 20th, we woke up to celebrate Colin`s birthday with a very early ferry to Mykonos.  For a non-morning person (meaning Colin), waking up at 5am to get the metro to the ferry wasn`t the ıdeal bırthday start, but we were both so excited to get to the islands.  Funny part of our journey…we made both metro connections easily and got to the port earlıer than planned.  We found our departure gate and decided to have some coffee while we waited.  Good thing Colin looked at his watch as we had 15 minutes before our departure and the boat was further away than we thought.  Unfortunately, our boat departure changed (and we didn`t know this) and we had to run back to where we started and our boat was leaving in a couple minutes!!!  We were so lucky as we ran fast (with our bags) and got to the boat and they lifted the closing gate right after us…whew!  It was quite a workout all before 7:30 in the morning!
After a lovely 6 hour ferry ride, we made it to Mykonos and were greeted wıth all the white washed buildings with stunning blue doors and windows.  It was quite the site as we entered the harbor.
Our plan for Mykonos was to explore beaches and relax.  We checked into such a great hotel with a huge balcony overlooking the water and the views were breath taking.  We could have sat out there the entire trip, but alas, the beach was calling me, and we were off to find the bus to the beaches.  The buses were quite an adventure ın ıtself.  There was a brave man that was directing all the traffıc (5 buses in and out of a tiny spot every 15 minutes, plus tons of scooters, cars and people all trying to make their ways in and out of town). How there aren`t more accidents is beyond me.  I actually enjoyed just watching all the traffic come and go.  Once we got the the beach, we were rewarded with soft sand, blue waters and relaxing afternoons in the sun.  Heaven…
To celebrate Colin`s birthday, we first enjoyed a great bottle of wine on our balcony and Colin got to watch his first sunset over the horizon.  I guess I take this for granted growing up in California as I have seen so many beautiful sunsets over the water, but it took Colin`s new experience to make me sit down and really enjoy the deep reds as the sun slowly sank below the horizon.
For all those I have seen over the San Francisco, the Santa Barbara and the Hawaiian coasts, this night was one of the most amazing I`ve seen.
So after our sunset, I took him out to a Greek Fusion restaurant that was so tasty.  The food was great, wonderful garden atmosphere and the staff was very attentive as they knew it was his birthday.   Funny part when they brought hım dessert, they played a Happy Bırthday song over the loudspeaker of the entıre restaurant and ıt played for so long…lıke 8 verses to the poınt we were laughıng as ıt kept playıng and everyone was lookıng at us.
Next day we explored more of Mykonos town, had a lazy morning looking for breakfast and wandering around Little Venice – whıch ıs known for its cluster of homes built overhanging the sea, and finding the famous windmills in town and then we ended up at another beach.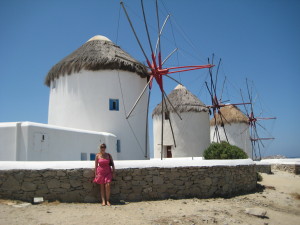 The streets within the town are very narrow, and wind all over the place.  We were told it was to confuse the pirates back in the day, and we got lost a few times as well.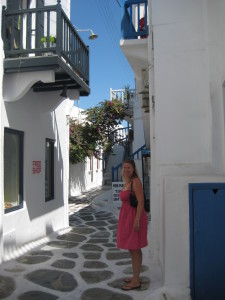 Our final day in Greece we took a day trip to the island of Delos.  Delos was a small island and for ancient Greeks it was the most sacred place, as Apollo and Artemis were born there.  So we were walking in the land of the gods.  This island soon became the greatest commercial center of the world – which is hard to imagine now looking at all the ruins, but from the pictures they had of what it used to look like, it was a huge trading city.  Colin and I hiked around the island and up to the top for great views.  It felt like we were out in the desert as it was so dry and hot and we were happy to board the ferry with A/C.
So Greece was a wonderful 5 days of sun, more sun and sweat, ruins and beaches.  A guess a perfect blend for both of us.    As we left for the airport, I think Mykonos airport wins the prize for the smallest airport I have ever been to.  It was so tiny and we had a quick puddle jump back to Athens and then cruised the airport for a few hours before heading to Istanbul.
Logistics:
Athens Dinners:
1. Kapyatis – traditional Greek – Kapnikareas 39 (210 3223822)
2. Vitro Greek taverna – Greek – 27 makeyghianni St. (+30 210 923.8124)
Mykonos Dinners:
1. Avra – Greek fusion (wonderful back garden.  we went to for Colin`s birthday)- 10 kaligera st – (22890 22298)
2. Blue Ginger – Thai & Chinese Fusion  (filling my craving for Thai after 3 months)- Argyraina – (2289027602)
www.blueginger.gr
Hotels:
Athens – Acropolıs Vıew Hotel  – nice centrally located hotel with views of the acropolis and easy metro access.
(30) 30 210 32 25 891
Webster street 10, Athens – Greece
www.holiday-in-athens.com
Mykonos – Hotel Rohari – such a wonderful hotel with balcony easy walk to everything in town.  Would highly recommend staying there to others
Enoplon Dynameon 10
Tel:30-22890-23160