I finally made it to Denmark on Sunday May 18th.  I had a nice reunion with Amber and Richard in London and was able to sort out my flight details and spend another night with them.  (Thanks again for being there for me).  Lucky for me, I was able to reason with the airline and they allowed me to change my Bergen, Norway ticket to Copenhagen, Denmark.  At first they said no, but then when I pulled out the finances of the ticket they were offering me or what I wanted, my option was cheaper and they let me do it.  Good thing I`m good with numbers and quick on my feet.  Quick easy flight but you had to pay for food AND drinks you wanted.  Yes if you want even water or soda – you had to pay and pay a lot.  The beer was cheaper than the water, but even that was too much for me.   On the flight, I started talking to the nicest lady who lives in town and she told me all the things I needed to do plus two great day trips to learn more about the Danish and Viking history.  I`m glad I met her as those two places were wonderful.  More to come later.
So I arrived at my hostel (right on the river).  This was one of the biggest hostels I`ve stayed in as there were over 1,000 bed…just too bad it was full of pre-teens on school trips and man were they loud!  So I decided to go out to dinner – found another Wagamama (one of my favorite noodle houses from London) and had a nice dinner and then went to Tivoli Gardens.  I was told I had to go see Tivoli Gardens as it`s the number one attraction in town.  What is it…an amusement park.  Said to be like Disneyland but smaller and not as many rides.  That`s about it.  I got there in time for the night time light show over the lake which was nice.
Anyways, my first day turned out to be full of rain and then more rain and to make it even better, on Monday`s everything is closed in Copenhagen (museums, churches, a lot of stores and the brewery) so I spent my day walking around as there was a great 4 hour walking tour that I wanted to do and a canal tour.
So here was my day:
-Started walking to the canal tours as I was told the best way to see the city from the water.  Until it started raining on my walk there so change of plans…
-Stopped for coffee to get out of the rain (found wifi so emailing friends)
-Walked more and stopped for lunch to avoid more rain
-Continued walking and stopped at Irish Pub when it started to rain so hard and I had no rain gear as it was clear when I left.  No stores were selling umbrellas as they tend to pop up in New York when it rains, but at least I found wifi as well and Kilkenny beer (my favorite from Ireland).  Also met a sweet retired couple from Toronto and chatted with them for a while.  They have traveled all over the world many times and had tons of suggestions for many countries so we marked up my travel guide with lots of notes.
-Finally the rain stopped and I was able to continue my walking tour.  Good thing is was self guided and I could go at my own pace.
So I walked all over the city and saw all the big sights including:
-Many quaint Danish streets with all the multi-colored fronts
-Fishing boats parked in the canals outside the houses
-It was so nice as the sun came out of nowhere (to dry up all the rain?) and the city looked great.
-Gefion Fountain – this is supposed to be like the big fountain in Rome, but I don`t think there is any comparison.  It was nice and glad I saw it but it wasn`t that grand.
-Then off to see the much talked about "Little Mermaid".  Now for the amount of talk this statue got around town, I was surprised to see it was pretty tiny.    It was the place to be as every person in town was there to take photos and the canal boats come up real close for photos too.  I wanted to just get up there and start singing like Ariel but decided not to make a scene.
-From there, I cruised through an old fortress – again more cobble stone streets which add such charm
-Ambled through the King`s garden and past the Rosenborg Slot (Copenhagen`s Castle with the crown jewels).  At this point, it was getting dark, raining and I was exhausted.  It was time to call it a night and head home.  I have been running around seeing it all I just wanted some downtime for a change.
So a bottle of wine later, with some cheese and grapes, I finally finished my first book.  I knew I would read a lot of this trip and after 2 weeks, I finally did it.  It`s not that I`m a slow reader, but I was with friends in London and Scotland so no reading there.  So I can finally update my list with a first book read.  Since finishing that on Monday night, I`m halfway done with another book.  Good thing I have left some books with friends to bring me when they visit.
As I was in the Copenhagen, I knew I had to go to the Carlsberg Brewery for a tour and tasting.  After asking for directions, the guy told me it`s too far to walk (looked like a mile or so to me on the map).  He said it`s way too far to walk and would take me about 25-30 minutes.  I later found out people in Copenhagen don`t walk anywhere, but for a city girl, this was nothing.  So I wandered out there knowing I would pass some interesting streets and stores and make a day of the walk and brewery.  Walking up to the brewery was one of the best smells ever.  You could smell the hops and it was heaven.  The brewery was nice and the beer process is pretty much the same as other places.  Big differences were all the different brands of beer under the Carlsberg name and learning the company was in a feud at one point by father and son – which is why there is Old Carlsberg (fathers) and NY Carlsberg (new for the son).  Years later they made up, but there are still two names to the beer.  What do you drink?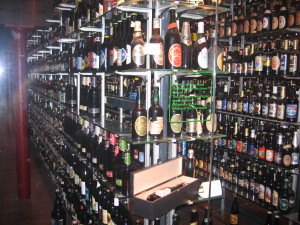 Either the beer was stronger there (which I found out there is a higher alcohol content for what they served in the brewery) or I hadn`t had breakfast/lunch yet as I was feeling a little tipsy after 2 pints and that`s not like me.  Note to self…eat more of a breakfast before going beer tasting.  It made for my walk back a little more fun as I stumbled into the gentleman`s area of town by the train station with all the sex stores and clubs.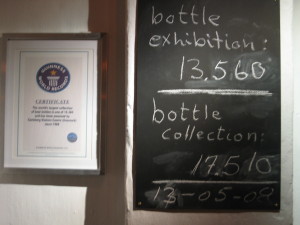 Wednesday I was off early to Roskilde.  This is a city outside of Copenhagen that is on the Fjord and was the home to the Vikings.  This ended up being the most educational day in a while, and I learned a lot more about the life of a Viking and history of Denmark.  On fun adventure, in 2008, the Viking Museum had built a copy of a viking ship and planned to sail it on an original route under the same conditions the Vikings would have been in.  They made a video of it and it was fascinating to see the crew of 102 people (60 sail/row at any time) and what they went through in the 45 day voyage from Denmark to Ireland.  Not that long of a trip, but when you are in a Viking ship and dealing with sails and rowing – it was a rough ride.  Sure makes you appreciate technology now and how quickly we get around.
At the end of the day, I headed north to Helsingor.  This is the last city on the tip of Denmark and across the narrow waterway, you can see Sweden.   As I got in late and my hostel was outside of town, I decided to stay in and catch up on some planning.  I also watched the futbul (soccer) finals that were going on in Moscow.  Everyone I`ve met is very passionate about the games and which team they wanted to win.  The game was very exciting as I was watching it with a German guy, Swedish couple and a few others.  In case you missed it – the game was tied and came down to over time, then a shootout then another sudden death shootout.  I felt so bad with each kick as I`ve been a shooter as well as a goalie in shootouts when I played.  It has to be one of the most pressured situations in sports and it all ended with one mis-shot and all the fans in our room were devastated with the loss.  I just thought it was a fun game to watch.
I decided to come up here as I could ferry across to Sweden easily and also see the giant castle, Kronborg.  If you ever saw the movie Hamlet, this is the castle they filmed it at.  It`s really a huge castle and can been seen from any vantage point in the city – it was huge and quite spectacular!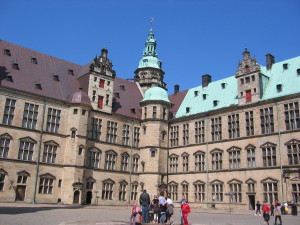 I went this morning and toured the castmates (where prisoners were kept).  Wish I would have had a flashlight as it was so dark and cold.  I couldn`t imagine what it would have been like to be locked away down there.  Also saw all the private quarters, climbed the 144 spiral staircase to the top of the tower for the best view of the city, and enjoyed the castle for the morning.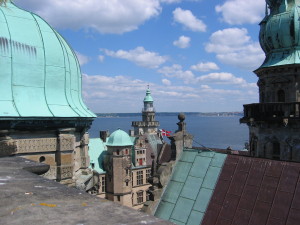 So that`s about it.  I plan to wander the streets a little more for today, try the famous ice cream.  If two locals tell me I have to try this ice cream, then I must to it for the cultural experience right?  Supposedly, this is a family run business for the past 85 years and there is a secret recipe.
Off to Sweden tomorrow working my way up to Stockholm.