We started off our 5 day/4 night trip to Vanuatu on the big island of Efate in the capital city of Port Villa.  This is the main island for the with the most activity (and flights) and best gateway to connect to other islands.  Getting flights in and out was more challenging as they were quite limited.
Efate Island – Port Villa
After a early 2 hour flight and two hour time change (earlier than Fiji), we were all settled into our ocean front hotel.  We decided to walk into town to see some of the local markets, stores and grab lunch.  On the walk in, we were greeted by a welcome sign which we found charming.
We walked along the waters edge and passed many entry ways to the water with safe entry given all the rocks.  Nice addition to encourage swimming.
We also passed a water helipad where tourist can take trips around the islands and we got to watch one land gracefully.
We wandered into the local "farmers market" and found lots of local produce, flowers and handicrafts.
Milena and I both love to go to local grocery stores when we travel and the chip aisle is always the best.  Every country has unique chip flavors.  Vanuatu had Roast Beef, Juciy BBQ Ribs and UFOs (Uniquely Flavored Objects – Burger Flavor).  We bought a bag of the UFOs and while they didn't taste like a burger, they tasted more like a salsa or salty chip.
Dark Chocolate!
Vanuatu is known for it's dark chocolate and we came across two local chocolate factories so I had to sample both and support local businesses.  All had over 72% cacao, only 4-5 ingredients and were quite tasty.  The Gaston factory was grinding and making chocolate in the little shop as we got to see.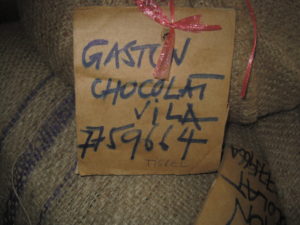 Scuba Diving:
We decided to explore Vanuatu underwater and went for a single scuba dive.  We learned a lot of World War II ships and airplanes had gone done where we were staying so we had to option to dive those or look at some of the untouched reefs and look for a local and rare underwater animal…the dugong!  We opted for the reef, fish and hope for the dugong but sadly didn't see the dugong.  It's like a manatee but has a different shaped tail.  Crazy as they eat about 40 kg of seagrass a day.
Sailing out to the dive location and seeing the landscape of the island.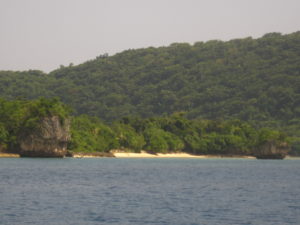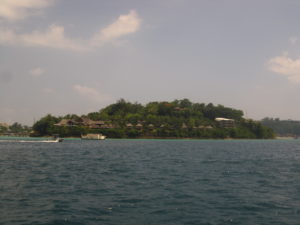 With all the WWII fighting in this part of the world, there were may missiles and bomb left behind.  This is one the dive master knew about and he picked it up to show us.  I assumed it was light given the amount of time it was underwater….but it was so heavy when he handed it to me to hold.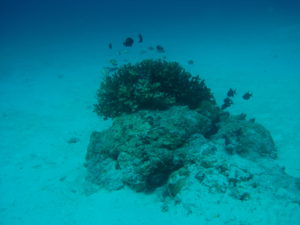 After cleaning up from scuba, we enjoyed a little happy hour at the resort as we watched the sunset and a cruise ship sailing sway into the sunset (literally…)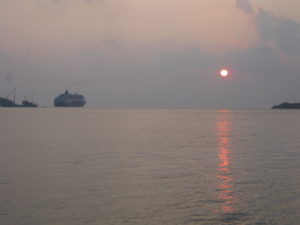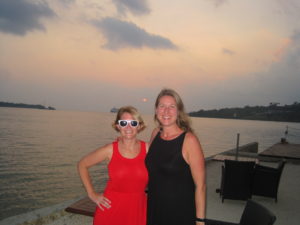 As I was just about to post this entry….I went to grab breakfast and was so excited when I saw this woman making pancakes.  It's not just the pancakes, but they were fish shaped which I find so cute (and super delicious with local honey).  As I was talking to her, the pancake grill reminded me of the octopus balls that were made on the streets in Osaka, Japan.  As I inquired about the grill, she said it was made in Japan and is similar to the one they use there.  So I went back to look at that posting from Osaka in 2009 and brought back fun memories of that trip with Vanessa.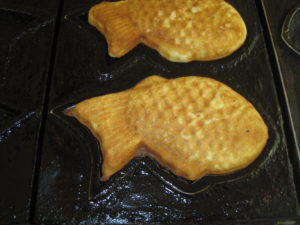 There was a lot more we could have done in Port Villa, but we ran out of time given.  Given the flight schedule and nights we wanted to be on Tanna for a tribe event that only happened on Friday, we did one day in Port Villa, flew to Tanna and then returned to Part Villa for one more day.  So on our return day to Port Villa when we were going to do more, it was raining all day and we were exhausted and took a lazy day instead.  Next time I would want to rent a car, drive around the island for a day stopping at well known waterfalls, beaches, coffee plantation and other little hidden islands (one is called Hideaway Island that actually has the only underwater post office you can snorkel to and mail a postcard)….well next time
Subscribe to Blog via Email
Logistics:
Moorings Hotel in Port Villa.   This was a perfect little hotel right on the water edge.  Easy 5 minute walk into town and close to airport.  We booked for our first and last night in Port Villa in between our trip to Tanna.  www.mooringsvanuatu.com
Scuba Diving – We did our day trip with Big Blue Diving.  www.bigbluevanuatu.com.  Very popular for diving courses, dive trips and well run with friendly staff.