After 26 hours of travel, including 3 planes, 2 trains, 2 boats and a 1 bus…Milena and I made it the Yasawa Islands in Fiji and the journey was worth it!  I had planned to come to Fiji in 2000 with my friend Steph on our way to Australia, but due to some political issues at the time, we had to bypass and just stop and continue.  I always said I'd make another trip and today marks that day.  Milena and I are off for a 2 week adventure starting in Fiji and continuing to Vanuatu (known as the Island of Fire!)  After a lot of reading, we decided to start in Fiji and choose two different island regions for our relaxation and scuba diving.
Starting off my journey on Christmas Day from San Francisco, I got to watch a fantastic sunset of pinks from the sky and now after missing Tuesday, December 26th as we crossed the international dateline, we are getting situated into our first resort and were invited to a wedding at the resort.  Not a bad start…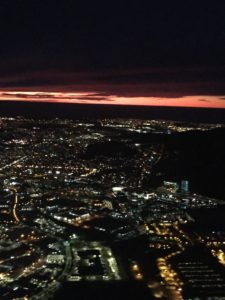 We are staying in the northern part of the Yasawas, on Nacula Island.  This island is known as the Blue Lagoon and it's just gorgeous.  Crystal blue waters, and lush green landscape all around.
The Yasawa Islands are considered more rugged, remote and more dramatic and used to be considered off limits given the distance from the mainland. The Yasawa Islands consist of about 20 populated islands and many locals live in villages and survive on agriculture and tourism.  We decided to take the ferry here and 4.5 hours later, we arrived in paradise. We later learned we could have taken a sea plane and maybe next trip that will be the option I would choose. The ferry was relaxing (in the upgraded Captains Lounge).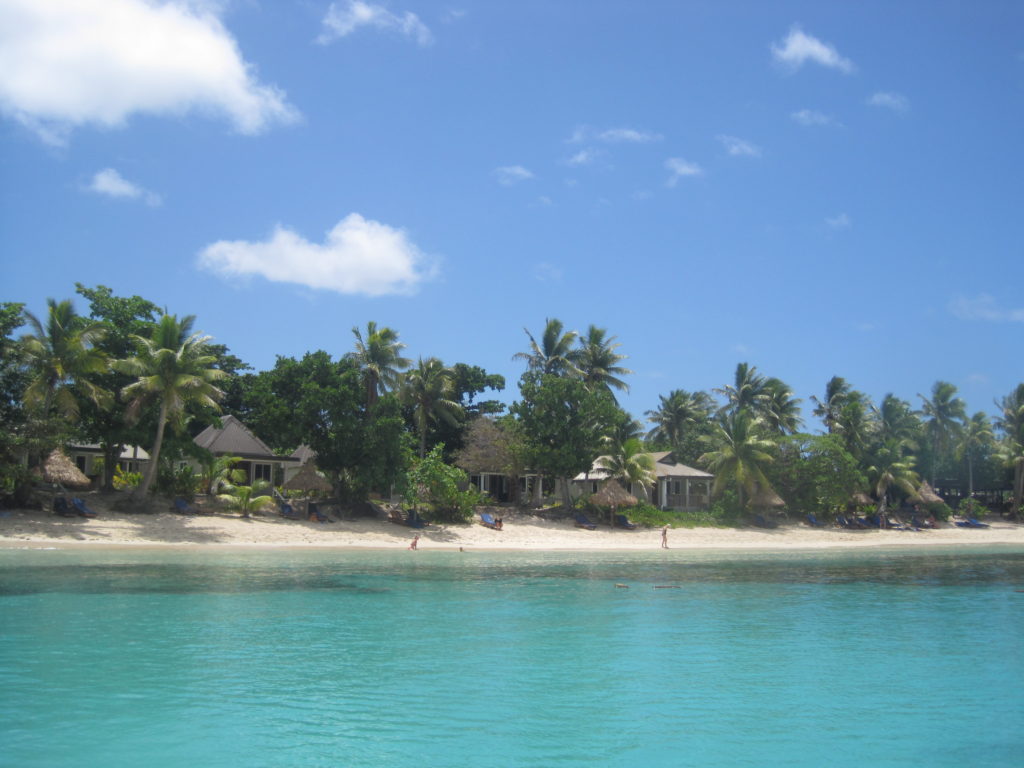 Our first day, we stayed at Oarsman's Beach Lodge and when we checked in, we were told there was going to be a wedding at 6pm and everyone was invited and dinner would follow at 7. I laugh as I heard about Fiji time…and quickly learned. The wedding started at 7:20 (yet we later learned the bride wanted it to start at 5pm). The priest and 2 boats full of the choir were late arriving. So late wedding, later dinner at 8:30, but fun night and gorgeous sunset.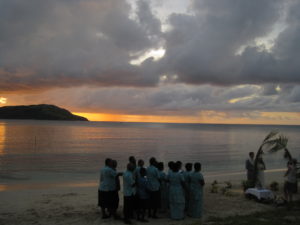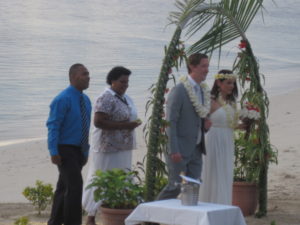 Next morning we moved to the Blue Resort, which was where we wanted to stay, but it was full our first day. The resort was relaxing and beautiful. The water was turquoise blue and just gorgeous.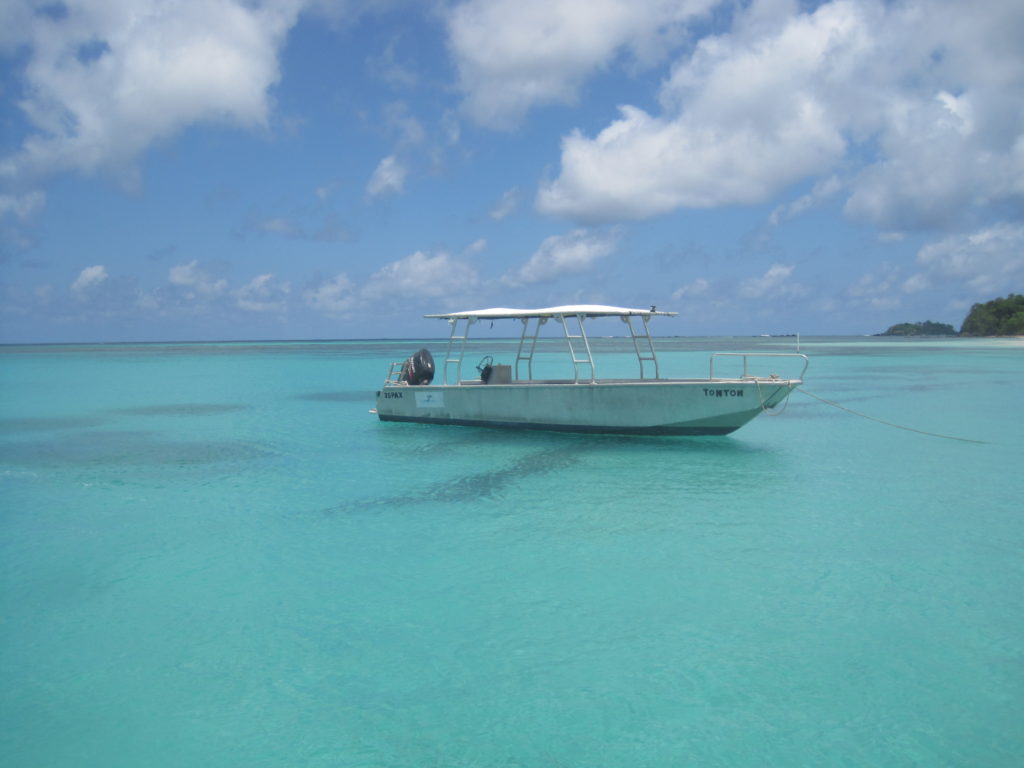 We had full days of breakfast, two scuba dives, lunch, nap, happy hour in the water, dinner and sleep. Then repeat for 3 days.
During one of our scuba days, our captain took us to the location where they filmed the movie "The Blue Lagoon" with Brooke Shields (back in 1980!). Pretty beach but quite small. I actually was wondering how they had a whole movie crew there as it wasn't that large.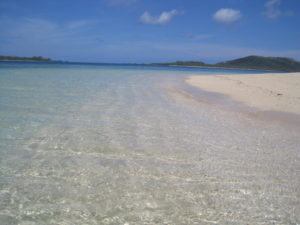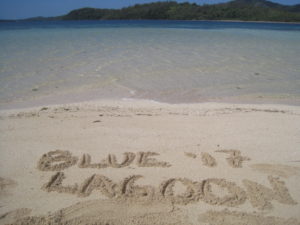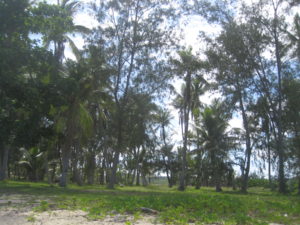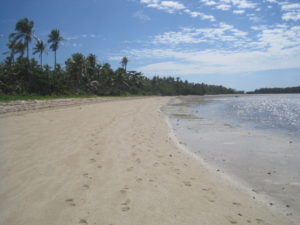 The resort also had some local entertainment including a bonfire after dinner one night…and man did that thing go up in flames fast! Next night the workers put on a local Fijian show with singing, dancing and traditional attire.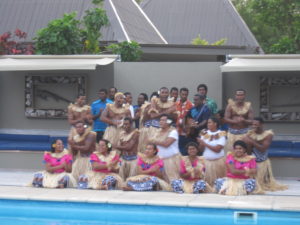 Highlights from scuba diving were 2 white tip sharks, leopard ray (hiding in the sand), beautiful soft corals, the cabbage patch of corals, giant puffer fish, which Milena was able to catch, outswim and we both noticed how big the teeth were and many clown fish that I just love to take photos of…all of Nemo's cousins.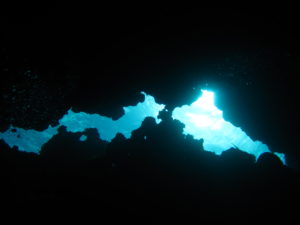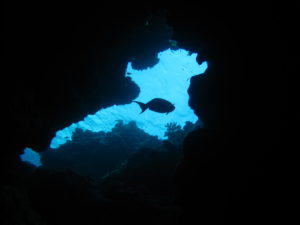 After 3 days in the Yasawa Islands, we have to say farewell as we are moving on to the Mamanuca Islands to celebrate New Years and continue the island hopping.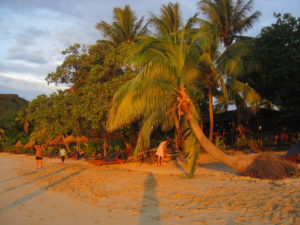 Subscribe to Blog via Email
Logistics:
Oarsman Bay Lodge – www.oarsmanbayfiji.com. We had a beachfront villa, well…actually two. They didn't have a villa with two beds, so they decided to give us each our own villa for the night. Total of $252 FJD ($125 US) including the mandatory meal plan (about $40/45 US per person). Nice simple resort on the beach, but given the choice, I would recommend the neighboring Blue Lagoon Resort for a little more.
Blue Lagoon Resort – www.bluelagoonbeachresort.com. This place held about 100 people when full and included high end beachfront villas ($400 US), to garden villas ($120 US) to more basic accommodations with shared bathrooms for budget travelers. When we checked in, there was a little issue with the room…but they sorted it out and we made the most of it. We ended up in a garden villa intended for a family that could sleep 6…so we had a few extra beds just in case. It was a beautiful beach front with all the extras you would want and the food was amazing. I would return for sure. Like most islands, there is a mandatory meal plan was $60 US each.
Diving – We did all diving with Vertical Blue which was situatied at the Blue Lagoon Resort. Diving in the Yasawas is much less expensive than in the Mamanucas so we did 3 days of diving (6 tanks) for $300 in total ($50 a tank).
Transport –We took the Yasawa Flyer Catamaran for 4.5 hours. We read it was worth it to upgrade to the Captains Lounge and we did and were glad we did. Nice A/C, private seating area, free drinks (alcohol too) and snacks, and made a much better journey.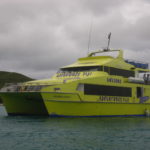 Sea Plane – We didn't look into this as assumed way too expensive. After talking to people, it doesn't seen that crazy as about $120-$180 each way…and only 45 minutes as it normally stops a couple times. I would look into taking the sea plane there (after long international flights and then boating back next time)