When Milena and I were planning our trip and where to scuba…she threw out a radical idea.  "Want to dive with Tiger and Bull Sharks?"  I remember thinking:
I don't know much about those two types of sharks
I don't think I've ever seen one of those sharks
I've never heard dive masters mention we may see these types of sharks on other dives…why???
So this was a real email discussion Milena and I had prior to trip:
Milena: "On Viti Lev (main Fiji island) near the town of Pacific Harbor, there is the option to dive with bull and tiger sharks without being in a cage. Not sure how you feel about this, so wanted to throw it out there. It's called Beqa Lagoon, and it's a 3 hour bus ride from Nadi. If we really want this experience we will just need to figure out the logistics."
Megan: "I'll dive with sharks. I read a bit about this but not too much. If logistics and cost make sense I'm in."
1 hour later…
Megan: "Actually…I read more about this. Maybe not into the Bull and Tiger sharks. I found this article: http://www.sharks-world.com/bull_shark/

 .  Looks like they are the #2 and #3 most dangerous sharks with the most human attacks.  Think I'm out."   

Milena: Here is an article on the dive, you can understand how it works. https://www.scubadiving.com/dive-with-tiger-sharks-in-Fiji

So after a little more research, I said I'm more comfortable with this given the video's I've seen and the "safety" I saw.   These are known as hostile sharks…so it's still a little nerve wracking knowing we are going to dive with the 2nd and 3rd most dangerous sharks….but so be it.  YOLO!
Before we went out on the dive, Milena brought out her travel animal (Tigre') as he wasn't allowed on the boat (as he may try to jump into the water to find his shark family).  Sadly, this was the only Tiger shark we saw but we did luck out and saw almost 30 Bulls sharks.  We were told we were there are the right time of the year as the females have returned with the males so double the amount of sharks.  Whoo Hoo!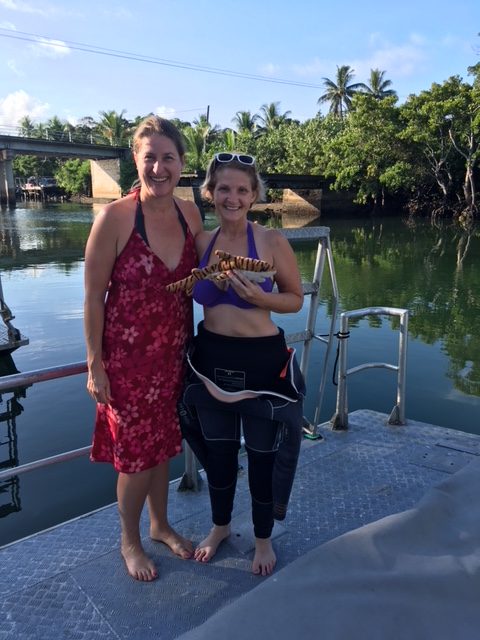 This ended up being one of the most amazing scuba diving and shark encounters ever.  I'm glad Milena found more info for me and we made the effort to get to this special dive site.  As a little more background, we learned this dive encounter was created by the local tribes that used to hunt these sharks for shark fin soup.  When they realized they were killing the shark population off (to be able to sell a $100 bowl of shark fin soup), they stopped this killing process, created a shark encounter and money from this goes back to the local tribes.  This is not a dive where the locals "chum" the water with blood and guts, but rather a control feeding where they do provide fish heads/parts back to the sharks.  The sharks can smell the fish parts but they were only actively fed a few fish heads.  The smell of the fish heads is enough to lure them over.  Unfortunately we didn't see any Tiger sharks.  We were told it had been 29 days since the last Tiger shark showed up at this sight, as they often feed a lot, leave area and return months later.  Maybe next time…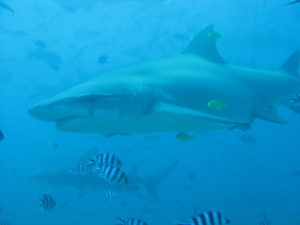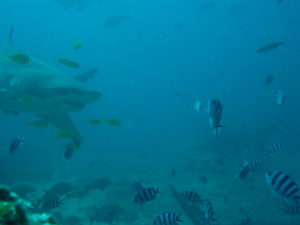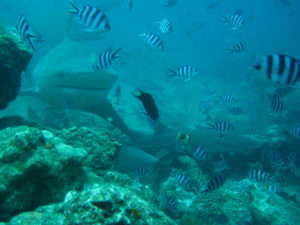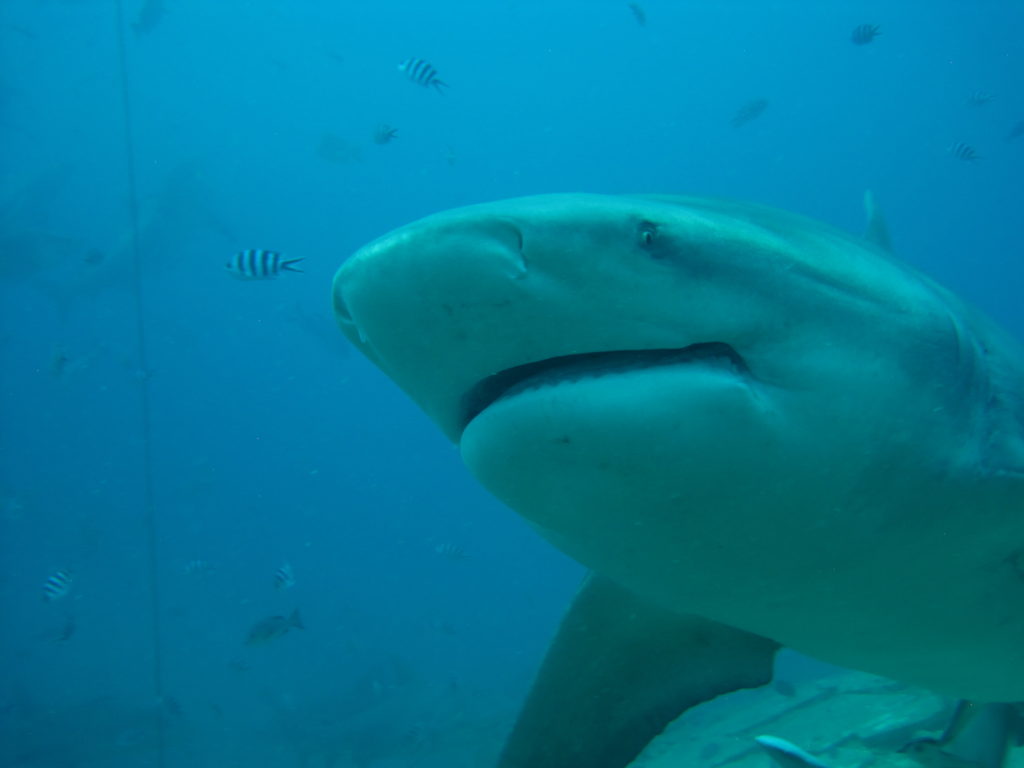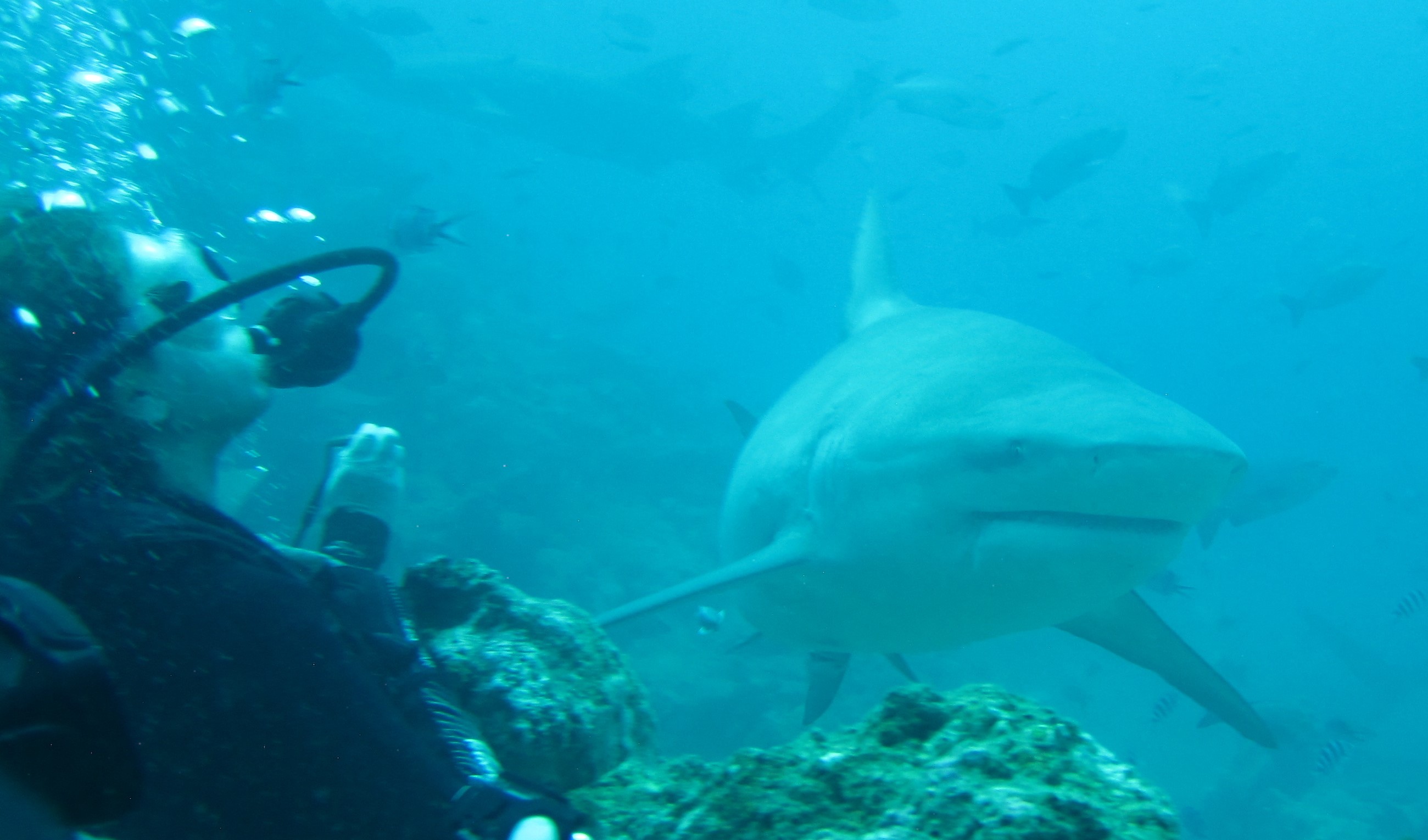 You get a sense of how close the sharks were to us.  We were told not to stick out cameras for "a better shot" and not to take selfies…as the sharks could think your outreached hand is food.  In the photo above, looks like the diver to my left was praying and made me laugh.  I had one guy on the boat in between the two dives say he was trying to take a selfie and I just laughed…I was constantly scanning the waters in front of me, behind me and from above just to make sure I saw where they all were coming from.  Even though there were 7 "staff" with metal sticks…I still wanted to scan for safety.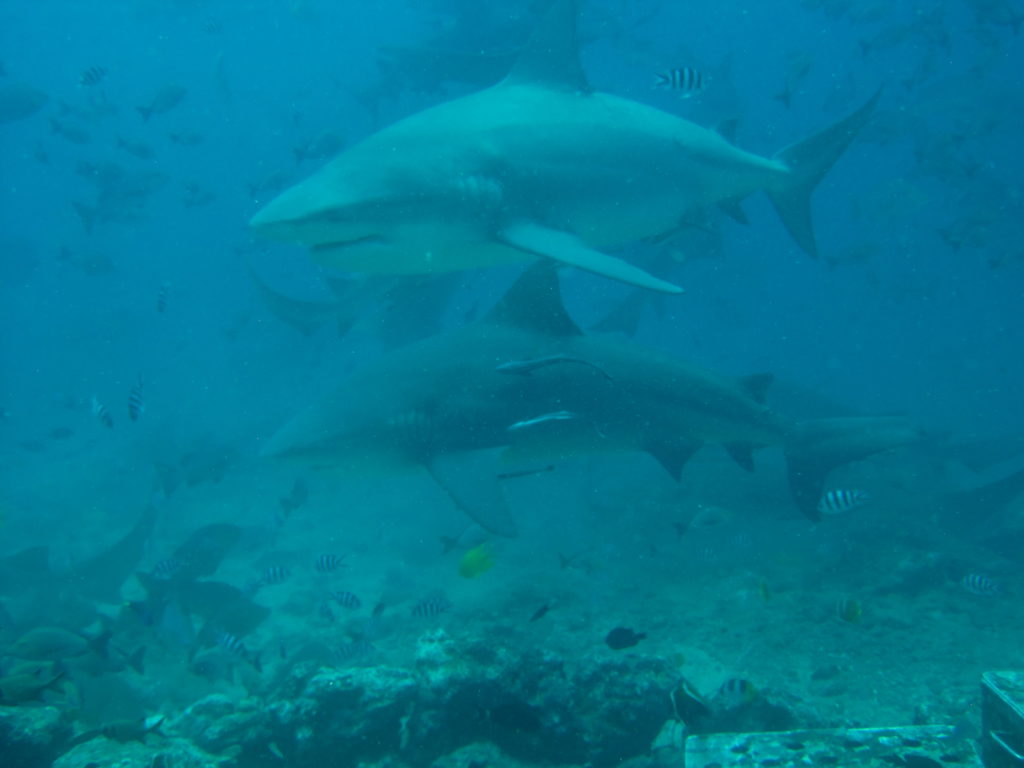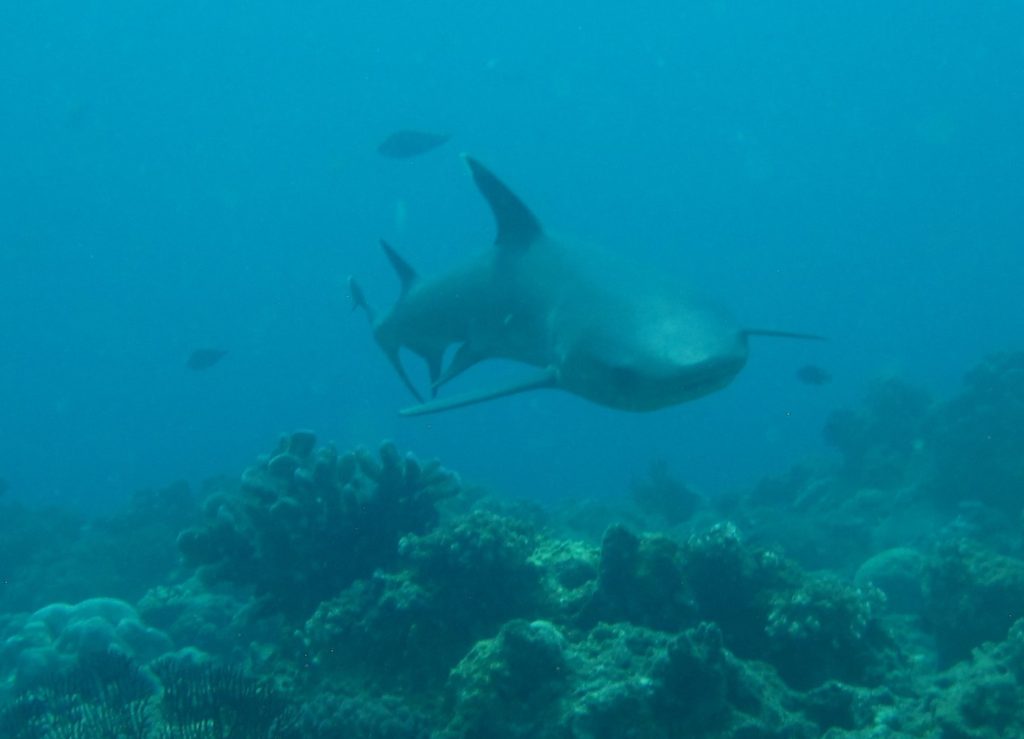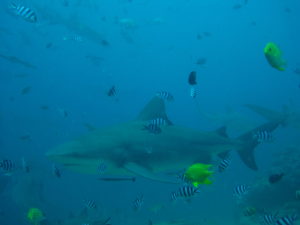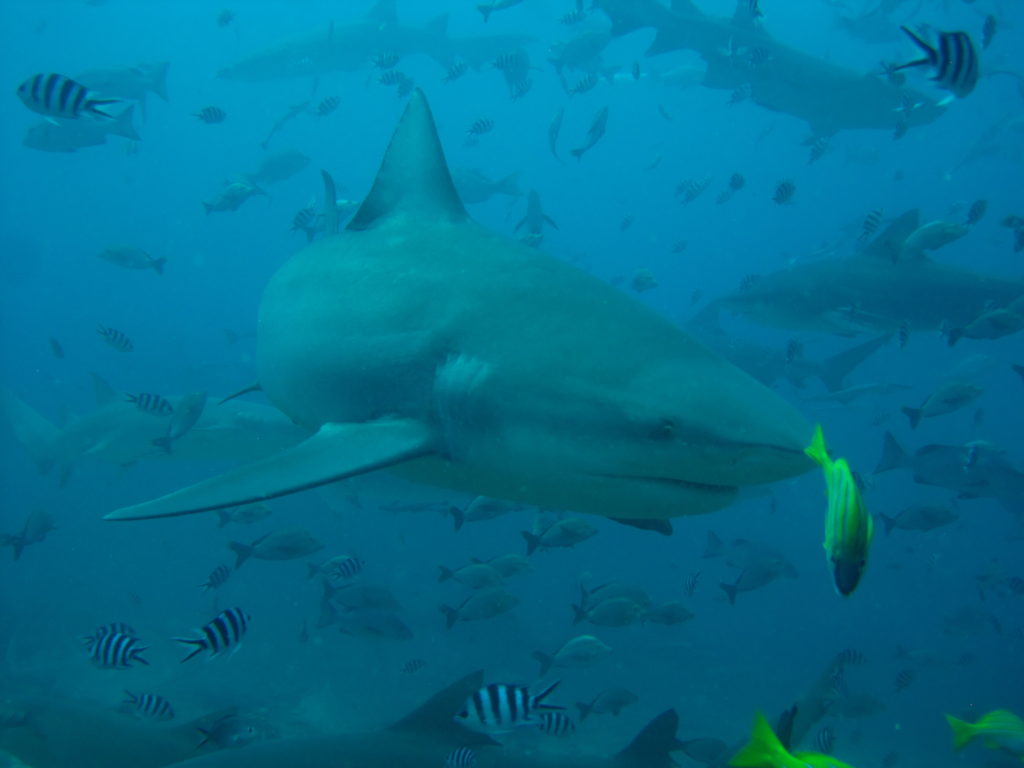 Here are some of the videos I took from the dive.  Click on the links to view in you tube:
Returning To Nadi – Via local bus:
After the amazing shark dives, we were on our way back to Nadi.  Milena and I opted for the express bus back and knew it would be about 3-4 hours.  The dive shop told us to cross the highway and we should see it at 1:15pm.  They also said it's a good idea to go about 20-30 minutes earlier ao sometimes the bus comes early so you want to be there.  Good thing we did as the bus did come early as we just got to the bus stop…so off we went.  We were the only foriegniers on the bus.  All in all, the bus cost $5 US each and our taxi at the end was another $3.  Total cost for 2 of us was $27 FJD ($13 US) and it was a nice bus that played the Titanic movie.
When we got to the halfway point for restroom breaks, we wandered off and the driver came to find us (and ensure we paid).  He made sure we got the last two seats on the bus as more locals got on and the bus was now full.  So much for saved seats!
In addition, the driver was kind and offered to help us to get our final destination (and even offered to stop on the highway at the junction for the Doubletree hotel (so we didn't have to backtrack from the final bus station) and he even called us a taxi to take us the remaining 3 miles.  The Fiji people were overall so kind everywhere we went.
Doubletree Paradise for last night:
Using Hilton points I had earned from work travel, we decided to stay at the Doubletree for our last day so we could use the nice pool and grounds the following day since we left at 9:40pm.  This was a great decision and the hotel was a much needed resort for our last day.  We had to take a little boat to Sonsaisali Island as this resort is on a private island.
We made many new friends at the swim up pool bar and were able to share all the shark stories.
Subscribe to Blog via Email
Logistics:
Transport – Suva Airport to Pacific Harbor – We were going to take the bus from the airport to Pacific Harbor as it's only an hour, but since our flight was delayed arriving, we learned we had to take a 30 minute taxi to Suva town to then catch the hour bus (and this would cost us a total of $40 FJD or $20 US), I asked the taxi driver how much to go directly to Pacific Harbor and he said $90 FJD or $45 US).  We said done and took the taxi.  This was good as we would have missed the bus given the time from the Suva airport to town.
Doubletree Hotel – 
Nadi –
Great hotel and I'd stay again for the last night before flying out.  There are closer hotels to the airport as this was still about 30 minutes away, but perfect for our last day/night.