So I'm a bit late posting this from the trip my dad and I took in March…but here goes. As I wanted the only non-stop flight to Cairns, I used miles and got my dad and I business class seats for our flight north and had to capture the moment for him.
After arriving in Cairns (pronounced like Cannes), we quickly learned we landed right during a massive storm and flood warnings have been issued in Queensland, Australia.  Tropical Cyclone Trevor dumped more than 300mm of rain in 24 hours and it was pouring rain.  Oh great….and we were set to depart for the Great Barrier Reef to live on a boat for 3 days the next morning.  I received an email from the boat company offering to rebook us if we were flexible as they said it was going to be a really, really, really rough boat ride and poor conditions on the reef.  I tried to change our hotels around and make it work, but in the end, this change wasn't going to happen and we decided to just go on the boat trip as planned and deal with the rough seas.  As our hotel was on the far side of town before the trip to the reef, we walked around and went to the night market for a little shopping explored this side of town.  We were a little limited with the rain and such, but made the most of it.
After taking a taxi to the marina in the rain, we were off to the reef.  So a 90 minute boat ride turned out to be quite a rough ride where you really couldn't stand up without falling over and we were all told to take sea sickness pills as it was going to be that rough and it was.  When we reached the live aboard boat on the reef, they almost didn't let us get off the transport boat since it was so rough they didn't think they could safely transfer us.  The crew decided to use a small glass bottom boat to transfer us and it worked and we were now on the live aboard boat for the next 3 days.
Day 1 on the Reef:
I had planned to do a lot of scuba diving (10 dives in 2.5 days) and was warned the visibility was going to be poor on the first day and they were right.  I was lucky to get my own dive guide the whole time based on my advanced experience which was great.  One the first dive, it was so cloudy, I could barely see my guide in front of me and this was the best photo I got on that dive (and this is pretty sad).
On my second dive, the visibility was worse and my guide actually separated from me and lost me underwater.  She pointed out a clown fish (nemo) and I stopped to take a few photos.  She didn't realize this and kept swimming.  When I looked up and saw she was gone, I did what we are trained to do.  Look around for 1 minute and if not go up to the surface.  I had a metal carabineer clip for my camera and started to bang the metal clip on my oxygen tank in case she was near and could come back to my sound.  She was so far away, but another dive guide heard me and came by so we were all together again and surfaced.  I was reunited with my guide and she and I were off, and she said she would make sure to be mindful of pace and photo taking and not leave me alone again.   Being left behind and alone underwater was a first for all my diving expereince…
Here's a couple photos of just how bad the visibility was:
At the very end of this second dive, I saw another turtle swim right past me and got this shot of him.  I just love turtles!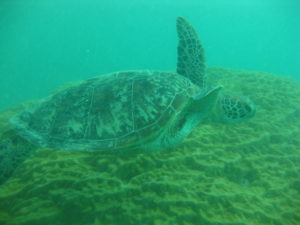 I was able to do a night dive after dinner and it was awesome.  Night dives are often very cool as you see different animals at night, but photos are quite difficult to come out.  We saw giant trevally fish, over 20 sharks and even one shark that was going after a giant moray eel as the eel was trying to escape into the safety of the rock.  I don't think the shark got the eel (or any of us) but it was exciting for sure.
Day 2 on the reef:
We were told the visibility should be better and the early morning (6:30am) dive was usually one of the best with the morning light.  It was amazing as all the marine life were either sleeping or waking up.  I did see a fish asleep and leaning against a rock not moving which was cool.    Here is my favorite clown fish from the morning that I took with my flash.
This second day of diving was my main day in the water.  I was allowed to dive 4 times and could snorkel at the other two water sessions.  On my second dive, we were told we were going to a spot that has a "Tree" underwater we could see.  I wasn't sure what this meant as I've never seen a tree before and all the dive staff were excited as they rarely go to this site and they love it.  So off we went.  As we got in the water, there were a ton of Jellyfish which made the dive crew pause and rethink if we should not go here.  They decided there were not a ton and we would swim around them and we all had stinger suits on to protect us.  So I got a shot of one as I swam around him.  I do love the pink color and shape of the jellyfish.
Here is the famous tree.  While it was a sunken tree trunk, no one has any idea how it got all the way out in the middle of the Great Barrier Reef so it was quite unusual.
On the second day, my dad wanted to get into the water, and we went on a snorkel tour with my dive master to help show the different parts of the reef.  When we were out of the water and I showed my dad from the boat the large area he covered, he was surprised as he saw a lot.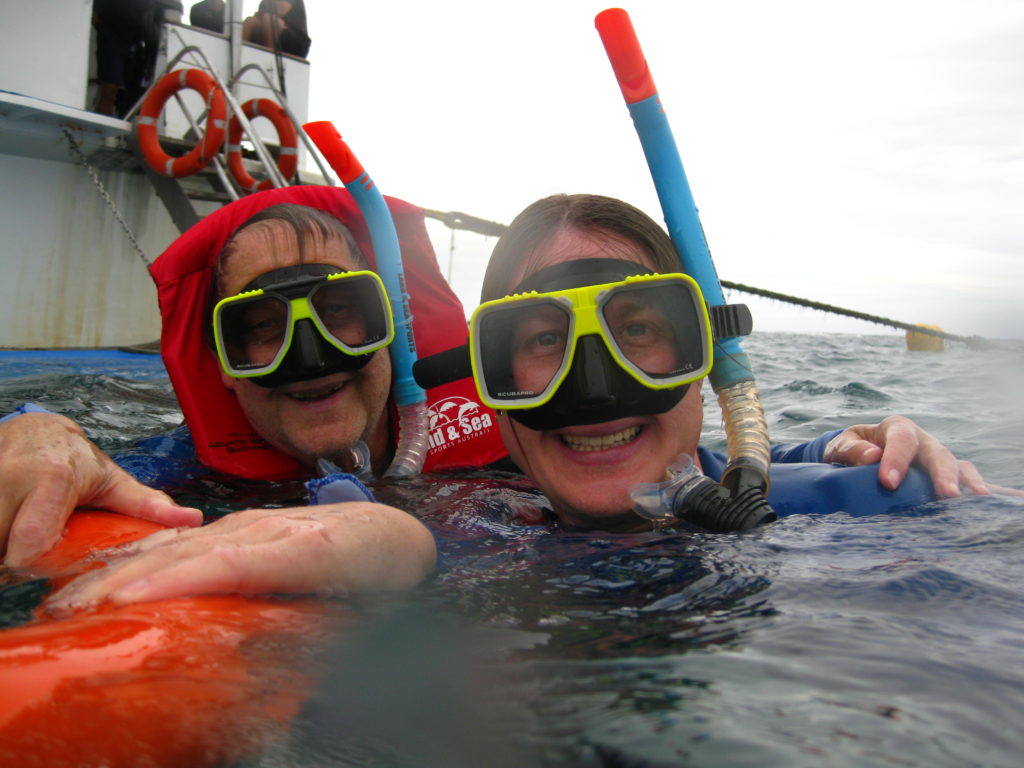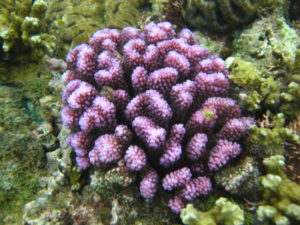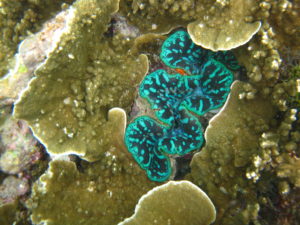 Day 3 – Last day to scuba Great Barrier Reef
This morning's 6:30am started off great with s beautiful sunrise.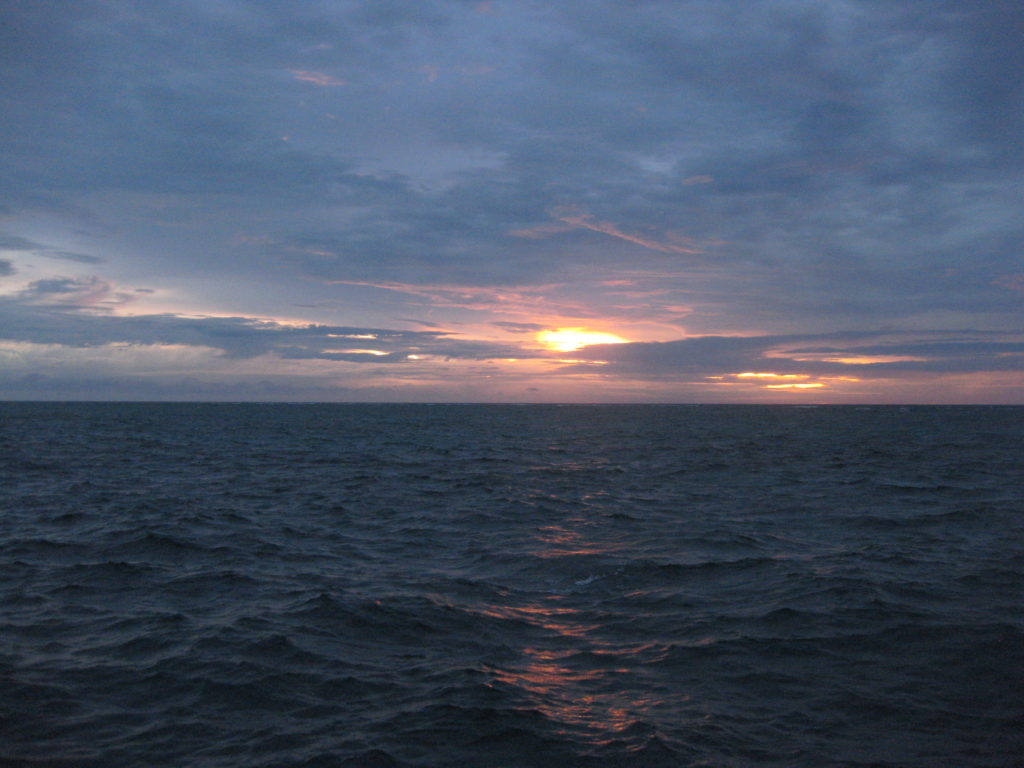 I also asked the professional photographer if she could spend a little time with my guide this morning.  She has a very fancy underwater camera with special lights and flashes (her camera costs over $20,000).  I figured it was worth it to get some fun photos of me and also compare what I could get with my camera vs hers.  Keep in mind she also uses filters on her computer so I'll post some side by side for comparision of what we both saw and took.  Maybe one day when I win the lottery I can afford a super fancy camera.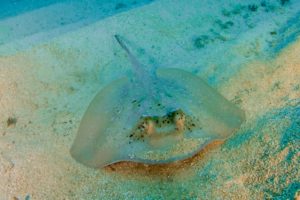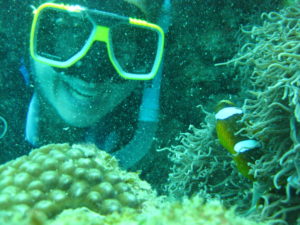 Back in Cairns
After returning from the Great Barrier Reef, we had a day in Cairns and my dad wanted to try some of the unique Australian meats so we were off for dinner.  We found a sampler with a taste of Australia's most popular cuisine (well…maybe to the tourists).  This sampler on the right included barramundi fish,  kangaroo striploin, crocodile (which was way too chewy), emu, eye fillet and tiger prawns.   Nice way to try them all.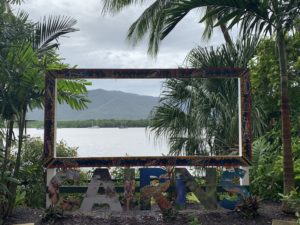 As we had one more full day in town,  and we decided to day a day trip to the town of Kuranda.  This would include a cable car ride over the rainforest and a historical steam train back at the end of the day.  The scenery on this trip was well worth the trip.  Of course it rained on us, but we expected it and even got giant umbrellas as we stopped mid cable car journey for a walkabout.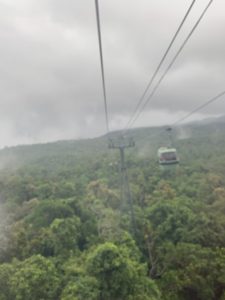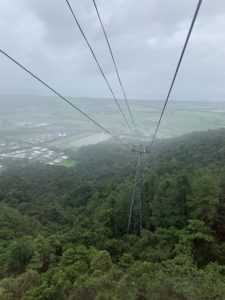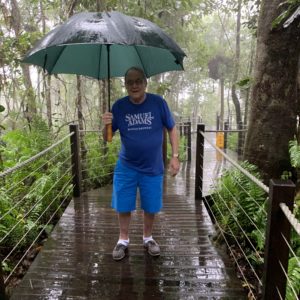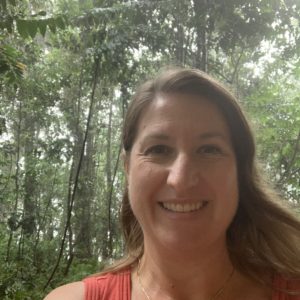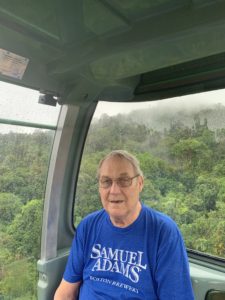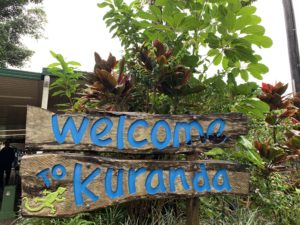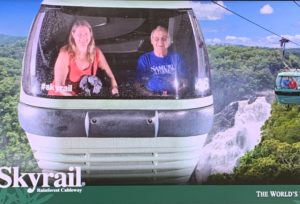 While in the town of Kuranda, we were able to wander the streets for a little tourist shopping and eating.  We came across a local winery that had samples…so we had to try some.  Interesting as this wine was made from Mangoes.  I've never had this before and after trying 7 different types from sweet to dry to bubbles, I brought two home as I really enjoyed them.    I've had pineapple wine from Hawaii and now mango wine from Australia.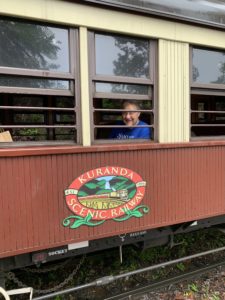 Melbourne
I love Melbourne and even more my great friends who live there.  As I've been to Melbourne now 5 times and most recently 3 months ago, I didn't really take any photos this time.  Vanessa and Chris were amazing hosts and we spent a few days with their two kids and Vanessa's sister Liliana.  Before leaving, my brother said to make sure we threw a shrimp on the Barbie and Vanessa and Chris prepared a great Australia BBQ for our first dinner when we arrived.  The shrimp weren't planned for this dinner, but we threw one on for my brother.  It was quite a tasty BBQ
So after two fun filled days in Melbourne living more like the locals, my dad and I started the long journey back from Melbourne to Sydney to Los Angeles and then my dad's last leg back to San Francisco.  Amazing two weeks in Australia with my dad and ready to start a new job in 5 short days.
| | |
| --- | --- |
| | Subscribe to Blog via Email |
LOGISTICS:
As I tried to use hotel points for this trip, I decided to stay at two different hotels in Cairns.  One before the trip to the reef and one afterwards as it was a better point deal.
Hotel before trip – Doubletree Cairns.  The hotel was great and actually had self service laundry which was helpful.  Only downside was the hotel was a little further of a walk from town for my dad and me.  I don't think I would stay here again for that distance.
Hotel after trip – Hilton Cairns.  This hotel was a much better location and walkable to everything in town and actually walkable from the marina where you get all boats to the reef.
Great Barrier Reef company – I went with Reef Encounter and would highly recommend again.  You can choose the number of nights you want to stay.  We selected 3 days and 2 nights which I think was perfect.  One night on the boat wouldn't have been enough to see the reef and get to spend time in the water.   For a scuba diver for 3 days/2 nights and up to 10 dives and all equipment (and dive master guide) it was 965 AUS (about $675 US).  For a snorkeler only with 3 days/2 nights and all meals it costs 705 AUS (about $500 US).   More details at: www.reefencounter.com.au