I decided I needed to take a last minute trip somewhere and wanted to go further away from California.  I was open to destinations and after looking at cheap airfares, friends to travel with or visit and other fun travel options, I ended on returning to Australia. While I say returning, I was just in Melbourne, Australia for a week and a half 3 months prior in November 2018. I wouldn't have expected to return so soon, but here goes…
I booked my flight and hotels on a Friday night (to depart the following Tuesday…4 days later). Then I thought my dad my enjoy this trip, and I called him Sunday afternoon and asked if he wanted to join me on the trip. He said maybe and asked if I meant Tuesday in a week and a half and I answered, "No…we will leave in 2 days". He got back to me that night and said he was in.  On Monday, I began working on getting him a ticket, visa and other travel arrangements needed and we were off Tuesday for 2 weeks in Australia.
Sydney
After landing Thursday morning, we settled into our hotel right in the heart of Circular Quay (with a view of the Sydney Harbor Bridge) and we were off. First stop was the oldest pub in Sydney, opened in 1841 named Lord Nelson. Figured and I both like beer, why not start there. We wandered around The Rocks region as we walked down to the pub and had a pint and lunch. I also went to this pub on my first trip to Sydney in 2000 so nice to return and see it still there with great beers.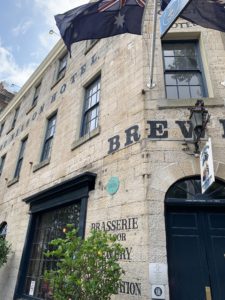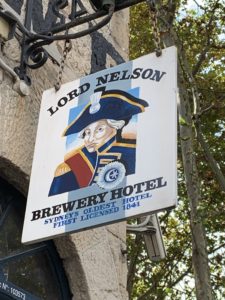 We watched some of the Sydney Harbor Bridge climber go out and return and went in to see more of the history of this. I was considering doing this again (as I did it in 2000), but it's expensive ($300+ AUS/$233 US) and takes up 3-4 hours of time. There is a new express version that is faster but in the end, with the limited time and rain in Sydney, it didn't work out this trip and wasn't necessary.
The next morning I planned to go the hotel gym to workout, but since we were staying so close to the harbor, I thought why not run to the Opera House and around there and see things before it was busy with tourists. I'm glad I did as I felt like I had the whole harbor to myself and could take it all in, take photos and watch the sunrise. I ran back and forth from the Opera House, around to the Bridge and past the back streets in the Rocks. Turned out to be some pretty great photos at sunrise.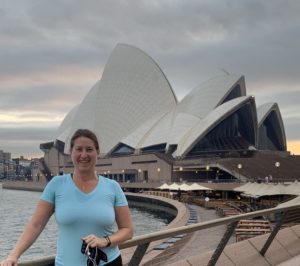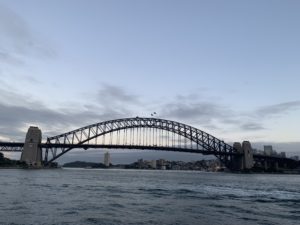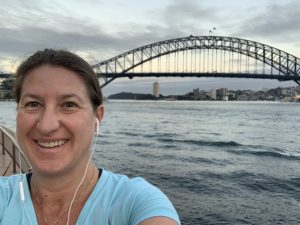 My dad wanted to go out on one of the cruises to see the harbor so we joined on with Captain Cook's Harbor cruise for 2 hours. It was a Friday afternoon so every boat possible was out sailing, racing, and enjoying the sunny Friday afternoon on the water. Here is one of the beautiful racing boats that we saw. We cruised by some of the really fancy homes, Watson's Bay, Manly and the opening to the Sydney Harbor. Nice way to get out and see a lot from the boat.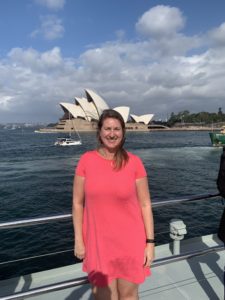 Hunter Valley Wine Region
My dad and I love wine and tasting new wines, so figured we needed to take a day trip to the Hunter Valley for wine tasting. It's a good 2 hours from Sydney and best to go with a tour for the transport and ease of making the most of the time. We left at 7:45am and were back by 6:30 and were able to visit 3 wineries, a distillery and sample some cheese and chocolates too. Full and fun day and I returned with 5 bottles of wine and my dad 2.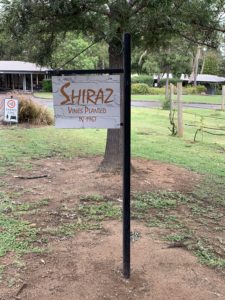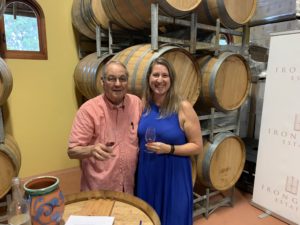 The wine region has changed a lot as I was here in 2000 as well and there are over 150 wineries and the area was beautiful…despite it was pouring rain the entire day. Didn't matter as all the wine was inside and we had someone else driving us in the rain. We went with Zephyr Tours and they were great and I'd go with them again ($135 AUS/$95 US).
After the long day, we were treated to a fireworks show over the Opera House I'm guessing in preparation for St. Patrick 's Day. We could watch from our hotel room, which was great as it was still raining and easier to watch from our room and enjoy.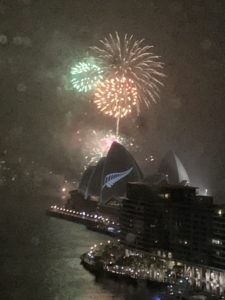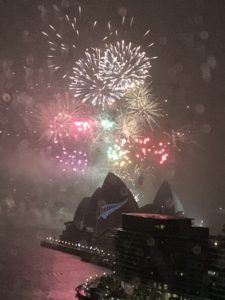 Our final day in Sydney was St. Patrick's Day…and I knew this would be a big celebration.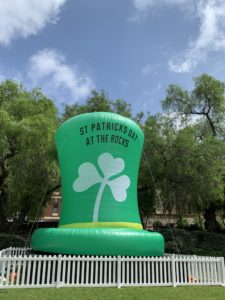 We had planned to head over to Manly beach for lunch and celebrate a little here and there. After braving the rain with a flimsy umbrella, we made it for lunch, watched part of a surfing competition.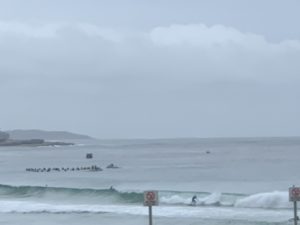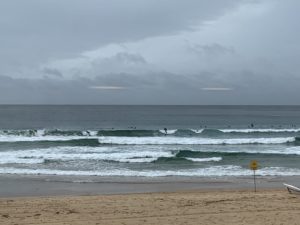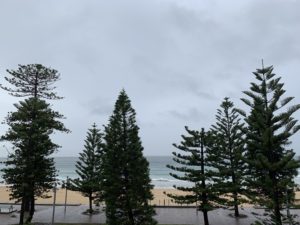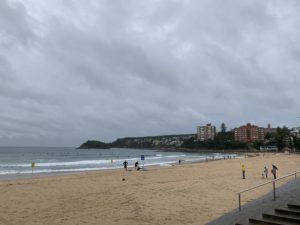 After enough surfing, we then found a local Irish Pub that was in full St. Patrick mode. As I was wearing a shamrock necklace, that I brought from the USA, some local Australian invited us to join them in a prime spot and even bought us the first round of Guinness. Ends up they were war veterans, and now pack parachutes for the military.
Fun afternoon with Guinness and new friends before we returned to visit Bangeroo and Darling Harbor for our last night.  Love the bright colors at the harbor.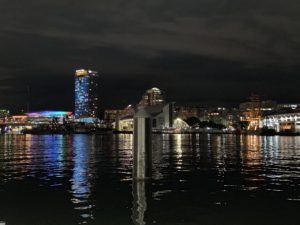 That's it for a full four days in Sydney. As my dad said…we walked over 10,000 steps each day and saw a lot in a short time. We head north to Cairns in the morning to spend a week in the Great Barrier Reef.