October 6-18, 2008
After spending 2 weeks in Thailand back in 2002, I didn`t know when I would be back, but knew I would someday.  I was lucky to be able to travel there with Debbie and Vanessa, and we originally planned to meet there the whole time.    When some issues came up, I decided to spend my time with each as it best was, and with that, it meant I was going to repeat some cities and sights twice, but I was happy to as I could see them with two great friends.
As our plans ended up, I spent time my first week with Debbie in Bangkok, Phuket and Phi Phi and then dropped Debbie at the airport in Krabi and met Vanessa who just flew in.  I was able to have a couple beers at the airport with both friends before Debbie had to return to the states.  Then Vanessa and I returned to Phi Phi island and Bangkok.  The fun part was, it was almost like two different trips based on what we saw and did.
Bangkok
– Debbie and I spent October 6th and 7th there and saw all the big sights (Grand Palace, Reclining Budda, and boat trip on the canals).  Interesting enough, the day we went sightseeing, all the big sights were closed for most of the day as the Queen (or a family member) recently died and there were mourning ceremonies so all temples were closed.  Figured it was our luck.  So we hired a Tuk Tuk driver (open air motorized 3 wheel vehicle) to take us around the city to other temples until 2pm.  It was pretty fun as we got to see local markets (with trucks full of pineapples) and all the hot pink cabs you can imagine (as they are so common).
-After our first temple the driver wanted to take us to a tailor shop to have us get a suit made. I figured Debbie wears Scrubs and I have no job right now and don`t have extra cash…so why go?  We didn`t want to but he told us he gets a free gas coupon if we went, so we figured 5 minutes wouldn`t kill us and we had time to waste.  After that store, we were taken to a gem store around the corner as he had to take us to 2 stores to get the gas coupon.  Sneaky, but knowing we weren`t paying a lot for the tour (50 Baht or $1.50 for 2 hours), we went and spent 4 minutes and left.  It was a good deed for the local.
-Vanessa and I returned to Bangkok on October 18th and spent another 2 days.  This time, I got the luxury experience at staying at the Intercontinental hotel.  This was such a wonderful treat as it was a fancy 5 star hotel.  Vanessa works for the hotel group and was able to get us a special employee rate.  I seriously told her that she can see the city on her own as I just wanted to enjoy the hotel for two days, but alas…I wouldn`t really do that.
-The plan in Bangkok with Vanessa was similar as we saw the big sights as I did with Debbie.  Vanessa also wanted to shop for fun little items and I was her professional negotiator (as I do like this and know it`s part of the culture here).
– Time in Bangkok Vanessa really wanted to get a suit made, so that was a fun experience and I was part of the team to get it fit and more importantly to bargain for the best deal possible.  Those of you that know me, know this is a great skill I learned from my mother and I know she would be proud of the deal we worked out for the suit.  Within 24 hours and 3 fittings, we saw most of the suit and it looked great.
-Vanessa and I also cruised on Koh San Road, which is the famous backpacker/travelers street (that I would never want to stay at) and we are glad we only went for a look and a drink as it was loud and crazy, but quite an experience to see.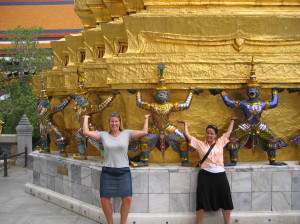 Benihana Bangkok:
-I knew there was a Benihana in Bangkok.  Debbie knows how much I love them and has been a few times with me in New York, so she agreed to go with me in Bangkok.  Great friend!  It was an interesting meal as our chef was very entertaining.  He even trusted Debbie to toss a fresh egg into his hat (new stunt even for me).  First one missed and broke, next one she nailed in the hat.
-One funny part as we were leaving dinner, two older, western men arrived at the table next to us with their very young and local "dates" for the night.  It was pretty wrong as both men had wedding bands on and were quite sleazy.  We knew these were not their wives, but then again we saw these pairings of men and local women a lot while we were out.
Phuket:
-Debbie and I flew down to Phuket for one day and found a great beach side resort.  What can`t you love with 5 swimming pools (one with my favorite swim up bar) and the beach across the road?  We had a wonderful and quiet day relaxing there in the sun.
-This part of Phuket was badly hit by the Tsunami in 2004.  It was crazy to imagine what would have happened seeing where the beaches were and the highlands that some people were able to escape to.  The part of the beach we stayed at, Karon, was one of the most tragically hit, so we did take some time to reflect.
-When Vanessa and I returned to Phuket to catch a flight, we had about 3 hours to kill.  So what better way than stroll around a local shopping market (and we found Tim Tam biscuits from Australia which I love).  Then off for a latte and finally one of the best foot massages ever.  We had an hour long foot massage and it was like nothing I have ever had – all for 250 Baht or $8.  Such a great way to spend an afternoon!
Phi Phi Island:
-Debbie and I spent 3 days here and learned what total devastation was.  This main part of Phi Phi island was completely destroyed by the Tsunami.  We were later told, by a tour guide, that all that was remaining on this island after the Tsunami was one palm tree.  So even four years later, the entire little city was rebuilding and construction was everywhere.
-We also learned a lot about the Tsunami as it took 10-15 minutes to have the water go out and in (about 3 times) before it crashed on the beaches.  There was even an underwater dive site that had a memorial to see, but I wasn`t able to do this.  No diving this time around.
– While in Phi Phi, Debbie and I struggled through 3 days of beach time, pool time (with another swim up bar!), and trying lots of local places to eat.
-The boat tour of Phi Phi including seeing the famous Maya Beach that was made famous by Leonardo Di Caprio in the movie "The Beach".  I will say it was pretty.  Debbie and I also snorkeled on this trip and were pushed around literally by other tourists that were rude and pushy, but that`s ok…we still had fun and just waited for all the pushers to get off and on the boat first.
-I returned to Phi Phi Island with Vanessa on October 13th.  This time we went to the Holiday Inn Resort on the other side of the island (didn`t know there were different parts to it).  After a 30 minute boat ride, we came to a beautiful resort.  Here was our fun game…how many couples were there without wedding bands on?  Not many as EVERYONE there was on a honeymoon.  We started to laugh as we were one of maybe 2 groups that were not on a honeymoon.  That was fine as we had a great bungalow, enjoyed happy hours up at the mountain bar and had a great time people watching.
Some of our favorite guests were:
1. Purple Speedo man (see photo) –  At first, we saw him taking photos in his speedo around the resort.  As the day progressed, he was taking photos everywhere in his speedo.  Then he came to the sunset bar and still was bending everywhere taking photos and I was able to get one of him.  He was priceless and allowed for many discussions with Vanessa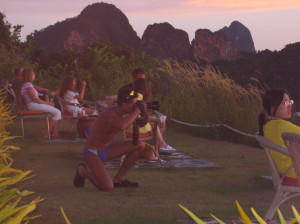 2. Open bathrobe at breakfast man – This guy must have rolled out of bed, but a bathrobe on and came to the large dinging room for breakfast.  Vanessa first HEARD him chewing so loudly next to our table.  Then when I saw him sitting there, I see that he was wearing nothing but shorts and his open bathrobe.  Seriously…not something you want to see at breakfast – even for his new wife.  I will say neither he or his wife had any table manners and Vanessa and I almost switched tables.  We did see him all over the resort for the next couple of days and just laughed
3. Angry honeymoon couple – Vanessa noticed them first as they both looked so unhappy.  She looked bitter and just pissed off.  They didn`t talk and just sat at dinner or the bar in silence looking at different directions.  We so wanted to know what was the issue, but we couldn`t hear the few times they did talk to each other.
4. OVER-Chatty San Diego Woman and her poor little model daughter: – We met the mother on the beach our first day and she heard us talking and wondered where we were from.  She seemed nice and we started talking to her.  Little did we know she would talk our ears off for over 2 hours and had such a rich girls outlook on life.  She obviously came from money, but wanted everyone to think she was down to earth and one with the people as she was a "social worker" as she kept telling us.  All in all, a really silly conversation and the longer she spoke, the harder it was for us to get away.  Then her poor little model daughter, who had no one to play with at the honeymoon resort, had the same outlook on life.  We even tried to be nice and invite her out for drinks with us (as the only non honeymooners at the resort) as she was complaining about no night life, but in the end, she was too connected to her mother and didn`t want to come out to the bar to drink with us.
The Food:
-The food was great.  I love Thai food and think I had Pad Thai 10 of the 12 days I was there either for lunch or dinner.  Couldn`t get enough of it as each time is was different.  Only difference with the food this time in Thailand…nothing was spicy.  I remember 6 years ago that everything was super spicy and no one understood how not to make it spicy.  I had to add more chili to almost everything, and then it was good!
-Pineapple cocktails – I love them!  Pineapples were everywhere, so why not order some crazy punch in a whole Pineapple.  It was heaven and so reasonable at $5 per drink!
So after 12 days in Thailand it was great.
Logistics:
Bangkok:
Lamphu House (mid budget) – www.lamphuhouse.com – (+66 2) 626 5861-2.  This was a simple guesthouse close to the river, a few blocks from Ko San Road, yet quieter.  I would say the flashpackers are now staying on this road as it`s close to all the main sights and has some night life, but is a little quieter.  Debbie and I had a small room with AC/private bath for 590 Baht ($20 a night).  I would stay here again when in Bangkok
Intercontinental (High end) – Incredible 5 stay hotel (no idea the real rate as we paid only $25 US each for employee rate).  I would stay here if I had an expense account, money to burn, or was lucky enough to return with Vanessa and get to stay with her employee rate.  Otherwise, I think it may be out of most people`s budget even for a short holiday.