Milena and I had just one full day to explore and we know the one thing we wanted to see was the Shwedagon Padoda at sunset. So we planned the rest of our day to ensure we ended there.
Bogyokr Aung San Market
We were told to check out this outdoor local market, called Bogyokr Aung San Market, as it had over 200 stores of local goods. It was quite fun to walk around, see all the goods and talk to the locals. We found it interesting as the prices were all fixed for the same items and there was no price competition. We also weren't followed or verbally attacked as we walked through. It was just a pleasant experience that made us stay longer and look at more stalls.
We saw the local "sunscreen" which locals use from a special tree bark and blend into a paste with water and then apply to the face. It leaves a yellow paste appearance, but all the locals do it to protect their skin.
Other sights from the Market including ladies carrying heavy loads on their heads, a little boy dancing outside the bathrooms (and you can see some of the yellow sunscreen on him), and other woman cooking up meals.
The Traffic:
The traffic was so bad all over Yangon.  We often saw it at a complete standstill and all the cars would just honk and honk (and no one moved further).
On our way to the airport, I watched our driver more closely, and each time we stopped at a red light in traffic, he would grab a Rubik's Cube and try to solve a bit more before the light turned green.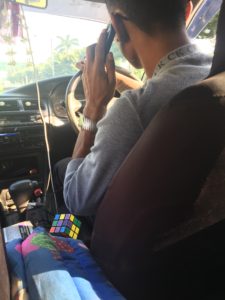 Sule Pagoda:
The Sule Pagoda was a smaller pagoda we were told to walk by as we were exploring the colonial quarter. Half the fun was trying to get there through the traffic as the stupa sat right in the middle of a major street and a round about was created for traffic. After walking towards it, figuring out how to cross the streets and walk up the over ground crosswalks, we were able to get a birds eye view from a pedestrian overpass.  It looked nice and we simply enjoyed it and walked around on our way onwards. It looks fairly tall, but we know was only a third of the size of the Shwedagon we were seeing later. Sule stands at 144 feet or 44 meters.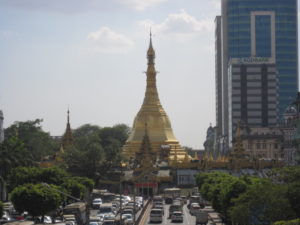 The Strand Hotel
We heard the Strand Hotel was one of the oldest and most important hotels in Yangon (opened in 1901) and a great place to experience High Tea or have a cocktail. It's often referred to as an important places like the Taj Mahal in India, Raffles Hotel in Singapore and The Plaza in New York City so figured we should check it out after our morning of walking and sightseeing. The hotel just looked elegant when we walked in and had a timeless atmosphere to it. When we arrived, we had just hit 10,000 steps according to my fitbit (or 5 miles of walking) and we earned this treat.
Sadly, high tea wasn't set for another hour, so we settled into the bar in the hotel and there we stayed. It was a such a nice and peaceful atmosphere, and the drinks were very reasonable ($6 for a fancy cocktail or $3 for a local beer). We even met the executive chef who was busy running around as we learned they just reopened the bar area after being closed for 7 months.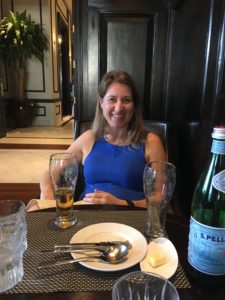 Shwedagon Pagoda:
The Shwedagon Pagoda is Myanmar's most sacred Buddhist shrine and can be seen from all over town (as it stands at 325 feet or 99 meters). I've learned in my travels that ever Buddhist Pagoda has a legend for relics. This one is known to have relics of four buddhas, including eight hairs of Gautama believe to have been brought here during his lifetime. The stupa was covered in gold and was glistening as the sun was setting and then just glowing right at twilight. It was worth the effort to arrive prior to sunset and stay for an hour after as the sky was a twilight blue and the gold from the stupa were just breath taking (and made for some awesome photos).
In order to reach the top, you had to take about 5 sets of escalators (which I'm sure where there from back in the olden days).  I'm sure it helps the elderly get all the way up as it's a lot of walking once you are up there
The Main Event – The Pagoda looked quite different before sunset, as the sun was setting and then at twilight
Logistics:
The Hotel Accord: ($136 for 2 nights) Deluxe Twin Share – Breakfast included.  The staff was so helpful, clean and simple room and walking distance from the Shwedagon Pagoda.  Easy to get around town from this location.
69, Damaryone Street; Myay Ni Gone, San Chaung Township; Yangon 11111 MM; +951501670
Taxis:
– From Airport to center of town 6,000-8,000 kyat (need to negotiate) or $4.50-$6.00 one way.
– From hotel to most destinations in colonial quarter 3,500 or 4,000 with air conditioning ($2.50-$3)
Shwedagon Pagoda: Entrance fee was 8,000 kyat ($6) for foreigners (and need to cover knees fully).  Can rent cover up for deposit there