When I started to ask and read about Myanmar, I heard if I had time to make it to Inle Lake. I hadn't met anyone that had, as they all ran out of time, but Milena and I decided we like the outdoors and we wanted to make this a priority and I'm so glad we did. It was one of the most charming little towns, located right on a large lake. When we arrived at the tiny airport in HeHo (I giggle each time I say the town name), we walked off the plane, into a hall to wait for someone to manually hand you a your bag that he carried from the runway. Once we got in our taxi, we told the driver we were going to The Golden Empress Hotel and he said ok and knew it. After the hour taxi ride into town, he drove us to "The Golden Dream Hotel", which we said was not right. We told him our hotel name again and he said ok and took us to "The Golden Lotus Hotel", which we again said was incorrect. We showed him the name written out and now he said he knew and he took us to the correct Golden Empress Hotel. At least we got a little tour around town in the car!
Biking to a Winery
Once we settled into the hotel, Milena and I knew we wanted to rent bikes to ride around part of the lake. I had read out a winery that was a 30 minute bike ride away and the perfect place to taste local wines, have a late lunch and watch the sunset and that's exactly what we did. We biked to see Red Mountain Winery which recently opened with some French vines and was making a few whites and few reds.
Expectations were low for the wine, but high for an enjoyable afternoon and that's what we got. We decided to sit at the large front table facing the lake and enjoy our own wine tasting by the glass. If we wanted to do the official tasting, it was in the back of the property, for 4 wines only and you couldn't have food there.
When we arrived, there were only a couple people out front. We learned chose out table location wisely as after an hour, the winery was packed with people who just came for the sunset and our table became the group table for other travelers.
As we had a large table, others joined us and we ended up sitting and talking with people from four different continents (3 girls from Australia, a guy from South Africa, a guy from Alaska, a couple from Italy and a woman from Vietnam). It ended up being quite the enjoyable afternoon and we tried 3 whites and 3 reds and had a great afternoon and a spectacular sunset.
Riding our bikes back, with a broken pedal for me, in the dark was an experience…but we made it in one piece.
We dropped our bikes off and were off to see what nightlight there was in the little town. We found not much, but we did find a bar and restaurant with a live band and sat upstairs to enjoy the night. We wanted an easy night as we had a very early wake up at 4:30am the next morning for our Hot Air Balloon Ride…so off to bed.
Hot Air Ballooning over Inle Lake
I heard hot air ballooning in Myanmar was supposed to be amazing. I have been ballooning once in Turkey back in 2008 and Milena never had been so we decided this would be a splurge on the trip. We originally looked into ballooning in Bagon, but all the flights were sold out weeks prior for the holiday season and we learned the same company flies over the lake and decided to do it here. I'm so glad we did as again, a much better experience as smaller balloon baskets, more personable service as ballooning over Inle Lake isn't as well known yet.
We were picked up in the dark at 5am, and it was funny as our hotel locked all the gates and we couldn't get out when our driver came to get us.   We rang a bell, woke some worker up and he let us out. We were taken down to the jetty to meet the crew, our balloon pilot and get a long boat to take us to the flight site on the other side of the boat.   We were sitting in deck chairs, given a warm blanket and 30 minutes later, through the darkness of the night, we arrived. We saw two shooting stars that were bright orange and burning up as they were shooting and the light from the moon on the lake. It was quite pretty.
We got to watch the balloons get set up, blown up and even more fun was watching more than 50 locals come out in the morning, in their pajamas, to watch the balloon blowing up experience. Our pilot said they still come out every morning as it's entertainment and they love to watch. I love watching the little kids get excited when the balloons were getting filled.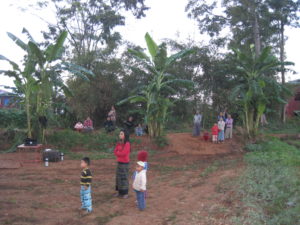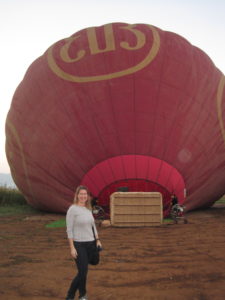 When it was time to board, we had just 5 passengers in our basket (compared to 24 when they fly in Bagon), so we were able to ask questions (and learn our pilot uses his iPad for GPS tracking and wind conditions.
The photos were just breathtaking and we were able to fly for over an hour. We also get to do something unusual, descend from high up, land on a boat with the balloon crew on the water and then back up again. Our pilot said they do this from time to time to continue to train the crew and keep them sharp in case of the need in the future for an emergency water landing. He said few passengers get to experience this and we would be lucky to have this experience of coming down and landing on the raft and then taking off again. Our pilot Shaun has been flying for over 20 years and it sounded great to me as he has the experience to do this and it ended up being quite cool and something out of the blue.

Some of the views from the balloon: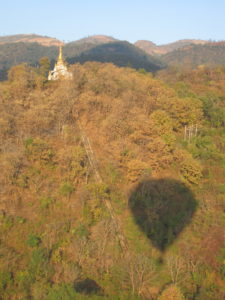 One of the challenges with the hot air balloons in Inle Lake is finding a good landing spot as there is so much lake, homes, power lines and such so once we found the right landing spot, we had to catch the right wine. It was funny as more local kids saw us and all came running out to greet us. As we move this way and that way looking to land, the kids ran all over the streets to get a better look. Then the dogs were all running with the kids and it was such fun to watch.
We came down quickly and the crew of 12 were there to take the balloon down, deflate and package up while we enjoyed a champagne breakfast. Such an amazing morning and all done by 9am!
Touring the Lake
We wanted to get out and see the lake (as in the morning to the balloon site was pitch dark). As the entire city area is built on the lake, all the homes and buildings are all built on stilts and there is a whole lake life we wanted to see. So we hired a boat driver and off we went. The traditional boat is a long skinny boat and they put wooden Adirondack chairs with cushions on it. It took us an hour to get to the southern part of the lake. Along the way, we passed many of the local fisherman that use one leg to row an oar while using both hands to fish. A few of the highlights from the tour were:
A silver smith shop where they grind rocks to create silver…never knew that process
The Karen Long Neck Tribe – We visited one of the weaving centers. I never had the chance to see the Karen tribe in all my travels and this tribe is was quite popular in northern Thailand and in Myanmar too. The women wear heavy gold rings around their neck to demonstrate age and beauty. The older the woman, the more rings and it stretches the neck out. I remember hearing once the neck is stretched out, you can't ever take these rings off as the neck can't support the head. The woman in the pictures below would make these scarves on the loom and it takes them 2 days to complete one. That's a hard 2 days of work.
Lotus weaving center. We also learned how the locals use the lotus plant and pull the fibers from the plant to make string and later weave. This was quite an impressive process and the end product was gorgeous.
Floating gardens – as the whole town is on a lake, the people grown all the vegetables in floating gardens. These were easily seen from our hot air balloon and one of the most popular items was the tomatoes. We fell in love with the tomato salad at all the restaurants. It had a nice peanut dressing and both green and red tomatoes.
Fisherman – Inle Lake fishermen have a curious and unique rowing style, which consists of standing on one leg on the extreme of the boat and wrapping their other leg around the oar. The reason for this way of paddling is because there are many reeds and water plants in the lake, and if they row sitting down in the boat they can't see them. Fishermen trap the fish by throwing the cone-shape nets into the water, pressing on it with their feet so it sinks to the bottom where the fish are.  Then, with the cone sank and the fish trapped, they spear from above through the opening at the top of the cone.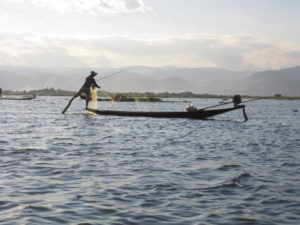 Homes on the Lake – These are a few of the examples of how the locals live on the lake:
Burmese Massage – I do love a nice massage and try to enjoy one whenever possible. To keep it simple, Milena and I went for a 90 minute massage for $18. Seemed great and we both had quite different experiences. Milena had a great massage and I think I got the new girl (or maybe the girl that normally does facials). Too many odd things to mention, but completely different experience than Milena's normal massage.
The never ending dinner…
After our massage, we decided to go out for what we thought would be a "quick dinner". We just wanted a little soup as it was cold and figured soup would be already made and quick at a restaurant. We were sadly wrong, but still are laughing about our dinner experience. We choose a restaurant that was opened almost a year ago by a local woman that was trying to create jobs and opportunities for other women. Her menu said they have limited resources and it could take a little longer if busy and we figured that was fine and we wanted to support this business. While we waited for 1 hour (no joke) for 2 bowls of soup, we watched some fun customers, including a major couple fight (maybe a permanent break up) and in the end enjoyed our soup and headed home.
If I could plan my time in Myanmar over again, I would have loved another day or two in Inle Lake. There was so much beauty here and it would have been nice to spend more time renting a bike and exploring or exploring the city. I'm glad we had the day and a half, and would encourage more time to others.
Logistics:
The Golden Empress Hotel (Standard Twin Share $82 for 2 nights), ; 19, Phaung Daw Pyan Street,  +9595114552.  We were told when we left to request a room on the 2nd floor as more light, space and balconys.    www.goldenempresshotel.com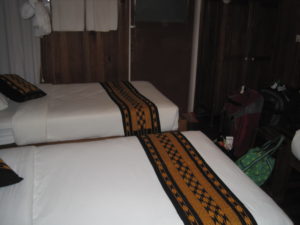 Balloons Over Bagan ($330 in Inle Lake and $390 in Bagon) and worth every dollar!  www.balloonsoverbagan.com
Red Mountain Winery – www.redmountain-estate.com
Taxi's – From the HeHo airport, the set fare was 25,000 kyat ($19) and on the return from town to the airport it was 15,000 kyat ($14). There is also a $10 (13,500 kyat) city entrance fee. When you enter the main city line from the airport, each passenger has to pay this fee and it's good for a week stay. Interesting fee, but happy to support this growing community.