It's New Years Eve morning and time to leave Inle Lake. When we left, our taxi driver was a young man. He spoke to us most of the way to both practice his English and learn more about America. Most of the conversation revolved around Trump (as many of our conversations in Myanmar have). He said he was surprised Trump won as he said he has never met anyone that voted for him. So we had a long discussion about this topic and in an hour were at the airport.
The little airports like HeHo are quite funny…no flights have been on time and today's flight was about 30 minutes late.  In addition, it's a small room, and everyone wears a sticker for your flight and when a plane arrives, they make one announcement and you are off.   It was all good as we had planned to have an easy day for New Years Eve.
Arriving in Bagon:
When we arrived and got our bags, we were surprised to try to leave the airport as there is a "new" 25,000 kyat ($19) archeological zone tourist fee. We hadn't heard or read of this but it seem legit and we later learned it was necessary to visit any of the major temples.  This is one of the many temples we passed while walking around town.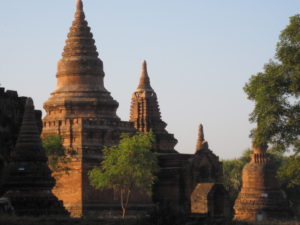 So we were in our taxi from the airport and since our room wasn't ready yet, we just chilled at the hotel pool for a few hours to relax as we were exhausted. We had made major 21 hour+ journey to Myanmar, visited 2 great cities in 3 days and were ready for a little downtime. Plus it was New Years Eve…not sure we would find any parties but we were out to try…
New Years Eve:
After putting on our nicer travel dress, enjoying our NYE pre-party in the room while we got dressed…we were off for dinner and cocktails for the New Year.   Our pre-party snacks were kinda similar to the NYE preparty Milena and I enjoyed in Cartagena, Colombia in 2014!
We spoke to many people in the previous 3 days and they all told us there was one place to go to celebrate the New Year, Ostello Bello, as there would be a party with tourists. Only issue when we got there, it was only open to hotel guest for a dinner gathering until 11 and then open to everyone at 11. In addition, none of the restaurants served cocktails, (only beer and Milena doesn't drink beer).  After trying at a few places, we settled on a wood fired pizza place where I got beer and Milena waited for cocktails later.
Once we got to Ostello Bello, we had a great time. There was a very social group of people and the party was on the rooftop with about 100 people. So we had some cocktails, spoke to many people and watched the fireworks at midnight.  As I posted this photo…it reminded me that Milena and I shared New Years Eve in Cartagena, Colombia two years ago (2014) and took a similar photo.
When we were ready to leave at 1:00 am, we were told it would be hard to get a taxi and it was about a half mile walk home in the dark. We could have done it (as we walked there before dinner), but it didn't seem fun. One of the front desk guys at Ostello Bello said he would take us on his electric bike for 10,000 kyat ($7.50) and we said done. Felt a bit like the Uber surge charge, but it was NYE and we wanted to go home.  So we both hopped on the back of his bike and were off to our hotel. Best money spent as walking home was not sounding fun.
As I had breakfast the next morning, I got to watch a lot of the Balloons right over our hotel.  Bagan normally has 21 balloons up a day and it was pretty to see them all in the skyline.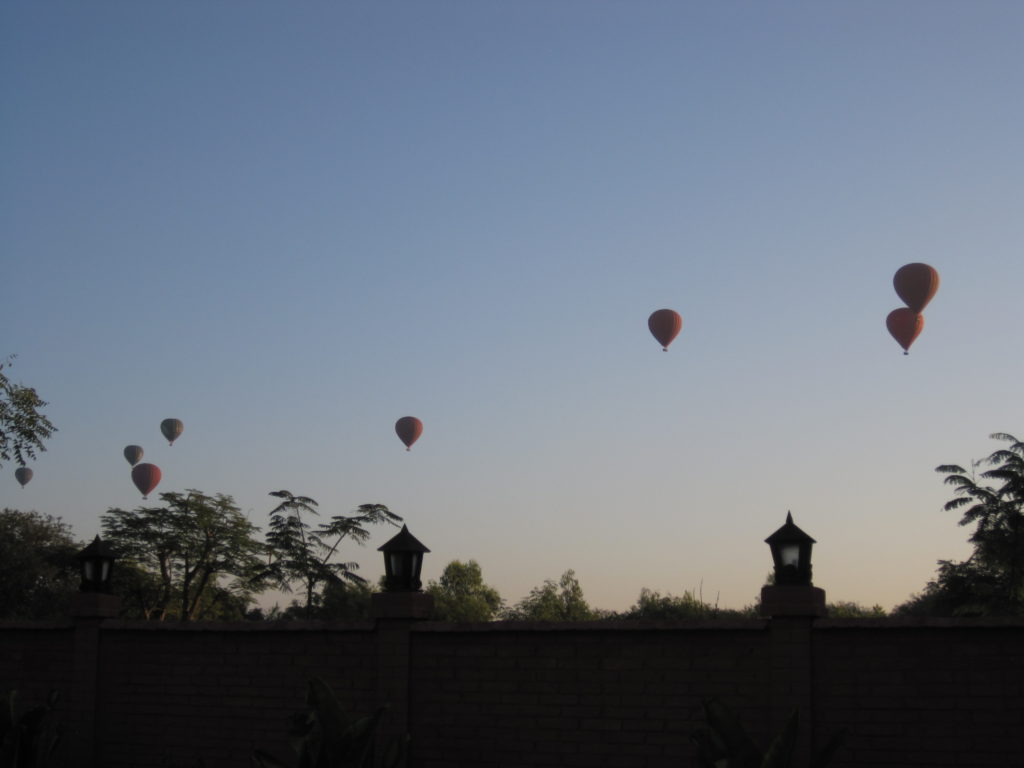 Mt. Popa
The next morning, we were both supposed to go to Mount Popa. Milena was a bit up in the air the night before as she was still getting over a cold. In the morning, she decided to rest and try to kick the cold before our scuba diving trip and I went on my own.   This was about a 4 hour tour with transport to the mountain, entry to hike up and return home. Figured it was a great way to get out of town, see small cities along the way and make a traditional journal all the locals do.
Mount Popa is perhaps best known as a pilgrimage site, with numerous Nat (spirit) temples and relic sites atop the mountain. Mount Popa is considered the abode of Burma's most powerful Nats and as such is the most important Nat worship center. It has therefore been called Burma's Mount Olympus.
On the drive out there, we stopped at a vista point to get a better view of the temple from a distance.
To reach the top, you need to remove shoes and socks and climb the 777 steps to the summit. Along the way are a multitude of monkeys expecting treats. While walking up the stairs, I was surprised to see many grandmas and elderly making the walk up. It was a very steep climb and my heart rate got over 110 with the climb.
When I reached the top, I started talking to a couple and we learned they live in Venice, California, just a few miles away from me. This was their first time in Asia so we spoke a while as we walked around. During our walk, a local Burmese family came up and asked to take my photos. The other girl Kelly thought this was odd. I took the photo and explained to her afterwards that locals from the small towns haven't seen foreigners let alone blonds with blue eyes. As soon as I said this, another family wanted to take Kelly's and my photo (but not her husband).   Then two more young girls came up asking for photos. In the end, Kelly and I had our photo taken 8 times at Mount Popa so we were an additional tourist attraction to them.
Views from the top of Mount Popa:
Coming of Age Celebration:
On our return from Mount Popa, we were stopped dead in the road but not sure why. We decided to get out as it looked like some sort of celebration. We believe we ran into some sort of coming of age where the young people were entering into the monk hood or some coming of age. There were young boys and girls all dressed up in fancy clothes and the fathers were bringing them into the main area on horseback. We got out to watch for 15 minutes and it was interesting to see the celebration attire and the youngest boy was about 1.5-2 years old! He was being held on the horse by his brother and just so little. Pretty cool to witness this sort of local celebration!
After the ceremony, we stopped at a Palm Tree center, where they use the palm tree to make sugar, alcohol, baskets and furniture.  Quite impressive to see what they use.
Lunch …down by the river:
Once I was back from the morning trip, Milena and I were off to New Bagon town to have lunch and see some temples.  On our walk over, 3 local girls asked to take our photo.  We took a group photo, then both of us with each of them individually, so after wards, I asked to take a photo with them which they said ok.  This is the traditional daily clothing the girls wear, which is much fancier than what I wear everyday!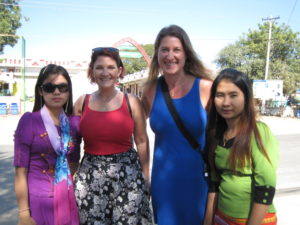 We decided to walk down to the river to enjoy the view.  It was a nice lunch on the water, and I laughed as I saw these three boats sitting near by, including the one filled with water that wasn't going anywhere!
Local Transport by Tuk Tuk:
When possible, we like to take local transport.  Its generally more efficient, cheaper and you get to interact with the locals.  So after lunch, we jumped into the back of a tuk tuk truck and were off to Ananda Temple.  Here I am in the back and later that afternoon we passed another Tuk Tuk that was full…including the roof!
We also saw a lot of horse drawn carriages which was fun and monks/Nuns walking down the street!
Ananda Temple:
We wanted to go see one of the major temples and choose Anada. It was quite large with 4 giant golden buddhas inside to look at. This was also one of the temples that was recently renovated and the black soot was all cleaned to white. It was an impressive temple.
Sunset Cruise:
Sunset and where you see it is all everyone talks about (plus sunrises).  We decided to take a sunset cruise on the river to enjoy the water, see a lot of temples from the river and relax a bit.  It was a perfect and beautiful afternoon!
While waiting to board our boat, we came across the sugar cane press man.  He took sugar cane stalks and pressed many times to make the sugar cane juice (which was delicious) as Milena tried a glass of this.  I opted for the whole coconut for the coconut water.
We also saw some cotton candy making from a motor bike.  Simple, but worked!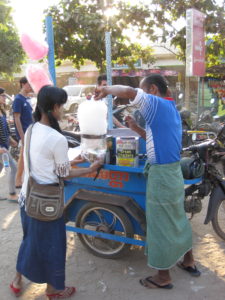 Some of the Sunset Photos:
After the cruise, it was back to the hotel to pack up and get ready for an early flight next morning.  January 2nd would serve as our travel day from Myanmar to Kuala Lumpur, Malaysia to eventually Boreno Island.
Overall…Myanmar was an amazing country to visit.  More time would have been better, but we wanted to see as much as we could and keep moving.  There were many great temples in Bagon, but that wasn't our focus.  I would recommend to others to stay longer, explore more temples (rent a E-Bike) and get out and see things.
Logistics:
Hotel Yadanarbon Bagan ($112 for 2 nights in Deluxe Twin Share) – www.hotelyadanarbonbagan.com