After leaving Thailand, I had to find a way to get to Bali for Jeff and Sophia's wedding and only had a couple days in between. I wanted to go someone new that was on the way and wasn't going to be too much trouble to get to. So after a lot of thinking and asking of friends, I finally decided on Penang, Malaysia. I had visited Kuala Lumpur and Langkawi in 2008 so I wasn't looking to repeat those cities. I heard that Penang was one of the greatest cities to eat so that was really my goal. Go to Penang, try to explore the city in two days and eat my way through the city.
Malaysia Radio Ad
While I was riding from the airport to my hotel, I started laughing in the taxi as I heard a funny commercial on the radio. The simple radio ad simple said, "don't take selfies while you drive". I just thought it was so funny as the drivers were all tailgating each other, driving a little nutty and if the country has a problem with people being distracted taking selfies while they drive, that is just more of a recipe for a disaster.   So remember to buckle up in a car in Malaysia and don't take selfies!
Food Hawker Stalls
Once I was settled into my hotel room, I was up for my dinner challenge. I didn't eat much all day as I wanted to arrive in Penang very hungry, making the most of my first dinner, and I saved up my calories for this dinner. I found out where one of the best food hawker streets was and was off.
Observations of the Food Hawker Stalls:
Many of the cooks were older men and often grandfather age. I guess the men have been cooking for years and that is their role for the business.
The new generation stalls has the older parents/grandparents cooking and then the young kids are the ones talking to the tourists and dealing with money. One woman, that made this shrimp dish, had her 12 year old daughter doing most of the talking with me and she was in charge of all the money. I was very impressed by her role as a 12 year old and her English was very good. The daughter said her English was the best in the family and it was better for her to talk to foreigners and leave the cooking to her parents.
The prime location for the food hawker was right on the street by the tables as these few locations were able to take drive up orders plus they got all the first people to walk up. I saw some cars and scooters come up and place an order to go. It's the Malaysian version of the drive up window I guess.
One expat sitting next to me just had the largest "gauged" earlobes and I had to take a photo as it was just crazy to me.  I know he's not Malaysian, but I was totally listening in his conversation with a local and he was a very arrogant expat and his conversation kept me very entertained.
There was even a Durian Food Truck. The Durian is a very stinky fruit that is hard to cut open. You need a very sharp knife and glove to not get cut. At the night food market there was a food truck that only sold the Durian and would cut it up and serve it.

What was funny was I got back to my hotel and noticed this sign the elevator. The hotel doesn't allow guests to bring durian back to the hotel (which I understand as it's very smelly). The hotel also doesn't allow mangosteens which I don't understand as they don't smell. Maybe since the red skins stains like a beet?
Here is what I for dinner my first night:
A shrimp and pork rice pancake (very similar to a dim sum dish I love). There was a spicy sauce on the side and another vinegar and soy sauce on top. (I got the large for 6.30 RM or $1.96 US)
A fried noodle dish with egg (4.30 RM or $1.33 US)
BBQ Pork and BBQ Chicken with a spicy dipping sauce (10RM or $3.11 US – this was the most expensive dish as it was all meat)
Small bottled beer (7.80 RM or $2.42 US– cheaper than beers even in the grocery stores)
Large water (1.5 Liter) (1.6 RM or $0.49 US)
I over ate, but I wanted to keep trying new dishes as they looked and smelled so good.  This dinner (with 2 beers as I went to two different eating areas and got a beer each time I sat down) was 37.8 RM or $11.77 and I left food on every plate as it was too much but very tasty!
So after this, I felt like I waddled back to my hotel and was excited to take a night off and relax in my nice hotel room. This is when I turned on the TV and thought I would see what was going on in the world with BBC news. I wanted to see what has happened during the last few days as I didn't have a TV and just didn't check in with the news online while I was scuba diving. As soon as I turned on the TV, I heard the horrible news about the plane crash as this news was just breaking.
Malaysia Airlines Flight #17
I wanted to note this as July 17th was quite a sad day and one that hit a little too close to home for me. I took a Malaysia Airlines flight from Ko Samui, Thailand to Penang, Malaysia earlier in the day. When I turned on the TV after my dinner, I learned that that a Malaysian Airlines flight from Amsterdam to Kuala Lumpur was shot down over the Ukraine. I found out right before I went to bed and was glued to the news. I had a lot of friends reach out to me while I was sleeping to make sure I was ok, as many people knew I was headed to Malaysia. When I went to bed, it wasn't known if it was shot down or something else happened and that all came out in the news the next day.
I received so many kind messages from friends and family that were just checking to make sure I was ok which was very touching. Luckily my flight was ok and already landed a few hour prior. Thank you again for everyone that reached out to check in on me.
Exploring Penang
I really only had one full day to explore Penang and see the old town, which is a UNESCO Heritage city. I also knew there were more ethic foods I had to try so I set our early to see how I could walk the city, eat more and see all I could. I actually put on my sneakers and this was the first time I wore them since hiking to the top of Tigers Nest in Bhutan on July 1st. So almost three weeks later, living in flip flops, it was time to get serious and walk the city. I'm really glad to have my sneakers on as I walked and walked and then walked more. It's a good thing as I had to walk off all I ate!
Since I took a lazy morning watching the news about the plane crash and responding to people that were reaching out to me, I finally made it out in time for a little Dim Sum Brunch in China Town that was recommended to me. I really wanted Dim Sum as it was one of the food highlights for Penang and I found a great place. I was the only western in there when I arrived but that's ok – it's part of the experience and I'd rather be where all the locals were. After getting my fill on delicious Dim Sum, the waiter came by and asked if I wanted to try something off the regular menu as well which was the house specialty. I was so full, but how can I turn down the house specialty – especially since it was a noodle dish which I'm a sucker for. It was an amazing fried noodle dish with two types of noodles (wide rice and thin vermicelli plus lots of seafood, chicken, spices and veggies). It was really good and I only ate a third of it as I was so full. All the food was so reasonable that I didn't mind leaving it behind as I really wanted to try all the flavors.
Here are the dim sum and noodle dish:
Sidewalks Are Really Parking Lots
Forget about trying to walk on the sidewalks in Georgetown as most of them are used for motor bike parking so people have to walk in the streets. I was sorta funny for a moment, but then got really annoying as the cars and motor bike would almost run your down and it would be so easy to walk the streets on the nice, wide sidewalks that the city put in. I had to take a photo of this spot as it was too funny. It was a beautiful covered sidewalk and would have been really nice to walk through on the hot day, but instead, the bikes were all parked and I walked on the hot street and avoided getting hit by cars. Go figure!
There was the local transport called the "tricycle".  Locals would peddle you around town in it.  I didn't opt for this as I wanted to walk, but I did get the photo of this family.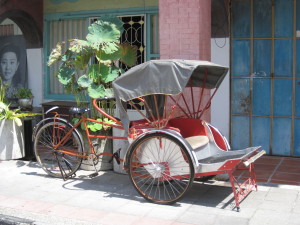 Self Guided Walking Tour of George Town
I stopped in a tourist office and got a walking tour and set up. I was told most of the city could be walked and seen in a day and I was off. There were a few temples, mosques, and even the only Christian church in Malaysia, which seemed a little out of place with all the temples. With all the sightseeing I have done, these sights were nice to see, but not really anything that I took a lot of time to explore nor blog about.  I did take a photo of what I would call the largest burning incense sticks ever.  These were burning outside one of the temples and the smoke was intense!
Khoo Kongsi
I actually went to one cultural place in Penang as I was told it was the one must see.  So I selected the Kongsi Clan House.  This was beautifully decorated with very colorful lanterns, paintings, dragons and carvings.  It was a nice break from looking for all the street art and did make for a little culture in town.
George Town Street Art – My Hunt to see it all
The main highlight in Georgetown was the Street Art and that became my afternoon mission.
During the George Town Festival in 2012, a street art project called Mirrors George Town was created. Since this project, street art has been popping up all over the inner city and has created quite a stir and media frenzy. There were 18 main art projects from the festival and these pieces are still up around town. So there is a Street Art tourist map which allowed for a self guided walk to try to find them all. The map has approximate locations and I figured I would try to find them all. Some of them were really hidden behind small alleys, others were huge on the side of an apartment building and others were very small. Some had props included (like a motor bike, swing set, basketball hoop). It was almost a scavenger hunt around town. I didn't set out to see them all at first, but then I realized I found 15 of the 18 on the map and figured, why not go find them all? Of course the three remaining ones were on three opposite ends of town and would take another 2-3 miles to walk all around, but I figured I needed to burn off all I ate so why not. I ended up seeing them all and got photos below with the names.
Random Shots of Penang
There were a few others thing I came across that just caught my eye.
Here is an example of the apartment living. Similar to the very high apartments in NY, but from the outside, the living appears quite simple.  Lots of clothes drying from the balcony and storage as well.
 Malaysia's Flag
Malaysia doesn't have a local beer since it's primarily a muslin country.  So no local beer shot for this country 🙁
Logistics:
Armenian Street Heritage Hotel (www.armenianstheritagehotel.com)– Great hotel right in the heart of Georgetown and walkable to everything you need.  It was perfect for my one full day in town.
Food – Everything I ate was really recommended based on where I was staying and walking.  Nothing to recommend by name as my hotel and tourist office provided local recommendations on where to wander and I don't think you can go wrong with any food in this town!