I know I'm late posting this trip from the first week in January, but we were busy diving all day for the week and then returning to real life got a little crazy….so I'm catching up now in February.
When I was on my Asian Adventure in the summer of 2014, I was looking for a great place to go scuba dive. I heard and read a lot about a special island called Sipadan, which was in southern Borneo, on the eastern coast of Malaysia. At that time, I looked into going, but the travel logistics were just too grand for the time I had so, I added it to my future travel list. When talking with Milena this year, we decided to make our way there and I'm so glad we did. The scuba diving was outstanding and well worth the long journey to get there (as explained at the end of my last post in Kuala Lumpur).
It took almost a whole day to get to the island of Mabul, which was where we would stay for our 5 days of diving. We learned you had to stay and scuba dive a minimum of 4 days to get guaranteed a dive permit to the island of Sipadan as it's highly regulated. We were reviewing a few dive resorts that I listed below in logistics for future planning.
Scuba Diving
Over the course of 4 full days on the island, we dove 3-4 times per day and I completed another 14 dives. As I love underwater photography, 14 dives equaled about 1,500 photos so review. So I have broken down into my highlights from 2 days (6 dives) around Mabul Island, and 2 days (8 dives) at Sipadan Island for a later post to come.
Day 1 & 3 – Mabul Island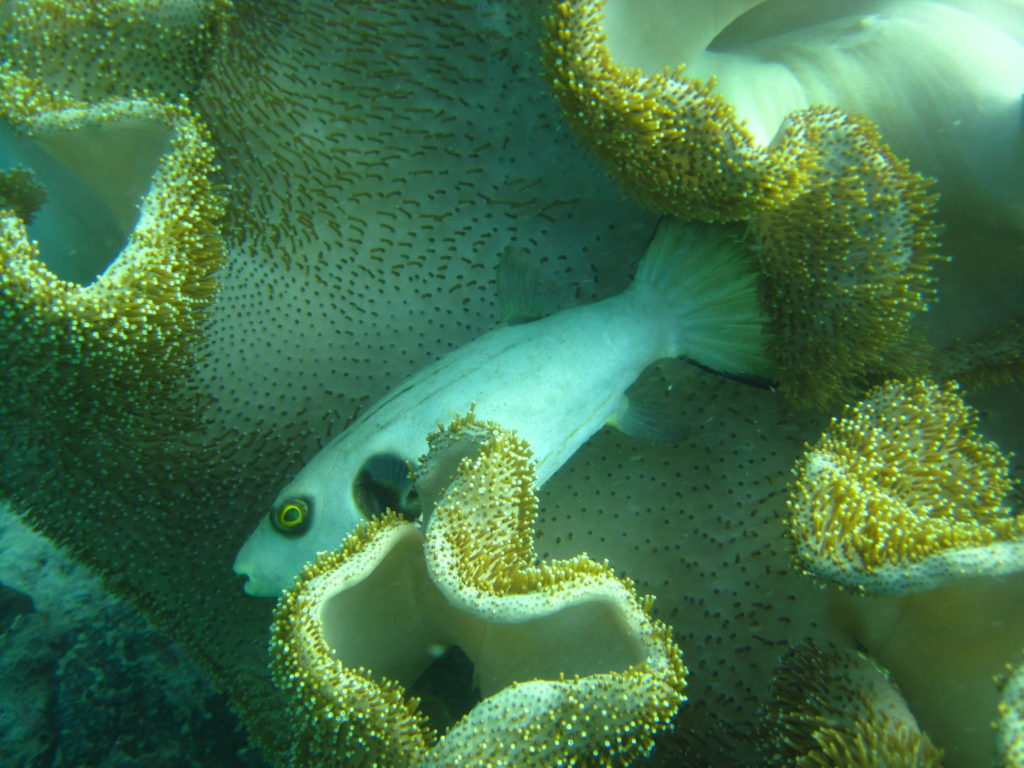 Life Around Mabul Island
The island of Mabul is one of the primary places to stay if planning to dive at Sipadan and the surranding area.  But we also learned there are 2 villages on the island. It took about 40 minutes to walk around the entire island, and if I lived there I would have island fever for sure.  From 1999 census, it was recorded that there are approximately 2000 villagers living in Mabul, half of them children below 14 years old. The majority are immigrants from relatively nearby clusters of islands of the southern Philippines.  So one afternoon after diving, Milena and I went walkabout to check out the island.
Turtle Rescue and Hatchery:
Many places I've visited have programs in place to try to help increase the turtle population.  Our resort had the only  Turtle Hatchery  on Mabul Island (which we learned are highly regulated to help as many turtle survive).   Click on the Turtle Hatchery link to read more about the program.   The company is committed to protecting nesting beaches and relocating nests that are laid in areas where the turtles stand less chance of survival.  We were able to see a turtle laying eggs around 11pm under a house.  Once the turtle laid the eggs, buried them and returned to the ocean (to never return to the eggs), the Turtle Hatchery team came to recover the eggs, bring them back to a safe area to allow to mature and eventually release to the ocean.  Sadly, none of the current eggs hatched during our time as I would have sponsored one to release.
View from front of the resort
The photos from the diving in Sipadan were our favorite, but more time is needed to sort through those, but that diving was just outstanding and I can't wait to return.
Logistics:
Mabul Beach Resort/Scuba Junkie – We stayed in a private bungalow and did the diving with Scuba Junkie which was onsite.  This was a nice experience to stay and all the food was provided buffet style with other guests. I would return again.
Other Dive Sites we considered:
Mabul Water Bungalows www.mabulwaterbungalows.com. This was a nicer resort than we did not stay at, but strongly considered.  All the rooms were located over the water.  It felt more private when we walked through it. The cost was almost double what we paid and you had to stay for at least 5 nights which was longer than we had. So I would recommend this to people wanting a higher end experience and there was a heliport on the resort…so enough said.
Seaventures Dive Rig, www.seaventuresdive.com. Similar costs but this is a oil rig that is off the main island of Mabul. We could see it from our resort and I'm glad we did not stay there as I would have felt very isolated and stuck and no beach to enjoy
Sempora Hotels – You will most likely need to spend one night either before or after going to Mabul in the port town of Sempora.  Our expectations were very low (especially after reading all the reviews for the few hotels and this was after our scuba place gave us the "best" recommendations).  So this is not a place to stay overnight except for a night in transit. This was the best hotel in town (which really doesn't say much). We saw a new hotel being built that is supposed to be much nicer (but don't know the name yet). So while this isn't a recommendation, it was the best of the sad options and was fine for one night:
Seafest Hotel ($49 superior twin share)