– After five days in Osaka, it was time to leave and head west towards Hiroshima. With only a 90 minute train ride, on the super fast bullet train, we arrived in Hiroshima. We decided to stash our bags in lockers at the train station for the day, which meant I had to unpack my bag and stuff all the vacuum bags in the locker to make it fit. From the train station, we boarded another small train and were all off to the city of Miyajima.
Miyajima
– Miyajima is known as one of the three most scenic spots in all of Japan and the O-Torii Gate is the most photographed items in Japan and really was worth the extra effort to get there. It's about 16 meters tall and weighs 60 tons (so no a small structure). After the 10 minute ferry ride across to Miyajima, the view was amazing. We first saw the large orange O-Torii gate, but were a little disappointed as I didn't see it floating in water. There were people walking all over it and it wasn't all majestic as I expected. I later learned the tide doesn't start to come in until 4pm and it's a different look. So in a way, Vanessa and I would get to see all the views with the gate in the sand with people, partially in the water and then completely floating in the water.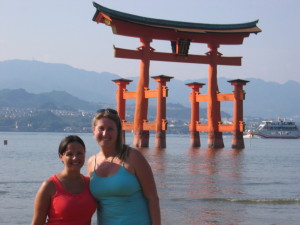 – The island of Miyajima had a holy status and commoners were not allowed to set foot on the island and thus were only allowed to approach the shrine by boat, entering through the floating Torii. Too bad there is no way to sail through it today (as I would have loved to try). So instead Vanessa and I just cruised the little island to take in all the fun stuff.
A few of the other sights at Miyajima:
– The world's largest wooden rice spoon. Too bad no rice was around to spoon up – but it was fun to look at.
– Itsukushima Shrine which was dedicated to three goddesses (for the sea, fortune and accomplishment). I really liked the bright orange support beams and all the green trees in the background. The bright orange color is said to keep evil spirits away (so should I paint my house bright orange one day?)
– 5 story pagoda that was build back in 1407 and is 28 meters tall. Looking up, it really seemed tall and was painted bright orange and was fun
– We also hiked to the Momijidani Park. It ended up being just a hike uphill, with some wild deer along the way. If we wanted to go further, there was a cable car up to the top, but it was very high and expensive and neither of us really needed that just to say we did it (and no one was around, so I assume it wasn't running). The best part of the park was seeing a giant pond with many carp fish and a pretty bridge over a river.
– We went back towards the Torri around 4:00 to see if the water had come in and the tide was coming in. So we walked down the stairs to get a closer look and get some photos. I forced Vanessa to walk all the way to the west side of it as I wanted a better shot with the sun as it was so bright and not allowing for great photos. Only problem when we came back from the photo shot, the water had risen so much, we couldn't get back to the stairs we came down and had to climb up the rocks on the side. Not as easy for Vanessa as she has much shorter legs than me, but we both made it back up.
** NOTE TO FUTURE VISITORS to MIYAJIMA** – wear flip flops to visit this as you want to be able to take your shoes off to wade around the water and streams. I had my tennis shoes on and it was much harder! It was the only day I wore my tennis shoes (as it was a travel day and they didn't fit in my bag). Next time, shoes that can be taken off or can get wet would be best!
HIROSHIMA
– After a fun filled day at Miyajima, and I would highly recommend going, we were heading back to Hiroshima. After gathering up our stuff at the locker at the train station (and having to repack my bag), we were off to find the trolley cars. It seemed easy enough to get to our hotel on this and much cheaper than a taxi, so we were off and arrived at the stop for our hotel in 15 minutes. I do laugh as we get off the cheap trolley and roll our bags into the 5 star Crowne Plaza hotel, but once again, Chris and Vanessa got us hooked up for a nice night at the hotel.
– Our first night out we wanted to try the local cuisine as Hiroshima is famous for the "Okonomiyaki" dish. This was one of the most yummy dinners we had. We walked into a little place that had a long hibachi grill and the menu was simple with just a few choices. Essentially the cooks make a thin crepe, then put lettuce (or cabbage), bean sprouts, bacon, shrimp and cooked it all. Then the cook made a scrambled egg, cooked up some soba (or udon) noodles and turned the first pile on top of the egg and noodles and cooked it longer. Once it was all cooked, it was put on the plate and some sort of BBQ or brown tasty sauce was brushed on top. It was one of the best things. It was even more fun as you got to eat it with chop sticks (and my chopstick skills have improved). It was such a filling meal and Vanessa and I thought we would return for lunch if we had time as it was that good!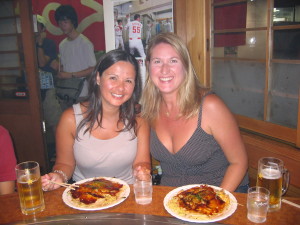 – So on Tuesday, August 18th, Vanessa and I were off to see the Peace Memorial Park in Hiroshima. We were there there just over a week after the bomb hit Hiroshima (August 6, 1945) and just three days after the Japanese surrendered from World War II (August 15, 1945), so there were lots of tourist and signs of the memorial remembrance ceremonies all over town, including thousands (or million) paper cranes birds.
– The Peace Memorial Museum collected and displayed belongings that were left by victims, photos and other materials that conveyed the horror of the bomb and days after and also told the story of the way, decision to use the bomb and so many photos that just left me speechless. This was one of the most amazing museum's I have been to with the right balance of information, sadness, and photos to make sure anyone who sees this, will never forget.
Other Memorials at the Park:
– Once outside the main museum itself, we walked around the grounds to see the other memorials. The first was the Cenotaph. This was an large open upside down "U" and underneath are the names of all the known victims.
– Further behind was the Flame of Peace. This flame will be lit until the last nuclear weapon on each has been destroyed. Hope that happens sometime in my lifetime, but from the museum, I learned there are lots and lots of nuclear weapons still out in the world.
– When we kept walking, we came across the Children's Peace Monument. I remember studying World War II in grade school and specially the bombing in Hiroshima when I was in 4th grade. I remember reading the story about Sadako Sasaki who a 10 year old girl that thought if she folded 1,000 paper cranes, she could make a wish and it would come true. She was sick with leukemia and started to fold them all to wish for recovery, but she never finished folding them when she died. So kids all around the world fold them in her memory (and I remember folding so many of them myself). I guess since we were at the memorial a week after the anniversary, there were millions of cranes that classes and groups had brought to the memorial. So many that there were about 10 workers that were there to bag, save and preserve the cranes to put out on display later in the year.
– The final structure we saw was called the A-Bomb Dome. This was one of the only buildings that survived the blast. Most believe it survived as the top of the structure was a dome and had better structure support. Now, this building is in ruins and has been left as an eternal reminder of the tragedy.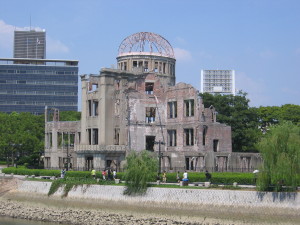 – So my time in Hiroshima was very moving and really made me think about the World war II and all the destruction. I was shocked to see photos of what the city looked like before the bomb and then see what it looked like after and then to physically walk around to see the area some 64 years later. The city was bustling and life was normal..but I don't think life will ever be the same there.
Logistics:
– Once again…we stayed at the Crowne Plaza hotel.  I would highly recommend this for a short stay in Hiroshima as it's so close to the memorial park and easy walking to everything you need.  (www.ichotelsgroup.com)