– After my week in Okinawa with Vanessa and Chris, it was time to fly to the mainland and explore more of Japan. I had looked into flights and was shocked how expensive domestic flights were and based on the prices (meaning $800 one way from Okinawa to Hiroshima vs $200 to go to Kobe). So on Wednesday, August 12th, Vanessa and I decided to fly to the Kobe airport and then take the quick train to Osaka to make a base there. Osaka was close to the other cities we were considering going to as day trips (Himeji, Nara, and Kobe) so staying in one hotel in Osaka sounded great.
– As Chris and Vanessa work for the Intercontinental group, we were so lucky to get some special rates and upgrades and stay at the Crown Plaza in Osaka (with a club room upgrade, club lounge access…meaning free breakfast and the more important free cocktail and appetizers!). Once we got to our hotel room, the General Manager had arranged a welcome gift (of nice wine and chocolate desserts to be delivered to us). Such a wonderful welcome!
– Vanessa and I decided to explore a little on foot and found one of many underground shopping centers. It reminded me of the underground tunnels in Houston as it's a whole other world below ground. All the hustle and bustle of the business day, walkway to the subways and little shops and eateries were everywhere. There was such an order to the walking as everyone was hustling around and staying to the left half of the walkway. Luckily this order helped keep us all moving along the walkway.
– Stopping for lunch was an adventure as all the menu's were in Japanese only, but many restaurants have plastic food in the window, so Vanessa and I went out front with the waitress and pointed to three things to share and hoped they turned out the same as the plastic looked.
– Since we had an easy day, we decided to try to find an Irish pub for a little pub food and beers. Finding any place in Japan is hard as the streets are not labeled and maps are no use. Even when our hotel told the taxi driver where to go and we had it mapped on the intersection of a map, we still struggled to find this place and the cab let us out and we walked around a few blocks before we saw an Irish flag and knew we were there. Also, you don't just see bars on the ground floor, most places are located up on higher floors and Murphy's Pub was on the 6th Floor and was a tiny place. Vanessa and I were entertained as this Wednesday had live music. The music was more of a jam session with some local Japanese musicians that were learning Irish songs. All in all, we were enjoying it. We also got to listen to some loud western men trying to pick up or continue relations with some very young Japanese women. The men were quite sleazy and after listening to them for a while, we finally left as they were just gross.
– We started off our time in Osaka seeing the city. As I love castles, we were off to the Osaka –Jo Castle, which is one of the oldest Buddhist temples in Japan. As we were walking up the long walkway to the castle, a very friendly man jumped out at us and almost startled us. He first asked if we spoke English and then wanted to shake our hands, take a photo with me (and made me take off my sunglasses so he could see the colored eyes), take a photo with Vanessa and just kept thanking us. He was one of the happiest people I have ever met and just brought a smile to our faces.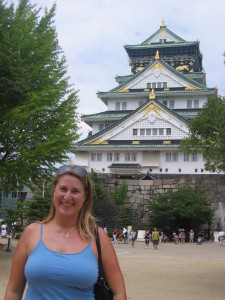 – We continued to wander to see more temples before we started our quest for lunch. Finding food in this part of town was quite difficult as there were no restaurants with English menu's or plastic food that looks even normal and we finally settled, after much walking around, on a basic sandwich at a coffee house. What we didn't know was if we continued walking to our next site, there were tons of food options.
– I wanted to go see the big tower in town, Tsuten – Kaku (also known as the Hitachi Tower). It was in an area that was full of tourist crap, souvenir stores and the famous golden Budda which we were told we had to rub the feet for good luck. I'm not one to turn down good luck so I rubbed the feet too.
– We had to explore the famous Dotombori region of town as it was known as the happening place and great for the scene and places to eat (not to mention massive bike parking). I was surprised to see so many bikes, but it really is the main way the locals get around and you just leave your bike (usually unlocked as well).
– We wandered a bit and after going to two places that had items listed in English outside (like Salad, tapas, sandwich); we thought they would have an English menu. We were wrong and they did not and we weren't willing to order blindly…so on to the next stop. Osaka is known for octopus balls so we had to try them. I'm not a big fan of octopus as it's so chewy, but I tried one of Vanessa's. Basically they put a chuck of octopus in a pan, pour an egg mixture over it and the heat in the pan cooks the balls and all the cooker needs to do is turn them half way and it's a perfect octopus ball. Slab a little sauce on top and you are done. I think the cooking took about 4 minutes as I was intrigued with the process. All in all, I didn't care for the octopus balls and knew they were not that healthy, but I tried it.
– As we loved the happy hour we got in the club lounge, we decided to stay in on Saturday night and drank till the happy hour closed at 10pm. Vanessa and I were quite the regular's for the five nights we were there and never missed the drinks there. So this night, we relaxed after a long day sightseeing and drank and drank and when we were kicked out, we headed as far as the piano bar downstairs where we continued to drink till after midnight. Fun times.
Sunday – Finally A Day of Rest
– The final day in Osaka was out day of rest. We had spent 5 full days doing day trips to other cities and each journey was great, but at the end of the time, we were exhausted and still had over a week left, so Sunday the 16th was our day of rest (fitting for a Sunday). We acted like locals and were ladies who lunch as we found a great Dim Sum place.
– Next stop was wandering the Amerika-Mura region. This was interesting as it was full of trendy shops, café's, and colorful Japanese teens that were living out the American Dream (or trying to act and look like it). We even came across an over the top store with a diamond studded Mercedes car. It was crazy and all I could think was "pimp that ride". We just laughed as the car was so silly!
– All the walking we did in the past week was tiring and our feet were aching so we thought we earned a massage and found a place to do foot massages. What we didn't know was these Japanese therapists are strong. They used so much pressure, it was actually painful at first, but I figured….no pain….no gain and in the end, my feet felt like a million bucks!
– The final part to our time in Osaka was "just sitting down by the river"….not like that! We aren't homeless, just found a great little tiny bar (4 people sitting on this little porch on a bench) on the river where we sat on a bench overlooking the river and every 15 minutes when a tour boat when down, we got to wave at the tourists. Vanessa and I stayed for a couple hours and just enjoyed our time talking and relaxing. Perfect end to our time in Osaka!
Logistics:
Crown Plaza Hotel – really nice hotel right on the river
www.anacrowneplaza-osaka.jp/english