Siam Reap was next and after a quick flight north, we were in such a cute little town.  Now I saw cute as it was very inviting for us to walk around and from place to place.  At night, the police block off the streets from all bikes and tuk tuks, so no worries about being run down or getting into an accident (and we almost did when our tuk tuk driver didn`t stop or slow down to an oncoming motor bike).  It was almost like a game of chicken to see who would move to avoid the other first.  Luckily…we were fine as we didn`t crash and were going slow enough.
Flashpacking:
After all the luxury hotels, I knew that would have to end at some point, and Vanessa and I downgraded to "flashpackers".  This is a new term meaning these type of travelers are usually a little older than the standard backpacker and may be traveling on shorter holidays and want a nicer place to stay, but still don`t want to break the bank…and are willing to pay a little more for private bathrooms, AC and TV.  This suited us both just fine.
Spa Time:
Vanessa and I thought it was time for a little pampering and were in search of a spa.  We looked at a few and after making an appointment, I saw a Swenson`s ice cream.  This is San Francisco ice cream, and I made her stop for a cone  – such a nice treat from home and helped us relax before our treatments.    We decided to go a little posh in our treatment and get a 2 hour treatment including a body scrub, steam and oil massage.
I have to describe this more as it was a funny experience.  The body scrub wasn`t that exfoliating, as the lady said women do the "light scrub"  as the other is too harsh and only men to the heavy one.  First…I don`t know many men that would get a body scrub, but regardless, the scrub was nice and my skin felt so soft afterwards.  Then it was time to wash it all off in the shower and then go for the steam.  Vanessa and I both pictured a steam room, and we would be there together.  Boy were we wrong!  What we found was a creative "steam experience".  I had to get pictures afterwards to do it justice.  Basically, you sit on a little bench in a red canvas tent thing and they zip you in for 10 minutes.  There is a rice cooker (literally) that is super hot and the steam from that is what steams the body.  The funny part was…it really worked, and I have to say it was creative!  The massage afterwards just also wonderful, so a great afternoon for $30 including tip.
The Dining Experience:
Vanessa and I got really good and relaxing, finding great places to eat and then new places to drink.  Our first dinner was a little interesting.  There were about 6 waitress standing around at any given place, yet they won`t come help you.  This was a theme we first saw in Thailand, now Cambodia and even in Vietnam.  You really have to flag someone down to take your order and then again if you need anything.  There is no one coming by to get you another drink or try to up sell you more.  It got annoying as we had to keep looking for someone to get more wine with our dinner (imagine that?).  The funny part with this dinner, there was a woman sitting at the table next to us with friends.  It seems like she may also work there, but had the night off.  She noticed we weren`t being served and kept asking what she could get for us. That was the first time I`ve been served by "a customer".  I will say, all the food we are eating has been amazing.  Cambodian food is similar to Thai and Vietnamese food and great salads, sauces and stir fry.
After dinner and too many glasses of wine, we decided to check out the bars and walked all the way across the street to Temple Bar.  This had the loudest music and almost all the tables were filled, except one out front, so there we went.  We found out there was happy hour (6:30am-close).  Now…how is that happy hour if it`s all hours they are open?  Regardless, the cocktails were 2 for 1, so we started drinking and stayed till after midnight as we thought we should leave at a decent hour since we had a full day at the temples and that was the reason we came to Siam Reap.  Trying to be a little practical.
Angkor Wat
Angkor Wat and the surrounding temples are know as the heart of the Kingdom of Cambodia and is such a source of pride to all the Khmers (dominant ethnic group in modern Cambodia) that are struggling to rebuild their lives after the years of terror and trauma.  I have no idea how many temples there are, but I would guess over 50.  We knew we would never see them all nor want to, so we focused on the main one to have a full day, and we hired a tuk tuk driver to take us around for the day.
–Angkor Wat:
Why not start with the biggest and best temple to really capture the moment?  This one was a massive three tier pyramid crowned by five lotus like towers rising 65 meters  from the ground.  Vanessa and I walked all over the place, in and out of secret walkways and up and down the tall stairs.  Now there were some original stairs built up to the towers, but both of us couldn`t imagine anyone climbing those back in the day as they were so small and steep.  Maybe the people back then had really tiny feet as my foot would not fit on a stair.  The details of the stone carvings were amazing as well. We did notice all the workers cutting the grass. Normally this wouldn`t make me stop, but we had to sit down and watch as there were almost 20 workers in one area cutting grass with just a knife like item.  We couldn`t believe how many people were doing this and how much a lawnmower would save cost, but then we realized labor costs are so low, it may make sense.  Seems like a waste of so many peoples time, but then again, this country is well behind in efficiency.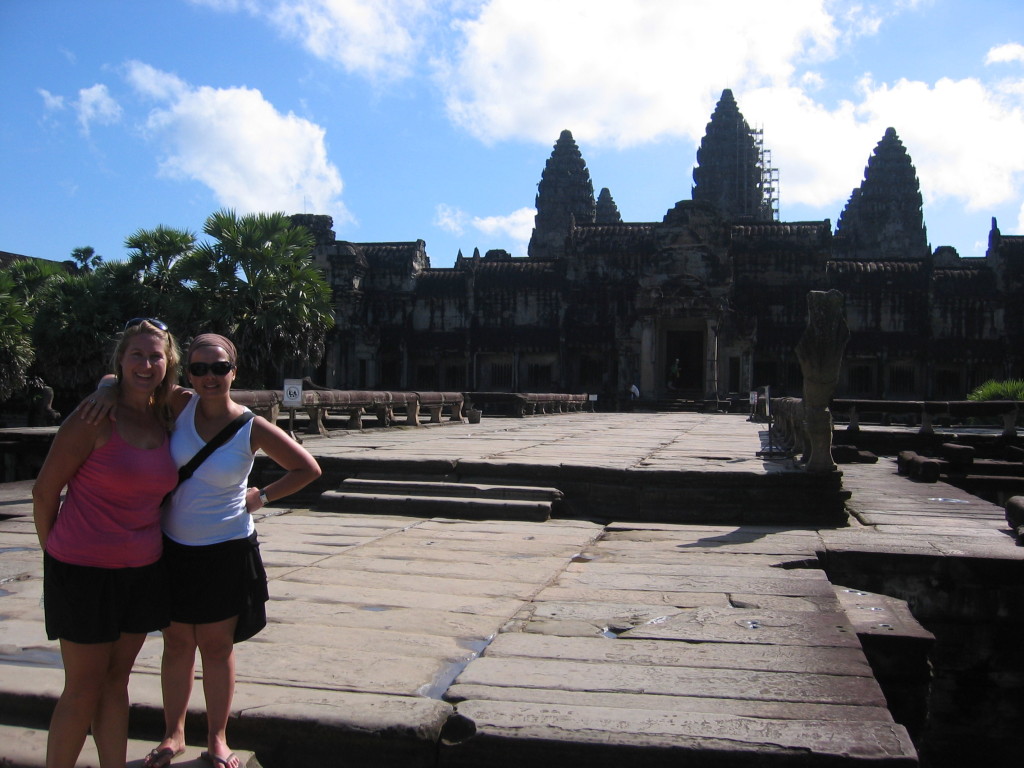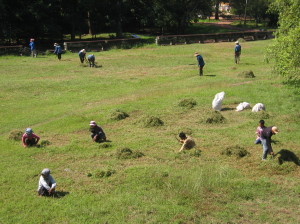 Bayon:
Next temple was Bayon which so different.  This one had giant stone faces carved into it.  This was another tall temple to climb but worth it once we got to see the 37 standing towers.  This was not as restored and there were huge stone blocks all over the place in ruins.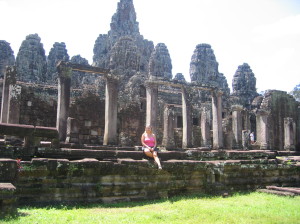 Terrace of the Leper King and the Royal Palace:
The Royal Palace wasn`t like any of the others I`ve seen in this part of the world.  No gold or glitz, but a very steep wall to climb.  Vanessa is a little afraid of heights and didn`t want to go, but after a little encouragement (peer pressure) from me, she went up and the view was pretty amazing.  She was ready to go down quickly and took her time as I continued to climb higher to the top.
Ta Keo:
This was the first temple built completely from Sandstone and it has withstood all the elements over time.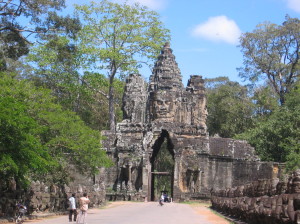 Ta Prohm:
The last big temple we saw was Ta Prohm.  This one has gained popularity as  it was the location for the movie Tomb Raider.  I realized this is the 2nd city where Brad Pitt was there to film a movie (this time is was Angie that was the star, but our driver said he say both of them a lot).  What was impressive about this one was seeing how nature has won over the temples.  The trees were growing on and around all the stone and the roots alone were so impressive to see. The Angkor Wat temples are said to be the 8th wonder of the world and they were impressive.  Quite a great day – very hot as we were drenched in sweat the whole and and drinking so much water.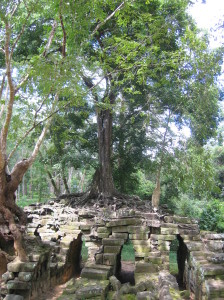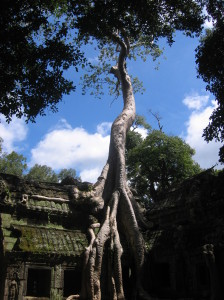 The Night Market
Vanessa loves to shop.  Every city we have been in, she has done her best to support the local community and I`ve been her wing woman to help negotiate the price.  So it`s been fun to see all the stuff without having to buy anything.  We saw a sign for a night market and went to see and it was really nice.  So many stalls with handbags, scarves, shirts, jewelry (and other crap).  I was interested in one bag, but ultimately, the lady wouldn`t go to the price I wanted, and I didn`t want it enough to meet her price, so we parted ways.  It`s interesting as you can really tell what the bottom price is when you walk away and they don`t come after you.  I even went back to the same store and tried one more an hour later, but she wouldn`t so I knew that was her cost or below.
After an tough hour of shopping, we found a cute bar in the middle of the market and decided to have a cocktail.  This was the first time in Cambodia that we really had great service.  This waiter was right there to give us menu`s, take or order, come back to see if we liked the drinks.  It was so nice and we loved the little bar.
Vanessa has made my list of funny quotes with this one.  She came back to the table after using the restroom and the first thing she said was, "the toilets are actually ok…I mean they don`t smell…but bring your own paper".  The way she said it was even funnier as she was surprised.  I will say the toilets we have had in Cambodia have been much nicer than what I saw in most other countries I`ve been to, so the comment just seemed out of place, but it made me giggle.
Water Chugging
Last funny thing happened at the airport.  I hate to say with all the airports I have flown through, there are no consistent rules for what is allowed through security or not.  You assume they don`t allow water or liquids…not always true.  It`s really a game of cat and mouse, and even then, you can sometimes negotiate with the security guys and I have won a few times.  So I never dump any water bottles until I am told to, as almost half of the times, I can take any size water bottle through.  So this time Vanessa had a brand new 1.5 liter bottle and I had a small half liter.  We were stopped and told we could not take the water, but we could drink it there if we wanted.  I figured, I had been drinking a lot of alcohol since Vanessa arrived and water is very good for me.  So she said to drink as much of the big bottle as I could.  So I just started to drink and drink and kept going and almost drank the whole 1.5 liter in one gulp when she said something to me that almost made me spit up all over her.  She asked if I don`t have a gag reflex as there is no way I could chug that much water if I had one.  After I gained my composure again, I laughed and said I guess I learned how to drink like this in college and many of my friends have seen me drink beer or water quickly like this.  I tend to think my water chugging ability came from when I was an athlete and had to drink quickly at time outs.    Regardless it was funny and I over drank water, but it`s all good for me. Off to Ho Chi Minh City, Vietnam.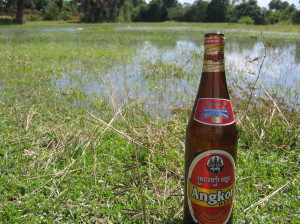 Logistics: 
Green Village Palace-www.greenvillagecambodia.com – 063 760 623
Nice guesthouse for $25 for a private room/bath/AC/breakfast.  I would stay there again as it was a simple 5 minute walk from town, so away from the noise, but easy to get to.