October 18-19, 2008
As Vanessa and I took a taxi to the Bangkok airport in route to Cambodia, but we never knew what sort of ride we were in for.  The normal ride takes 45 minutes.  The driver we had, must have been practicing to win the Indy 500 race as he was honestly driving 140 kph (and posted limit was 80).  Even when he slowed down to 120 kpm, I still was holding on for dear life.  Also, I love this about the taxi`s in Thailand…they have seat belts in the car, but there is no buckle to lock into, so why have a seat beats?  This was a time I really wanted to wear a seat belt and both of us felt sick as we got to the airport in about 18 minutes and were lucky not to have crashed.
Phnom Penh
I think the best way I could describe this city in a few words is it`s very exotic, chaotic, distressing and even repulsive.  Definitely a place I`m glad I got to see from all points.  We decided to skip going into the palaces and focus on the grim history.  Some tourists come to this city and just see the glimmer, but I wanted to get down to the heart of what has shaped Phnom Penh – and we really got what we came for.
Rules of the Road:
Arriving in Phnom Penh, Vanessa made me laugh as she thought all the driving was super crazy and very chaotic.  If I was to compare to India (and Debbie could back me up on this), I thought the driving was calm and orderly.  Let me describe.  There were two lane roads and really no rules to driving and no stop lights (or few).  The cars took the left lane and honked once when passing any other vehicles (annoying, but alerted others).  The other motor bikes, tuk tuk and bikes, tried to stay in the right lane and pass each other.  I will saw the best part was everyone was driving slowly and the people peddling on a bike were going just as fast as we were in the car.  So safety wise – much better than our taxi to the Bangkok airport.   What was interesting as families would all ride on one motorcycle.  Meaning 4 people on one bike, and sometimes the little 2 year old was in front holding onto the handle bars.  There were many sleeping infants on mother`s shoulders and we just prayed for no accidents as the whole family would be hurt (as no one wears helmets).
Luxury Hotels:
Lucky for me, Phnom Penh has another Intercontinental Hotel, and Vanessa hooked us up again with her employee rate so more luxury living for us.  It`s been so nice having a break from hostels, simple hotels and guest houses and being able to stay in a 5 star hotel and even have turn town service.  Yea!   We also were able to spend an afternoon at the pool and swim up to the bar for some snacks and beers.  Now this is living!
The Auto Rickshaw:
Deciding to  get away from the 5 star treatment (with hotel cars to drive you to dinner for too much money), we hired a motor bike to take us to the riverfront. These vehicles are simple motorcycles in front and a carriage for the passengers.  I will say, at first, it felt like we were princesses climbing into our pumpkin coach (and it was orange), but soon we were puttering along with all the locals, smelling the street stalls and garbage along the way, but I still prefer it as we got to see more in the open air and experience the local transport to dinner.
Cambodian Dining:
We were going to try a place our guidebook recommended, but when we asked the hotel how to get there, he gave us such a look and asked why we want to go there.  Who recommended it and it the look led us to believe it wasn`t good.  He offered to suggest a few others for us to choose from, so we took one of them.  He told us it was great food, friendly service, we get a short massage at the end and free fruit for dessert.  Sounds nice right?  I will admit, the service was great. the food was amazing as we had a lobster dish and crab dish (for so little money).
We had 4 waiters to help the two of us and as we ordered beers, they wanted to cheers with us and said we could buy more and fill up glasses for them if we wanted (but we didn`t know if this was a good idea as they were working).  After our meal, they brought a few plates of fruit…then more…and more.  Seriously there was enough fruit to feed 8 people, but it was all so good and many new fruits for us.  My favorite looked like eye balls once you peeled them.  So as I kept enjoying my eyeball fruit, I was telling Vanessa I was eating her eyes.  Throughout the night, these waiters were all smiles, very helpful and after our dinner we did get a back massage.  Short massage to me would have been a couple minutes.  They went on for about 10 minutes and Vanessa and I both kept saying "Ok…that`s enough…thank you…stop", but they didn`t stop until we turned to look at them and say "OK – enough" a little sternly.  We think they were trying to do more to get a tip as when they brought the bill, they said "remember there were 1..2..3..4 of them" (as they counted and pointed to our 4 waiters).  How`s that for asking for a tip??
Cheesy bar…
After dinner, we decided to wander and try to find a place to continue drinking.  Many choices, but most were very deserted.  We wanted music and came across "The Riverside Bar & Bistro".  As it was the music that drew us it, it also was what finally drove us out.  The music started off good and it was a live band playing some eagles and other decent songs.  Then all of a sudden it turned to "Love songs after dark" – or what you would hear on all the late night infomercials on TV.  I remember hearing "Love lifts you up" and a few others that made us gag and want to leave.  Plus there were few women and the men that were there were all older, greasy and sleazy – hence they loved the music!
So the main reason for coming to Phnom Penh was two sights.  Before I took this trip, I honestly didn`t know much about Cambodia, except any traveler I met said it was amazing.  I knew there were two things I wanted to see after talking to some travelers in Zanzibar which were:
–Killing Fields of Choeung Ek
This is where there was a mass genocide from 1975-1979 and about 17,000 people were executed at these fields.  After all the executions, the bodies were dumped into mass graves and it was years later this memorial was built to remember.
I don`t remember learning much about this in school and realized I was just a toddler when this ended.  We started our visit with a few moments of silence looking upon the white memorial, which inside encased over 9,000 skulls and many bones that were found.  The tower was very tall, and shelves of skulls were inside.  It was very intense to see so many and know the horrible fate of all of them.
Vanessa and I walked around the swamp like fields (more swampy as it rained so much the night before), but also the graves were big holes to deposit the bodies.  I will say, it was a beautiful setting as it was so lush and green, but the reason for being there was so morbid.
We did come across a group of children that wanted to sing for us and have us take their picture (so they could see it on our camera).  They were just outside the fence of the fields playing and having a great old time, when inside the fence was such a sad thing.    It just reinforced the contradictions of the place.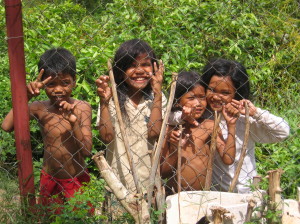 Vanessa tried to lighten the mood by calling me a "swamp donkey" as I was leading the us along the path.  I still don`t know why but it allowed us to laugh a little and lighten the mood as it was so sad. Really hard to be there, read about all the different parts and what happened to so many, but something I would recommend going to if in Phnom Penh.
Tuol Sleng Genocide Museum (former S-21 Prison):
This site has an interesting history as it started off as a high school and seeing it now, I would never have known it was a school as the large 3 story building was turned into a prison in 1975 and it was the largest center of detention and torture in the country.  Almost everyone held here was later executed at the Killing Fields.  We were able to walk around the facility which including so much barbed wire, there was no way anyone could jump or climb in/out.
There were so many cells (former classrooms for about 25 desks) that held many prisoners chained inside.  We were able to see the solitary blocks, hanging poles for water torture, photos of people that were there and really learn about the story and see a lot of graphic photos.  Again…very powerful day.A few friends have emailed me after seeing some status updates on facebook and asked me why I wanted to go and inquire about what I was seeing.   I guess it`s almost like wanting to go to other concentration camps in the world…I felt I wanted to see what happened to better understand and this was such a tragic part of Cambodia as almost 70% of the population was killed which left mostly women and elderly to try to rebuild the city.
Vanessa and I both thought what the country would be like if the this genocide didn`t happen as Cambodia is well behind other countries in this area as far as development and modernization.
I`m glad we came here and learned about this history and now I want to read the book and see the movie to Killing Fields continue to learn.
LOGISTICS:
Intercontinental Hotel – +855 23 424 888