February 16th  – Day 3 of Shore Trips
-We were told this early morning would be one of the most spectacular early morning sailing as we would be entering a channel loaded with icebergs and lots of ice and it was recommended to wake up earlier to go up to watch.  I`m glad I was up there (at 6:00am) as the sun was shining and all the ice was lit up so bright!
Neko Harbour (morning trip)
-This morning, I was in the first zodiac to leave the ship, and I was thrilled as it felt like I had all of Antarctica to myself!  I took advantage of this solitude and quickly headed away from the others on zodiac and towards the glacier hike.  I wanted to climb up first so I could appreciate the beauty and quiet of the glacier, harbour and ice.  As I climbed the ice, I was rewarded with about 15 minutes of peace and quiet with just one crew member that set the trail before me.  I just sat on a rock, overlooking the harbour and then heard a loud crack…and crash and watched a huge ice sheet fall off the glacier and into the water causing the loudest noises, largest waves in the water and was amazing!
– What was crazy was the ripple effect it had in the water, the power behind the waves and all I could think of is this must be what a Tsunami looks like (just much smaller scale).  The power in the water as all the smaller ice bergs were pushed around and the water overpowered the beach – it was such a sight to see (from way up high!).
-I loved the quiet and tranquility of my mountain top (well that is before more and more people slowly made their way up as well and the moment was lost), but it was still a pretty sight to sit and watch.  I was able to see another avalanche up on the mountain and a smaller bit of ice fall into the water and make a large wave.
-On the walk down, it was slick and steep, and I was trying hard not to go too fast and fall (as many people were).  It`s not a place you want to break your arm, as the ships doctor doesn`t have an X-ray machine and you have to wait to we return to Argentina for a cast (as one woman broke her arm on the first day).  So she is suffering with a sling and will have to have it rebroken to set it right when she gets back.
-So instead of walking down the trail, I sat on my butt and used my gloved hands to scoot and slide all the way down, catching many others on our group laughing at me and taking pictures.  I felt like a little kid and it was a lot of fun!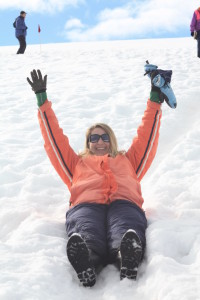 -After lunch, we had to take advantage of the amazing weather we were having.  Our expedition leader just kept telling us how unusual this is as we had so much sun (we had it for 4 of the 5 excursion days), and with little wind – it was so unusual.  So we took advantage of our time after lunch and before our zodiac cruise started and hung around on the top deck.  After standing there for a few minutes, I was actually hot, and took off my parka, then outer layers and finally was down to just one shirt, so I decided to go change.  Of course I stopped at the bar to buy a cold beer, then I came back up in shorts, tank top and flip flops and everyone around me was starring at me like I lost my marbles.
I was much happier as the sun was hot and felt great on my skin.  As I was the odd one out, others wanted to take a picture of me relaxing with a beer in my beach attire as they were still in their parkas.
A few of the crew kept asking if I thought I was at the beach and my answer was yes – an ice beach!
Paradise Harbour (afternoon excursion)
-When we entered this harbour, we planned to have an afternoon zodiac cruise all around the icebergs and see what wildlife we came across.  This was amazing!  We were able to get up close to the icebergs, seals relaxing in the sun and even sat and listened to the icebergs.  If you are quiet enough, you can hear the cracks and melting of the ice.   We even had a rum and hot chocolate delivered to us by the barman out in our boat, which was a fun treat.
-The seals were playful on the icebergs, the huge icebergs were out of this world, and all the brash ice (small bits all in the water) were outstanding.
Back on the Boat – The News of A Grounded Ship…
– We heard there was a problem with another boat in Antarctica…one ship just ran a ground during the night. There was no report yet if the boat had damage, but our boat was considered as a rescue boat since we were close, but in the end…we were not deemed needed which was great for us.  We later found out the boat was freed from the ground (all passengers were transferred to another boat to finish the trip), scuba divers went under the boat to check and there was no damage from inspection or from video footage.  The boat plans to sail again after passing another inspection above water in port.
Antarctica BBQ
-Back on the boat, the crew planned a BBQ for us out on the deck and we had glorious weather for this.  So lots of grilled meats, free flowing booze and even tasty chocolate chip cookies.  The simple cookies were a treat as I can´t remember the last time I had a chocolate chip cookie.    It was also a rare dessert as all our desserts (at lunch and dinner) were so elaborate and fancy we had to take photos of a few of them.