February 15th – Day 2 of Shore Excursions
Half Moon Bay (Morning trip)
-When I think of Half Moon Bay, I just think of the island with the most baby penguins that also were so dirty and covered in poop! We found out that the little baby penguins are too young to swim (and clean themselves) and just got covered in poop. They also got dirty when a parent penguin came back to feed them (by regurgitation). All in all – dirty little penguins, but still cute to hear them as they were quite loud!
-After exploring part of the island, I sat down for a rest and realized I was watching Penguin TV and I was sitting right along one of the most active penguin highways. The penguins were so funny just hopping around from rock to rock trying to cross. They didn`t mind me sitting there, and Susan got a great picture of me chilling with the penguins!
-As I`ve said before, the scenery is break taking and everywhere we looked it`s snow covered mountains, ice, glaciers and words just can`t capture it!
Whalers Bay and the Polar Plunge (Afternoon trip)
-We sailed into a narrow passage into an active/inactive volcano. This was pretty amazing as the water we sailed into used to be the top of the volcano, but now it`s covered in water. The last time this volcano erupted was in 1968 and then again in 1969 and this volcano has a history of going off every 30 years…so it`s about time!
-The landscape on this volcano was quite different with leftover volcanic rock, old buildings that were used for whaling and are still standing (barely). There was just a little animal life with about four penguins (compared to the hundreds or thousands on other islands) and a dozen fur seals that were enjoying the warmer land.
-As we approached the beach, we could see the steam raising from the edge of the water, so I felt it and it was hot, then warmer and within 12 inches, it was cold and really cold! I decided to get one picture of me laying on the beach here…as one of my friends made a joke about me having so many pictures laying on a beautiful beach in a different bikini. So this is my silly picture of me laying on the beach (and I was up to my knees in water) but this time I was fully dressed in my parka, thermals, and waterproof pants…too bad I learned they weren`t really waterproof as my legs and socks were wet for the rest of the day. Oh well…Then the seals came up towards me to check out what I was doing, so they are in my background for fun too!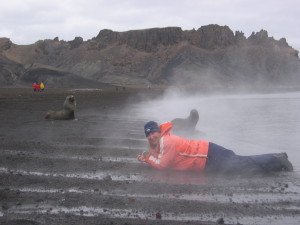 -The main draw for me was the opportunity for the Polar Plunge. This is a place we can be insane and go swim in the Antarctic Ocean and the water temperature was only 1 degree! I knew I wanted to do this and did everything I could to encourage (or pressure) others to join and we ended up having 38 people out of 108 that made the plunge – which was a very high turnout.
-As I was such a loud cheerleader for others, I knew I had to go and stay in longer than others, and I did just that. After my first plunge, when I walked out, someone yelled "go back again", so I went back in. At that point, it was really cold, and I came to the edge of the water where a little…again just a little thermal heat is coming up from the volcano and it warmed that little bit of water. But as I was laying on my stomach, my toes were frozen in the colder water and my upper body was pretty hot.
-Tamarin was not sure if she would go in for the plunge, but once she and Liz came to the beach and she saw we were already in the water (and I yelled to them to "hurry up and strip down and join us") she decided she should come. Tamarin said that seeing me just laying there and not hurrying to get out made her think it was warm and ok to do and she came running in with Liz.
-During all this, Deanna, Susan, Joey and I waited for Liz and Tamarin and then the six of us hung out for a while. Now I felt like it was Sports Illustrated swimsuit edition as all the other wusses (that wouldn´t take the plunge) were there taking our photos (as the dumb girls that won`t get out of the freezing cold water).
-After we got out, I ran for a towel, threw it around my waist, put on my parka and life jacket and ran to the zodiac to get the last spot on that boat…as I knew a hot shower was waiting for me and I didn`t want to put all my clothes on wet (which others did and I didn`t get it!).
-I`m so glad I made the plunge…another bragging right and will complete my expedition to Antarctica as so many cold things here, but wearing a swimsuit in such cold water may have made me insane.
-When we got back to the ship…we were given certificates and part of it read "We do solemnly acknowledge that this was an act of indubitable courage (as well as extraordinary, incomparable foolishness). Based on observance of this act of absorb heroism and confirmation by the ship`s doctor of Megan´s temporary loss of any common sense, Megan Gunn is a key member of the Antarctic Polar Plunge Club". Yea!!! Such a memorable experience