First Step On To Antarctica (February 14th)
– Since I went to bed around 1:30am after my birthday and after lots and lots to drink, I wasn`t the happiest camper in the morning.  Plus we had a 6:00am wake up call and had our land first excursion on Antarctica.  As a real trooper, I made the most of it and made it to breakfast to get a little grease in me (good they always have bacon and eggs as that really helped get me going!).  All I wanted was a large bottle of water, but we were told there are no bathroom facilities to use so be careful what you drink as if you need a bathroom, you have to return to the boat.
– After putting on many layers of clothing, long johns, three pairs of wool socks, we were ready for our first zodiac ride to Antarctica.  (FYI – A zodiac is small motor boat to get to shore.)  As my boat was the absolute last seven people to leave the boat (and five of us were up late celebrating my birthday), we finally were off.  Our driver gave us an extra tour and drove us out of the way past our first icebergs and just seeing the size of them and scope was surreal!
Brown Bluff – morning excursion
– As we landed on at Brown Bluff, this was one of the few landing on the main continent of Antarctica, and this signified my walking on my seventh continent!  Very few people have that claim to fame, and now I`ve been to them all.   First thing we noticed were the hundreds of penguins just sitting on the beach and snow.  They were everywhere.
– This part of the continent was almost all snow and ice with some small rocks close to the waters edge.  I don`t think I saw any vegetation here, but then again I wasn`t really expecting.
– We started off on a trek up the mountain of ice and snow that took us about 90 minutes and rewarded us with stunning views of the land, sea and many icebergs!  I just had to stop and keep looking around and I couldn`t believe what we were seeing.  It was also quite a sight to see most of the people on our boat trekking up in a switchback fashion in bright colored parkas and the picture gives a great scope of the size.
– On the way down, I just chilled along side with the penguins.  We saw many Adelie and Gentoo penguins (different colors and markings for each type of penguin).  There were many fur seals and even a Weddell seal that was white and gray.
– This Weddell seal was much more social and kept burrowing its face around in the snow and was too cute not to photograph!  I had to sit and just watch him with all the snow in his whiskers.  He was one of my favorite seals on the whole trip!
-Back on the boat for lunch, we were lucky to get to sail by some huge tabular icebergs.  Looking at them, they are impressive, but since the sun was out, the colors came even more to life.  After passing these icebergs, we just saw how blue the ice looked (even though it`s white).  We even passed Esperanzia station, which is currently an Argentinean science station (yet we were told all they do there is take the weather), but the Argentinean government wants to make sure they have a presence in Antarctica.  The real claim to fame is the only baby to be born on Antarctica was born at that station.
Gourdin Island – afternoon excursion
– After lunch, we were off again to a smaller and less visited island, which turned out to be quite the contrast to the morning.  This island was all rocks, ice and a few plants.  Again we were given the opportunity to trek to the top of the mountain and it was steep, and rocky and so windy at times it felt like we were going to blow away.  On the walk up, we did notice one dead penguin that looked like a fresh death (maybe that morning).  My guess is he may have fallen to his death or maybe a bully penguin pushed him down.  Bad Bully!
– After the successful climb to the top, we were again rewarded with stunning views of the other side and many more icebergs and penguins.  We even saw a beach of fur seals and one elephant seal which is rare.
– Part of our fun was watching penguins slide and fall on the ice.  It brought many minutes of laughter as the penguins were chasing each other or trying to run, and kept falling.  They would try to dig their claws into the ice to stop, but ended up doing a lot of face plants on the ice.  Still laughing at them…  Check out the video I have (link to you tube below)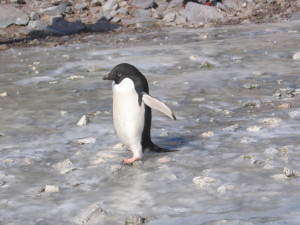 – Leaving Gourdin Island, we got to take a short zodiac cruise past some impressive icebergs including one with a huge round cave.  I got a photo with another zodiac in it to try to get the size of the massive berg!
-The final highlight for our first day (man we had the most amazing day!), was the zodiac ride back to the big ship.  I was one of the last boats to return and as we were about to get on the big ship we spotted a whale and were able to stay in our boat to get a better view.  We saw two minke whales and they came within about ten feet of our boat and we just watched them surface, blow air and then dive deeper showing us the fluke with such grace.   What a sighting and everyone on the big boat was jealous watching us have this up close encounter with a whale on the first day.
Not a bad start to Antarctica, let alone for Valentine`s Day!
Video Links (you may need to paste into new browser):
http://www.youtube.com/watch?v=WgWzqTcM-jw
(to be added at later date – penguins sliding down ice)