So after a week on the island of Zanzibar….where do I start?
Amanda and I started off with 4 days/3 nights after our safari.  Figured that would be the best way to enjoy the end of her holiday and relax after all the bumpy jeep safaris.  We checked in at a gorgeous beach front hotel with swings that Amanda loved and couldn`t swing from enough right over the water.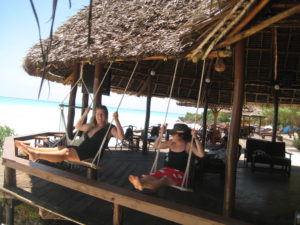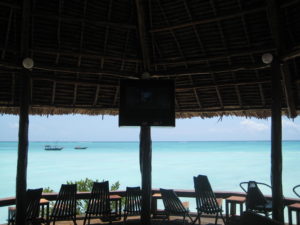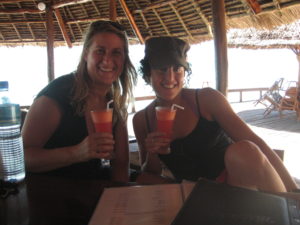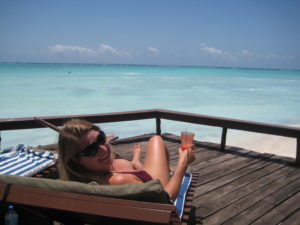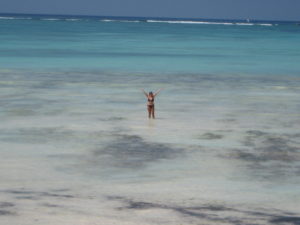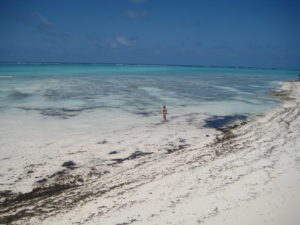 The currency was crazy.  We had so much cash, as it wasn't worth much so, I had to fan it out and feel rich with so much of it.  1 US Dollar equaled 1,200 Tanzania Schillings.  So each of these 10,000 bills was worth about $8 US dollars.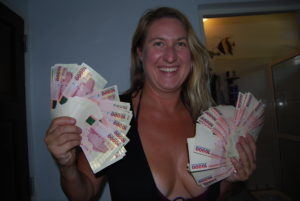 Then we proceeded to enjoy the sun and some lunch.  Unfortunately, things didn`t go well with lunch or the service or the staff at the hotel, and we decided we would move hotels in the morning.  We knew where we wanted to go, thanks to a suggestions from Laura and Chris on our safari.  We were told it was a 30 minute walk, but after more than an hour, we still hadn`t gotten there and then got caught with the high tides and had to walk up to a hotel to try to get a cab.  Too bad they wanted to charge us $20 for a 5 minute drive, but we finally got to Kwenda Rocks and decided the place was nice and we would move the next day.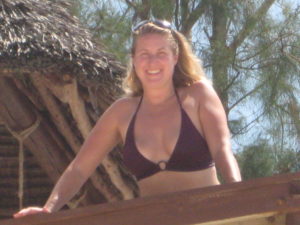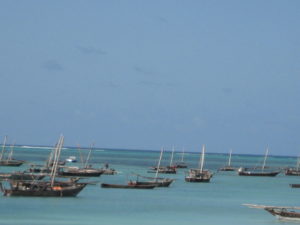 To celebrate our victory, we got a mango cocktail, sat on the beach to watch the sunset and caught a Masai warrior walking by at sunset, which was a great photo.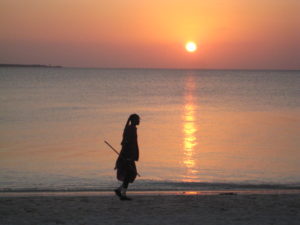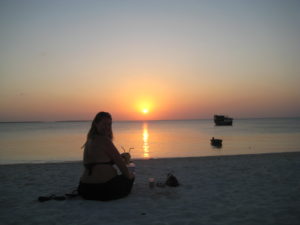 That night, we had to argue with the original hotel to get away as we had reserved for 3 nights.  The place wasn`t even half full, so they couldn`t tell us they turned away business because of us.  But again, not good customer service which was the main reason we were leaving.  The hotel was expensive and that`s not how you treat people.  But we were on our way to Kwenda Rocks where we met utter chaos with all the people checking out at 10 right as we got there.  It`s a big hotel and lots of groups go there and it was just the wrong day and time to try to check in.  So after trying to get our room, we figured better to drop  our bags and head off in the bus to Stonestown (1 hour away) for our full day in town.
Stonestown:
We knew we wanted to hire a little boat to take us out to Prison Island for a day.  It was a 30 minute ride to a pretty isolated island.  The draw here was a different beach, fun lunch spot and a turtle feeding in the afternoon.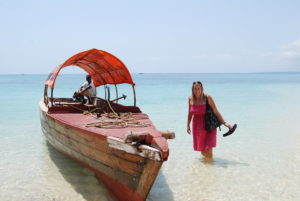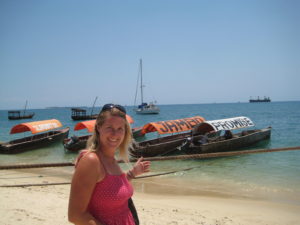 We ate lunch in the old prison which was fun, overlooking the water and walked the grounds of the islands, coming across a dozen wild peacocks with all the pretty feathers.  I guess this is the second prison I have been in on this trip (other being on Gotland island in Sweden).  I see a theme…have a prison on an island to prevent escapes (like Alcatraz?)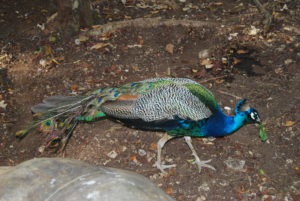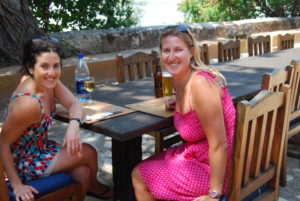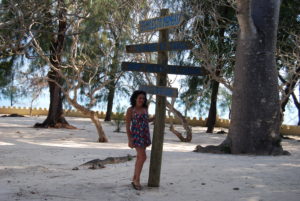 After some time on the beach, we headed over to the turtle sanctuary for feeding.  When I heard there was a 4:00 feeding time, I thought we would just watch, I didn`t know we would get to do the feeding.  It was so cool as these giant turtles were hungry and came right to us to eat.  Very fun afternoon.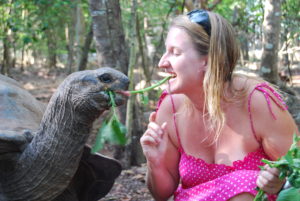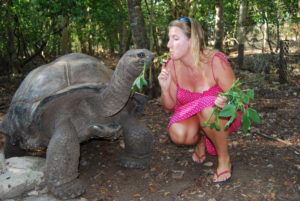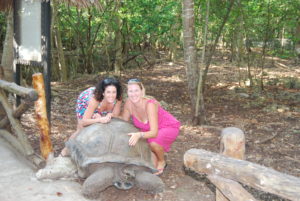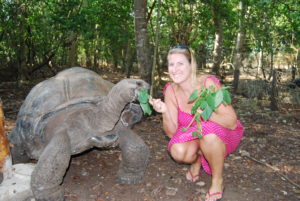 Once back on the main island, we had to go for a sunset cocktail to see the boating sailing by.  It was  pretty nice sunset.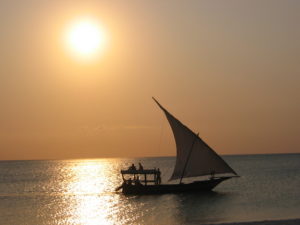 That evening we stayed in stones town to go to the food market.  This is one street where all sorts of fresh seafood is available.  The process is this:-find the food you want-get one of the sales guys to help you pick it out-pick that item you want and ask the price (crab claw or lobster for us)-cut the price in half-haggle more to get a fair price (or get something thrown in for free which Amanda did beautifully)-wait for food to be grilled on table top grill-enjoy amazing seafood.
So we got 2 huge crab claws, 2 whole large lobsters, spicy lobster kabob and some coconut bread for 30,000 shillings or $25.  Come on…where can you get that kind of meal at that price?  One lobster in New York would easily be over $50.
After dinner, back in a cab for the hour drive back to Kwenda.   Only bummer when we got back to the hotel was finding the broken/dysfunctional locks on my bags.  Somehow, when my bags got moved from reception to the storage room (since we got back after 10pm), both of my travel locks didn`t open.  I tried many times and Amanda tried too.  The combination has been the same for 10 years, but they wouldn`t open.  Not sure if they got banged around, put near something that demagnetized them (shouldn`t since they are combo locks), but everything was locked, nothing was missing.  Bummer was we had to get a guy there to saw them all off, and I didn`t have locks for the next week but hopefully I`ll find one at the Zurich airport on my layover to India.
The rest of our time in Zanzibar together was filled with beach, reading, massages, eating and just catching up.  We had an amazing white sand beach right at our hotel and had a blast.
Once Amanda had to leave me on September 11th, I was sad as we had such a fun time.  The good news is the night before, we met Emily, an English doctor, and Emma, an English medical student.  Both were working in Zanzibar this summer and were taking a few days at the beach.  So after Amanda left, I was spending time with them, and more their other medical friends came up for the weekend (Shanda, Aiden, Karina, and Rachel), so it was a fun time with them for 3 more days.  The night after Amanda left, they invited me to dinner for Shanda`s birthday, so a fun group of 10 of us were out to celebrate.  It was that night that I met Ross, Dan and Tom who were also English friends and on a 2 week holiday.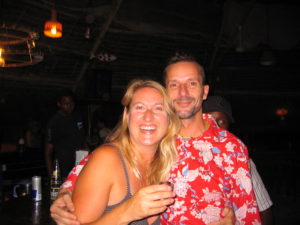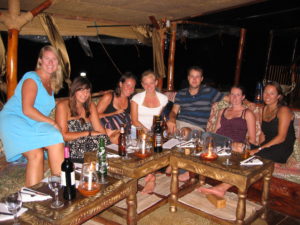 So as much as I missed Amanda, I was already able to make new friends.  And this group met up on the beach hammocks daily, volleyball court and bars each day/night.  Oh the fun we had.  On top, Emily and Emma decided to stay an extra night when the rest of their friends left as there was a big party at our hotel.  They both flew out the next day, but thought they would stay till 1 or 2 in the morning, get a taxi back to their house near Stonestown,  and then fly out.  I don`t know how they did it as it was a long fun night and I was in no shape to fly the next day.  Good thing my day was full of being lazy on the beach!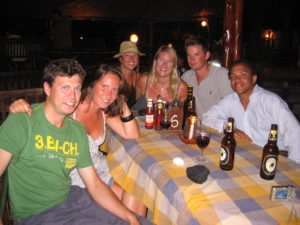 The remaining time was so relaxing reading and just being on the beach.  Such a strange experience as I had no where to go, no one to meet and was able to just relax!
I finally decided I needed to leave the beach as I needed to get a plane ticket out of Zanzibar (2 days before my planned departure date – last minute much?) and had to be in Stonestown for that.  Plus I also wanted to do other travel business stuff and my website.  So 3 days in Stones town meant too many hours online for me but I squeezed in one fun excursion.
On September 17th, I decided to go swim with wild dolphins.  There is one beach in the South east part of Zanzibar that dolphins frequent.  So off we went and after an hour drive, 20 minute walk out to the boat (as it was super low tide), we were off in the boat.  We first saw the dorsal fins of about 10 dolphins, and as we continued to sail with them, our driver said we could get out to swim with them, but to look down first so we didn`t jump on any by mistake.  The first swim, I was able to see them below me.  So I started to swim fast and kick with my fins to try to keep up, but they are fast!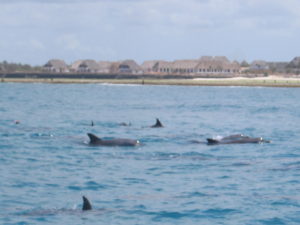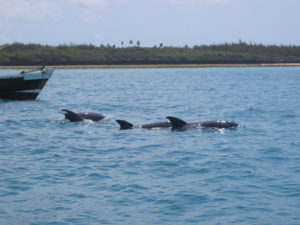 Next time I got out, I swam and they were coming up for air and there were about 20 dolphins surrounding me at the surface.  They were so close I even touched one as he came near to me.  It was such an amazing sight to see and experience.   At one point, I counted 27 dolphins swimming about 7 feet below me including 2 babies and one that was nursing as it was swimming with it`s mother.  These dolphins were one of the coolest things ever!
My last night in Zanzibar I met up with Ross, Dan and Tom at the African House.  This is the famous place to watch the sunset.  The hotel actually pays two Dhow boats to sail by right at sunset (as they have guaranteed sunset business that way).  How`s that for marketing.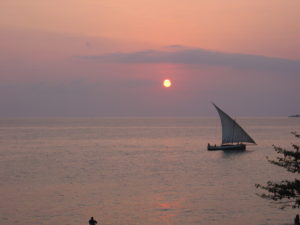 Unfortunately, the sunset wasn`t too good, but we had fun drinking at sunset and then I took the guys and another couple we met at Kwenda (Hannah and Cal) to the food market and I showed them the process and we had a great dinner.  I also showed them the Zanzibar pizza (which Amanda and I also had before).  This is a hand made dough pizza with thinly sliced banana and chocolate cooked over a fire and then topped with condensed milk and chocolate sauce.  So amazing for $1.
So ten amazing days in Zanzibar…  I honestly planned to do some scuba diving here, but was having too much fun with the people I was meeting, and the diving was 3 times the price as it was in Egypt (and other places I heard from other divers), so I figured I would save my money and may dive in Thailand next month.
Off to India tonight (via Nairobi, Kenya then Zurich, Switzerland and finally to Mumbai India after 30 hours of flights, layovers and time changes).  I will be on 3 different continents, on 3 flights and can`t wait to see Debbie in Mumbai on Saturday!