After three flights from the US, I finally made it to Laos and in the end…it was a fairly easy journey. When I landed in Bangkok, I had a quick hour connection and I got special VIP treatment (or I like to think so) as the airline was waiting for me with a sign and escorted me through the back section of the airport to connect me to my next gate and make sure I made my connection.
On my last leg of the plane, I sat next to a nice guy (Wayne) from Hershey, Pennsylvania of all places. I learned he was working in Laos and was one year into his three years and was working for COPE and asked if I knew what COPE was. I didn't and he explained a little more about the organization that helps with providing prosthetic limbs to bomb victims, and he also educated me about the bombings and sufferings in Laos (which I really wasn't aware of). He invited me to visit the COPE center in Vientiane if I had time and I said I would try to (and later did…more details later on listed in highlights). So my first connection on the plane provided a great learning experience about the Vietnam war and ongoing suffering in Laos.
Since I arrived in Laos a day and a half before my friend, I used Sunday, June 15th and Monday, June 16th as working days in advance of my week traveling with my friend.   My friend Vanessa wasn't arriving until after lunch time on the 16th so I needed to use this time to figure out how to get a visa to China for my visit in early August. Getting a visa to China was going to be the hardest of all my visas so hopefully I would be able to pull this off before she arrived.  I did all my usual research and heard it was going to be easier to get this visa in Vientiane so that was my mission on Monday morning. More details can be found at my visa page.
At this point, I had returned from successfully starting my visa process and was really happy at how easy it was in Laos.  It was high noon and I was back at the hotel and decided to chill at the pool while I waited for Vanessa to arrive,  as it was extremely hot (about 95 degrees and very humid). I had walked around a lot and already felt like I had a good understanding of town and where things were and was excited to see her as I hadn't see her since her wedding last fall in Melbourne, Australia
Most people spend one day in Vientiane seeing the sights, maybe two.  Based on the time of our flights, Vanessa and I decided to spend two and a half together so we had plenty of time to slowly see the city.  Vanessa and I were going to explore catch up, be silly and see the sights of Vientiane. The highlights are below:
The Wine Bar and Pouring Rain

For our first night out, we wanted to go to a nice wine bar we passed and have a glass of wine before dinner and chat. When we arrived, we were the only ones in there, so you would assume we would get great service and the bartender would be quite attentive to us. Sadly, not the case. They could barely be bothered to help us. Anyhow, we selected a nice glass of wine, which in Asia is hard to do. As we planned to go out to dinner after the first glass…we didn't expect it to start to rain and keep dumping for about 2 hours. So our one glass of wine turned to more and we were stuck making our dinner wine and a simple cheese plate. Normally, this would be an ideal dinner for me, but again, cheese is hard to come by in Asia. So this was a very small and simple cheese plate but the company made the night.
Pha That Luang

This is generally regarded as the most important national monument in Laos and a national symbol. It's a gold-covered large Buddhist stupa (45 meters tall). Pha That Luang has had a long history of being destroyed and rebuilt, and is thought to contain a relic of the Buddha.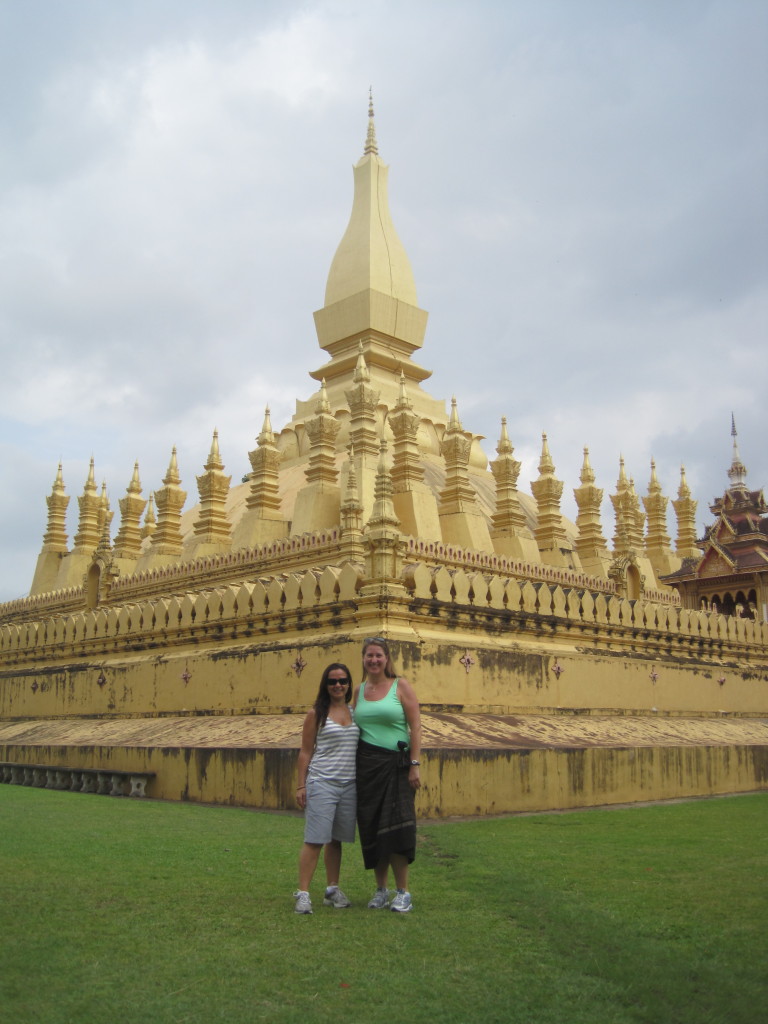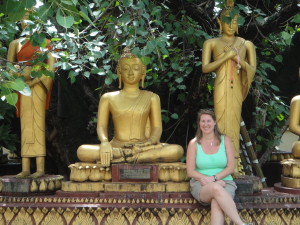 Patuxai Monument AKA Victory Monument
We stopped to visit this as this is one of the most recognizable landmarks in Vientiane. It was fashioned after the Arc de Triomphe in Paris but very Lao in the ornate details, the Patuxai was built in 1969 with cement purchased from the US that was supposed to be used for the construction of a new airport. The Royal Laotian Government instead built the monument, which earned it the nickname of the "vertical runway".
As I went to the Arc de Triomphe in Paris in 1998 and was told to count the steps the top (284 in Paris), I had to count these steps which was only 183 in Vientiane, so less, but still fairly high up. It provided a nice view of the city.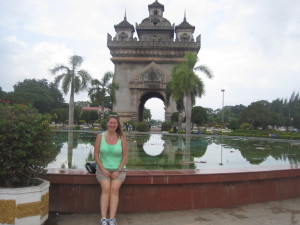 Caught in the rain for way too long
As we were walking back from the Patuxai Monument, it was about a mile back down one of the main streets in town. Is started to rain and we figured it may be short lived and we would duck under a dense tree canopy and let it pass. Sadly….it rained harder and harder and didn't stop and we were soaked. The trees did not provide much coverage and there were no taxi's or tuk tuk's coming by that we could flag down for a ride. So what are you to do? Finally Vanessa thought we should make a run for it and try to find some cover somewhere as it may last for a while. I think it rained really hard for about 40 minutes and we were just soaked.
Additional Photos from the Streets:

Interesting things I passed walking the streets of Vientiane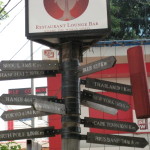 Wat Si Saket

This is the oldest temple still standing in Vientiane. Wat Si Saket has more than 2,000 ceramic and silver Buddhas at the temple. Many of them are tiny in the wall. Even though I like to count things, I didn't count all the little Buddha's and took the word of the experts that there are over 2,000 as there so many!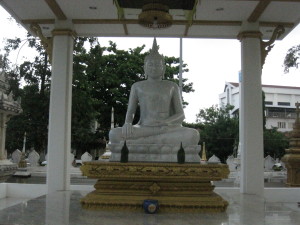 Foot Massage

After a long day walking and sightseeing, we decided to treat ourselves to an hour long foot massage. To our luck, a brand new spa and wellness center opened across the street from our hotel (Tangerine Garden referenced in logistics below) and they were offering a 50% discount so we were hooked. Where else can you spend an hour and only spend 40,000 KIP ($5 US) for a nice spa experience? The same experience in the US would easily be $40 or more.
Buddha Park

We knew it was going to be both an effort to get to Buddha Park as it was an hour outside of town and heard really bad roads to get there, but we had time. We also heard it was a strange creation statues in a park and just very odd. We weren't "Buddhaed Out" yet…so with that said, we decided to hire a taxi driver to take us and explore. Once we got there, we learned this park was created by an philanthropic eccentric, who had a vision of this bizarre collection of Buddhist and Hindu sculptures.
The main attraction was called "The Pumpkin. You first enter through an open mouth, and we were able to climb to the top of the pumpkin. Along the four levels inside, there were many more odd sculptures insides that words can't even describe and photos weren't really possible take due to poor lighting. Vanessa and I thought it was just odd and a little creepy. The best part was getting to the top of the pumpkin and having a view of the whole sculpture park. I was laughing as there were no safety standards and in the states you would never be allowed to just climb to the top and walk around on top of this as someone would be dumb and fall off and sue, but in Laos it's more walk at your own risk and be careful. After coming down from the pumpkin, we walked around the rest of the Buddha park for a while and just took it all in including a large leaning Buddha and a four headed woman sculpture. The four headed woman made me laugh as many men have said women have many heads and this just made the point.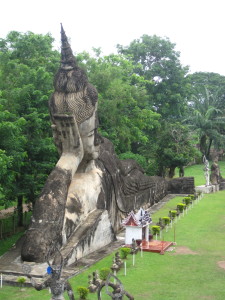 COPE
As I met Wayne on the plane to Laos, I learned a little bit about the bombings in Laos during the Vietnam War. I honestly didn't realize how many bombings there were until I visited the COPE museum. One of the more eye opening moments I learned from Wayne and the COPE museum was Laos was the most heavily bombed country per capital in the world and many of the bombing missions that were intended for Vietnam (and for whatever reason were not executed in Vietnam) were executed in Laos as the planes had to drop the bombs somewhere before returning to land. So Laos had many bombs dropped for no reason and to this day, many of these bombs are still going off and affecting the local people. COPE is working to help the locals and slowly the country is trying to locate and destroy any remaining bombs so Laos can continue to develop.
COPE works to provide access to prosthetic devices, rehabilitation services and pediatric services to people with disabilities. If is an amazing organization and the museum was very educational. More information (or ways to donate) can be found at www.copelaos.org
Finding wine store row in Vientiane (aka HEAVEN)
On the walk back to our hotel, we decided to take different side street we hadn't been on yet and to our surprise, we stumbled onto a wine store and had to go in. I was shocked to find some Tattinger Champagne for the same price I pay at home (which is really rare when you travel). So I bought a bottle. Then we walked more and found another wine store and went in. Vanessa decided to get a bottle of something nice. Then we found another wine store with different wines and I thought it would be good to get some wines to bring to Bhutan in a week as I knew it would be hard to find wine there. So somehow, our walk home turned into a wine tour of six wine stores and we came home with five bottles. Always when you least expect it I guess.
VIP Van to from Vientiane to Vang Vieng = Snafu #1

The two ways to get from Vientiane to Vang Vieng is by either a 15 person mini van or a large 50 person bus. If you think this transit trip went wrong…you are right.  The longer story is detailed out as #3 on my Snafu page….
So that's it for Vientiane.  Vanessa and I are off to Vang Vieng for a couple days.
Logistics:
Ansara Hotel – Wonderful boutique hotel (with a pool) in the center of town. We got a special low season rate of book 2 nights and get a 3rd night free. We paid $270 for our stay (and the rooms normally go for over $200 a night). This was one of the nicer hotels in town and I would return for sure.
Tangerines Garden Wellness Spa – 1 hour foot massage in a brand new more upscale spa which was normally 80,000 KIP, but low season special was 50% off for 40,000 KIP ($5). Really nice treat after full day walking.
Makphet Restaurant – One of our Favorite dinners in Vientiane and highly recommended. On top of the food being outstanding, the restaurant is a TREE Alliance restaurant (Training Restaurant for Employment and Entrepreneurship) so really helping those young kids in the country.
www.tree-alliance.org/our-restaurants/makphet.asp?mm=or&sm=mp
Phone: + (856) 21 260 587