After a fairly easy three hour mini bus ride through the countryside of Laos, we arrived in the small town Vang Vieng which is in the northern and western part of Laos. We knew this was supposed to be a small town situated right on the Mekong River with some of the most spectacular scenery in the country. Many travelers come to Vang Vieng to be active and explore the limestone caves, hike, bike, kayak and partake the most famous activity…tubing down the river inner tube. The river tubing used to be viewed as a rite of passage and used to be quite dangerous with out of control backpackers drinking to excess and then floating down the river. While I had no desire to "live the dream" of excessive drinking and tubing, I did want to experience the floating down the scenic river.
We decided to stay at what was considered the nicest (and only 5 star) hotel in town. In Laos, in the low season, this boutique hotel turned to be something that was affordable and quite nice. The hotel was right on the river with an amazing view of the mountains and the first day, we were one of only 3 guests staying there (and there were 32 rooms). So we were off to explore and enjoy a nice dinner in town. What we didn't expect was many of the restaurants were closed as the owners took a holiday at this time of the year as there weren't as many travelers.
Restaurants:
So I don't think there were any high end or even nice restaurants in town as they are all quite simple. The menu's all the same or very similar dishes, the cooks don't speak English and the wait staff may be the young kids of the cooks who speak very limited English but can usually get by and communicate. Everyone just knows the menu number and the cook knows what goes into the dish. There really is no customization or asking to omit anything.
We ended up going to one restaurant that was rated the top restaurant in town on trip advisor with a ton of reviews. We read that it was run by a local couple and the man took the orders and the woman cooked. This night, the woman was both taking orders and cooking as it was a slow night. She also was entertaining her young daughter. When she took our order, we pointed to the mixed vegetables and asked what type of vegetables were in the dish. She smiled and said no English. So we ordered it and the dish ended up being delicious (along with all the other dishes). It was just home cooking from a local Lao woman.
The other types of restaurants in town were really geared for the basic backpackers that just want cheap food and cheap beer. After our first night when we tried to go to another higher rated restaurant (we were disappointed to find out it closed for a few months for a renovations. We were so hungry and decided to go to one of these simple backpacker places. What made it funny was all of these places had large screen TVs showing reruns of the TV show "Friends". My friend Jen Nathan came to Laos in December 2007 and she wrote about this same TV situation with "Friends" almost 7 years ago as all the restaurants were showing "Friends" episodes then and they still are today. So Vanessa and I enjoyed some local Lao and Thai food, watched some "Friends" episodes and had a great night. As we grew up with the show, we laughed the episodes where Rachel put beef in her English trifle dessert and Monica started to date Richard and watched her parents make out in the bathroom. I'm a nerd and had to take a few photos of the episodes as proof. We even watched one traveler run by the three restaurants that were all next door to each other showing different episodes of "Friends" as she took a video of it. If was almost as if one restaurant didn't show Friends (and maybe showed a different TV Series) they were afraid people wouldn't come.
Biking, Hiking, Caving
Biking: We borrowed bikes from our hotel and headed across an old wooden and rickety bridge. We had to stop on the bridge to take some photos and enjoy the view. I love the family passing by under the bridge in the boat, as the little boy in the front was not looking pleased to have to sit in the front of the boat.  Even in this part of the world, they have a toll and they charge the toll based on if you walk, bike or drive across which was creative. So off we went trying to stabilize on our adequate bikes, down poor pothole and muddy roads. We had no idea how far we would go, but we wanted to explore a nearby village and maybe go up to a cave (pending on how far it was and how bad the roads were). We passed a woman washing down by the river and had to stop for a while to take it all in and then of course had to stop when a cow decided to cruise down the narrow road towards us as how often does a cow just come at you while you are biking in Laos?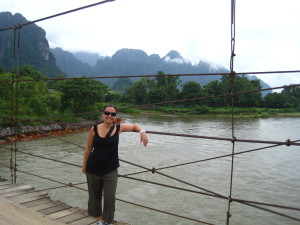 As we continued to bike down the road, the roads got a little muddier and more pot holes made the journey more interesting, but then we hit the huge water hole. We thought there was no way to go through without getting soaked, falling in or something else. So we stopped, discussed and debated continuing or going back (as we also were a little short on time). At this point, some local kids came by on bikes so we watched them to see if they would go and what route they took. They just cruised right through at a shallow part of the water and continuously peddled so we figured we could to it too. Vanessa sailed through like a star, but I was not so lucky. I went and got stuck in a muddy part and my front wheel sank and got stuck so my foot went down in the mud and water and then the other foot went down. Crap – I failed! So much for nice clean and dry sneakers. It was frustrating as everyone else did it fine and I failed and now had soggy sneakers and socks. So our course, the analyst in me tried to figure out what I did wrong and what I could do better for my return trip as we would have to go back through it again. (On the return, I did succeed!)
Hiking:
We made it to one of the near cave called Tham Khan and decided to give it a go. The hotel staff didn't know much about this cave as they had never been to this one as it wasn't as popular as others, but we saw a sign to the cave with a very unofficial sign with entrance fee to the cave and a little old man sitting there to collect it so we figured why not. We parked our bikes and looked around for where this cave was but didn't see it. We also saw a stream/river that we would have to cross and debated how we would get there as there was no crossing. The little old man was trying to get us to pay him to go, but we weren't sure yet. Then we saw what we thought were "campers" coming from a far. I say campers as it looked like they had sleeping bags and an air mattress rolled up and they were hiking towards us. We figured we would wait and see where this "campers" crossed the river to reach us. As the "campers" got to us, we soon realized they were not campers but local teens that were out working and picking food to most likely bring back to their families to sell. So we watched them just walk through the water in their flip flops and continue going. I figured we should just take off our sneakers and walk the same way they came but of course we took a harder route and tried to jump to dry rocks with our sneakers on. We had no idea the journey we were about to embark on with the little old man.
What we didn't realize is this cave was a good 30-45 minute hike from where we started and we had to cross the river about 20-25 times. This wasn't really a trip you wanted to wear sneakers for and it was not a well-marked route. What was really nice was this little old man, we later learned was named Wan, came with us and showed us the way and helped us reach the destination. He didn't speak any English, but ended up being the nicest man and gave me his flip flops to cross the rivers as I didn't move as easily barefoot on the rocks. Vanessa teased me as said I have "office feet" and they are still tender from working in the office and wearing heels to work. Her feet are more accustomed to living on the islands since she has been living in Thailand and the Maldives for the past few years. So she took "one for the team" and walked barefoot with the aid of Wan as he was her crutch crossing every river crossing.
We had no idea how far the cave was, where we were going but we hiked, crossed a river, hiked, and crossed again. Then we put on our sneakers as it was a longer stretch with no water. While hiking, it was gorgeous to walk around and take it in. Finally when we were about to give up as we were running short on time, but he showed us on our watch only couple more minutes and we continued.
Caving:
After about 45 minutes, I saw a red marker flag and small sign that said cave and realized we were there. We were surprised that Wan had stayed with us the whole time and when we got to the cave, he pulled out some headlamps for us and led us in. It was a beautiful limestone cave and tucked inside was one giant gold Buddha.
The Journey vs the Destination: In this situation, the journey to get to the cave was much better than the cave itself. Part of this was we didn't know where we were going, we had no expectation, and we had the help of this really nice older man. A few times as we were hiking in, I thought that we were in the middle of nowhere and no one knew exactly where we were, but Vanessa and I could easily take this man down if we had to as we were both bigger and stronger than him, but he was a really nice man.
Sister Wives/Brother Husband: Wan was a lifesaver to us showing us the way and a major saver and crutch to Vanessa helping her through all the river crossings both ways. I was teasing her that he was courting her in this journey. As she is a married woman, I told her it was almost like he has become a sister wife (or a brother husband if that is a new term).
Tubing:
So the second half of the day was going to be dedicated to tubing. Now the die hard backpackers all say you have to be on the river before 11am to really maximize your day (as you have to be back by 8pm). There are only 4 bars left on the river that are allowed to operate (as the Laos laws closed down many bars due to too many deaths and other problems a few years ago as too many people got out of control drinking and doing stupid things on river all day. So the tubing experience isn't what it used to be (which I think is a very good thing). Vanessa and I had no interest in the "good old days".
Tubing down the Mekong involved renting an inner tube from the one tube company, they drive you up the river about 4 km and then drop you at the first bar. When we walked in, we were greeted and almost a forced shot of local Lao whiskey. We both declined with a polite no thank you. The hostess (who was a western girl) was very pushy and told us "it's required". Again, I said a polite "no thank you… I don't care for whisky". Then she said, "It's part of tubing and a must"….my third "no thank you". She tried one more time with "It's a rite of passage and we must do it" and I nicely said "I have no interest in it and said no thank you a few times and would be happy to go purchase a drink of my choice inside" and walked away. Too crazy. So as Vanessa and I arrived at the first bar around 3:30pm and many people that were still at this first bar at this time were already drunk as they had been there for a few hours and were drinking and playing beer pong and being silly. I grabbed a beer and we just took it all in and people watched for a bit and decided to hop into the river and start floating. This was actually quite nice.
We skipped the second bar as it was quite close to the first one and we floated down to the third bar. As we floated a nice guy floated up to us and started to chat. He said this was his second day tubing and was doing it again as he met a lot of nice people the first day and wanted another day of it. So we quickly learned how you get out at the bars. The locals that work at the bar sit on the river edge or dock and they throw down a rope to you with a filled water bottle. You have to grab a hold of it and they pull you in to the river edge. Then you drop your inner tube on the side of the river and go on in to grab a drink.
Right when we got to the third bar, it started to rain but we were already wet from the river so nobody cared. At this point, we grabbed a beer and just enjoyed the show. There was a water basketball court, volleyball court, dance stage, bocce court and just a lot of people to watch having fun. While we were at the third bar, we figured almost all the tubers were there at the same time.   Our tube numbers were 115 & 116 and we were most likely some of the last tubers on the river for the day. I would guess this bar had about 100 people at it when we left.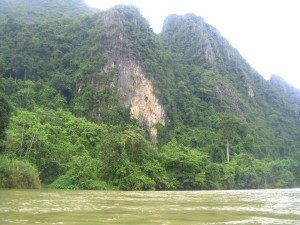 Once you leave the last bar, you get to float down the river for about an hour and this was some of the most amazing and spectacular scenery in the country. All around are high mountains, lush green hill and it was just stunning everywhere you looked.   It even rained on us a few times, but it was just really tranquil.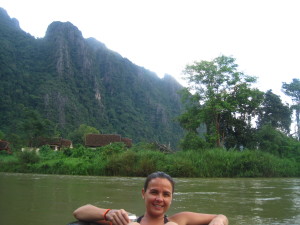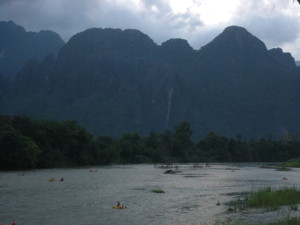 Would I tube again if I returned – for sure and I would do it the same way we did making it part of our day and not an entire ordeal.
Vang Vieng was definitely worth a stop as it really was beautiful. It's harder to get to right now as there is no airport and you have to drive the roads. Maybe in a few years with more tourism and development it may change as this part of the world is still very underdeveloped, but that was part of the reason I wanted to go see it now before it becomes a tourist trap.
Local Beer: As I have done for almost the last decade, I always take a photo of a local beer in front of something scenic so here is the Beer Lao over the Mekong River.
Logistics:
Riverside Boutique Resort – www.riversidevangvieng.com