The journey from Vang Vieng to Luang Prabang was a lovely 6 hour minivan trip. We knew it would be a long one, but were told it was up, down and allaround some of the most scenic countryside in Laos and worth it. What we didn't know was how narrow and winding the roads would be and that our driver was in training for the some race as he was driving these roads super fast!
Couple Stops on the journey: Sometimes the stops in route to the final destination are half the fun and this trip was no exception. Here are the tree most notable ones:
We stopped first at a small village. We were so high up in the mountains we were walking amoungst the clouds. It was a little eerie watching them float around us. We also got to see how the a little village life was
At our stop, we again were on top of another of another mountain with great views. I walked by a jar that made me take a double take. I saw a liquid with something that looked like feet, but I didn't think it could be. Then I went back and realized they were bear paws in some liquid. We later learned this was pear paw whiskey and has been used for years for medicinal purposes. I had no desires to try this, but had to get this photo of it as it was just so odd to me.
3. Our final stop, was a purely selfish one for our driver. We passed a large vegetable market on the side of the market. So he decided top stop to buy items for himself. We were all a little shocked as you don't do this when you are hired to drive a group somewhere. What was even funnier as when he stopped to get himself about 5 large bags of veggies, the other 6 Asian women on our bus (half local and half tourists) decided to get out and buy some items too. Then the four remaining people on the van (Canadian, Austrailian and me) all decided to take photos of this site as we should have been on our way to Luang Prabang and not shopping for veggies. But then again, we are in another country and there are different rules I guess.
So we finally arrived in Luang Prabrang and I was excited. I heard this was everyone's favorite city in Laos. It's a Unesco protected and has a quaint colonial charm and old quarter town that is very easy to walk around. Most of what you want to see, eat, drink and do is within this French old quarter build between the Mekong River and the Nam Khan River.
Night Market and Food Stalls
The Night Market is quite the focal point each night with hand made goods and we were odd to explore and buy. It was much nicer than the market in Vientiane as this market has more crafts and less of the everyday clothing and crap so Vanessa and I really made an effort to shop and buy.
Becoming a tourist attraction – When I travel, I love to take photos of everything. From time to time, locals like to take my photo. Maybe it's because I'm a western woman, maybe it's the blond hair. I noticed two monks in their bright orange robes walking towards us. One was carrying an iPad (which was so modern for a monk) and the other was carrying a digital camera which again was very modern. I noticed them both nudge each other, turn on the iPad and camera and aim them at me. They both smiled and took photos of me and kept smiling as they took a few photos. As much as I like to take photos of the monks and try to be discreet, they saw me as something worth taking a photo of too and it made me laugh.
The Food Stalls – We also found the area with all the local food. While we had no desire to eat here, I wanted to walk down and see it all. We arrived right as it was opening so all the food was just made and looked amazing, and the prices were super cheap. I see what both the locals and tourists would eat here as you could have a lot of appealing food for a dollar or two. We watched a woman make a green papaya salad from scratch and it looked great.   The only food item we tried was these coconut milk items. They cook them in this hot plate then flip them over and serve them on in a green leaf container. Quite tasty and we figured harmless.
Monks Processional – We were told the Monks made a daily processional down the streets of the old quarter every morning at 5:30am and went right past our hotel. We wanted to see this as there is something quite impressive seeing the monks in the bright orange robes.  The Monks just kept walking in groups of about 10 and were collecting cookies and cakes in their begging baskets and they did this every morning.  It was quite a sight to see and worth the early morning wake up.  The photos don't do the processional justice and I'm glad I was able to witness it.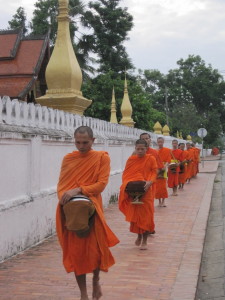 Kuang Si Waterfalls– We hired a tuk tuk to take us the 30 km outside of town to see what we heard was a pretty great waterfall and were not disappointed. We got to see the small villages on the way there and once we arrived we explored the four main waterfall terraces.   Each one was a bit difference, but the water was so turquoise in color and just stunning to look at. When we reached the last waterfall, this was the highest and most magnificent.
We read that you could hike to the top and when I looked up, I saw some people at the top, and it looked very high up. Vanessa and I looked at each other, then saw a sign with an up sign and said…why not? We started to climb the nice stairs and figured this isn't so bad. Then after about 15 stairs, we get to the rocks to climb, then then mud and tree roots and it was quite a challenge. As I looked up the very steep mountain hillside it was a tough climb and I said to her, "we are going to have to come down this too and that will be fun!" But we were already halfway so let's just push on and deal with the down later. Once we reached the top it was one of the most beautiful views of the valley and worth the trek.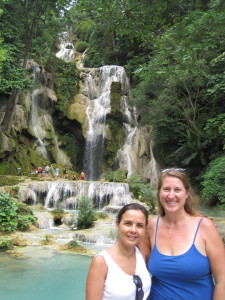 We also learned the down direction was on the other side and there were more waterfalls to visit with more pools.   The added plus is we got to climb rocks with rushing water so we were able to cool down as we water climbed (again, realized we were going to have to come back down). I kept thinking I was glad I'm still young enough to do this. All in all, a great day seeing the waterfalls, hiking to the top and rock climbing while there.
Tat Kuang Si Bear Rescue – At the waterfalls, there also is a bear rescue enclosure which was a nice addition. The government is trying to rescue increase the population of two endangered bears, the Asiatic Black Bear and the Malayan Sun Bear. Both of these bears were living in a very large enclosure and we arrived right at feeding time. What was fun was they were not just fed in a bin, but the food was hidden throughout the enclosure and the bears had to hunt and find the food as if they were out in the wild.
Lunch Cruise on the Mekong River – We heard the best way to see the city was taking a cruise up the Mekong River and this was great advice. We were able to enjoy four hours taking in the backcountry along the river and seeing how the locals really live. We passed by local fisherman, families playing in the river, boats for transport and working families on the river bank. We even saw a floating gas station boat which was quite impressive. The manager of the river cruise was a young guy from France and he spent a lot of time chatting with us about his time as an intern in Laos which was very informative and fun.
The cruise took us to a local village, call whisky village, where we were able to meet a woman that made her own scaves and sold them. She had her loom out from and demonstrated how she made them as she was working on one before we arrived. Of course we had to buy from here as she was so cute and she allowed me to take her photo as she was working. This village was nicknamed "Whisky village" as they also make a 50% rice whisky. We were allowed to taste it along with some less strong ones, but I really don't care for whisky. When the other couple on our cruise tried it and said how horrible it was, I decided to not try it and pass. Some things are better left and I took photos instead. They also had some whisky with snakes in it. I didn't see any bear paw whisky here, which was fine by me.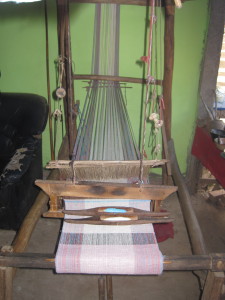 The final stop on the cruise was the Pak Ou Caves. There were two caves here. The upper caves had a 250 stair climb to the top and were very dark. We were told to take our smart phones (if we had one) to get light inside the caves. Funny that is the new norm for a flashlight as guides assume everyone has one. The lower cave had over 4,000 Buddha statues in it. Vanessa made a funny comment as she thought over the years people must have all brought one and just left it there as it was the most random collection of Buddha's without any theme. The most impressive part of the caves to me was the exterior mountain that the cave was built into which I was able to get from the boat when we left. The caves were a nice trip, but thr boat cruise was really what we wanted and the highlight of the day.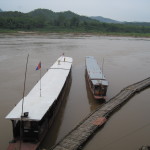 Spas– This town is known to have lots of massages and spas and Vanessa and I are always up to sample and support the locals spa culture in this way. So we did twice. We decided to start with a simple massage place the second day and took modeling photos of the super cute scrubs they make you wear for the dry back and head massage. The good news is it was a strong pressure massage and super cheap at 50,000 KIP ($6 US).
Our last day, we decided to treat ourselves at a fancy spa. We thought we were just going to go nice massage at a fancier spa, but when we were walking on our way to one, we passed a nicer looking one and they had some longer packages and we got sucked in. I'm so glad we did as we ended up pampering ourselves with a two and a half hour treatment with a scrub, head treatment and massage and it was heaven. I would say this spa package was better than some of the best spa packages I have had at the best spas in New York City and San Francisco and the price was less than a quarter of the price. It was unreal. I just wish we had more time to got back and I would so highly recommend this spa. They took such great care of us it was just unreal.
Vanessa and I had one last fancy dinner to end our week in Laos. We found one of the highest rates restaurants in town and decided to splurge, yet a splurge in Laos was really nice a modest dinner in the US. I can't believe my nine nights in Laos was over as if felt like I had seen so much, experienced so much and covered so much ground. I feel so fortunate to have experienced this with Vanessa as she is one of my greatest friends that is willing to take in the culture with me, go off roading when needed, but also likes to take in the finer things and live large and experience it all. I feel we did all of this and had a great time.
Logistics:
Hotel: 3 Nagas: – www.3-nagas.com
Restaurants: We had two dinners that we would highly recommend for great locals foods:
Tamarind – www.tamarrindlaos.com . Reservation needed as super busy. We loved all the dishes and flavors. Lemongrass stuffed with chicken was outstanding. They also has a cooking school but we didn't have time.
The Apsara – www.theapsara – (also has hotel we considered staying at. There are two locations – make sure choose old quarter location).
Spa: Burasari Heritage – www.burasariheritage.com
River Cruise: Nava Mekong – We decided to do the lunch river Cruise (but they do a dinner one too at sunset with a cultural dance performance)