Subscribe to Blog via Email
-I have always wanted to go to Easter Island to see the Moai statues.  I heard it was expensive…but really didn´t realize it until we looked at flights.  It was outrageously expensive…but the economist in me had to do a little price/benefit analysis plus weigh the opportunity costs.  Even though I haven´t worked in finance for a year….doesn´t mean I don´t still think this way.  So after realizing how hard it would be to get time off a new job (when I get one), plus the cost to get to South America and Easter Island.  There are no last minute deals and since only Lan Airline flies here, they have a monopoly on the flights and can charge a lot.  So I sucked it up and paid the expensive flight and in five and a half hours…Colin and I were on Easter Island.
-Easter Island is the most isolated inhabited island in the world.  It´s about five and a half hours from Santiago (about 2,200 miles) and six hours to Tahiti.  Yet it´s only 65 square miles and about 14 miles around the whole thing (about the size of Washington DC).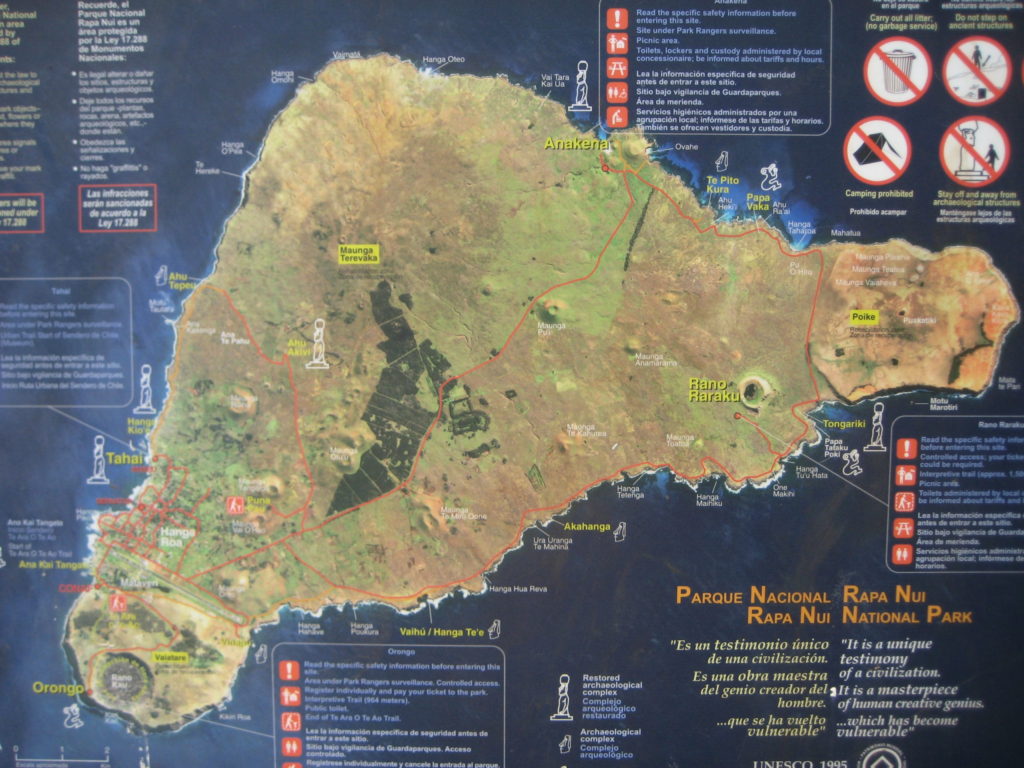 -We arrived at 9pm and were picked up by our hotel.  I even got a fresh flower lei which was wonderfully smelling.  Only problem….on an island, where it rains a lot, there are bugs.  I don´t really mind bugs and can deal with them, but Colin is not a fan.  We wanted to try to save some money on our room, since the flight was so much, and thought we would be fine in our room with shared bathrooms.  We were wrong! We were walked down to room, we trekked through the property and it felt like a backyard.  There were 4 rooms in the back (through mud) and we crossed a few cockroaches that came out in the rain.  One even came into our room…and Colin wasn´t too happy about this.  I tried to funnel the cockroach out of the room (as I didn´t want to squish him and have to clean it up).  As I got him out of the room, the guy in the next room stepped on him and it made a mess.  We knew this would be a long night.  So we left and walked along the water to find some dinner and figure out options.  I think we both knew we were going to find some other place in the morning.  Funny part was…we both slept and actually slept well.  Not sure why, but assume we were tired from the day.  In the morning, I spoke to the owner and we moved to a wonderful private cabin with an ocean view and balcony…so we were much happier and it was worth every penny more and it didn´t eat into our time to try to find another place in town.  We knew accommodations were bad all over the island…but where we started was so bad and where we ended was much better.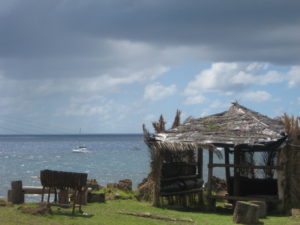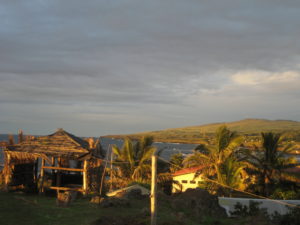 -We wanted to try to find the town, and quickly learned the town is one street, and there wasn´t much there…which was part of the charm I guess. We looked at all the markets and stores to see what was there and then went back to the water.  I wanted to inquire about scuba diving when I was on Easter Island and when I was doing this, Colin found a great little path we later took to find our first Moai statues.  We just walked north  and came across many statues and groups of Moai´s including the only one that still has the white eyes, made of coral.  It was so amazing!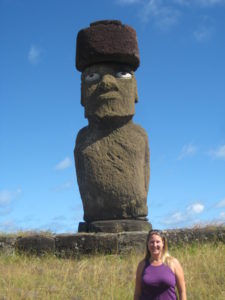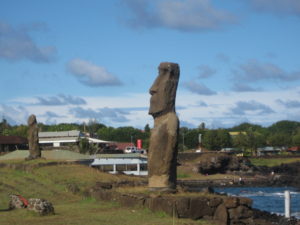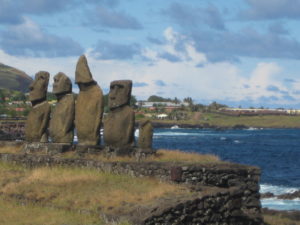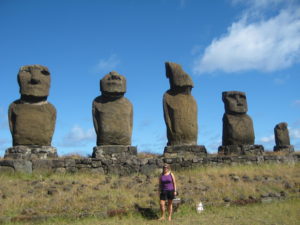 -That night, we wanted to check out the local music and dancing as there is a show.  I will say, the show was amazing.  I have been to lots of traditional dancing and the dancers don´t always care.  Here the dancers were so happy and you could tell they were enjoying performing and working up such a sweat in the hour show.  At one point, I counted 18 dancers on stage and 12 musicians and singers behind.  It was a mix of male dances and female only and then mixes.  One of the best local shows I have ever seen!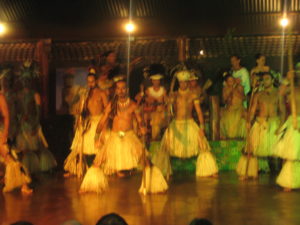 Check out the video on You Tube (copy and paste to a new browser):
http://www.youtube.com/watch?v=1OXDEN3v4W8
http://www.youtube.com/watch?v=MUL5sPmTwoQ
-On Friday the 13th, we took a full day tour of the island as a way to see everything and learn about the history.  This turned out to be a great adventure as we were taken around to many of the Ahu sites to see the toppled Moai.  Most of the Moai statues have been toppled over (face down) years ago due to tribal warfare.    It was sad to see them all down and in ruins, but it was the way the tribes would fight to take town the sacred sites.  Every time I saw a face down Moai…I could only say "Man Down".  We even went to one site where we could see the remains of the stone homes.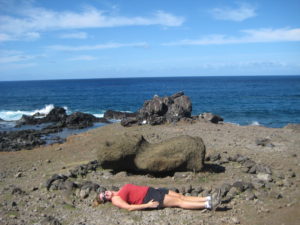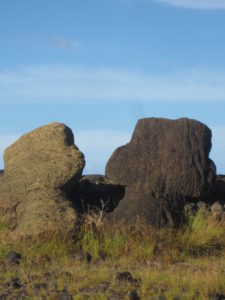 -The highlight to the tour was visiting the Rano Rakaru crater.  This was the quarry where the people would create the Moai statues right in the huge rock.  They would find suitable stone and then start to carve.  Once finished, they would be brought down the hillside on trees rolling the heavy statues down.  Many broke on the way down the hill or on transport to the final sacred site.  The largest Moai was never finished and is still in the rock.  This one is 71 feet tall/long.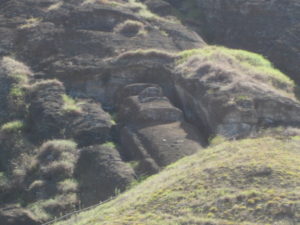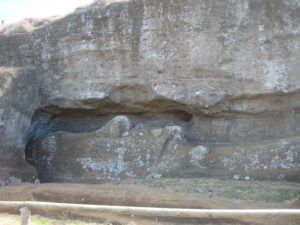 The average Moai was 13 feet and weighed 12 tons.  You can see one of the red tops for each statue next to me and it´s a little taller than me (so guessing 6 feet).  there are over 850 Moais on the island…yet we didn´t see them all.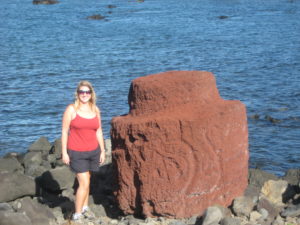 -The crater is also an inactive volcano and within the crater is a lake, where wild horses come to drink water.  I will say, this volcano climb was much easier than the one in Pucon and not half as cold.  This time, I was wearing a tank top at the top of the volcano!  Hee hee.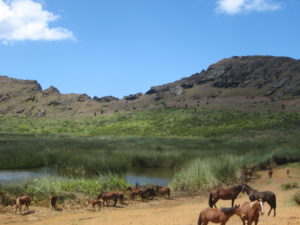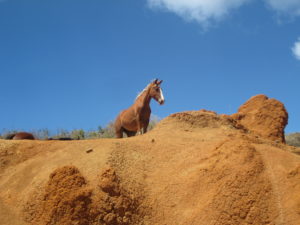 -After lunch, we stopped at one of the most famous sites called Ahu Tongariki.  This site has 15 Moai´s, including the tallest one at 22 feet tall.  This area was restored after a Tsunami toppled all the Moai´s and the Japanese government paid to clean it up and restore it all.  I just had to stand and stare at them as it was so impressive.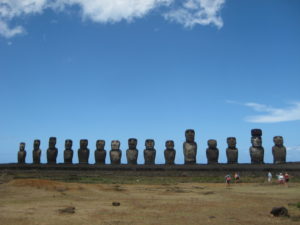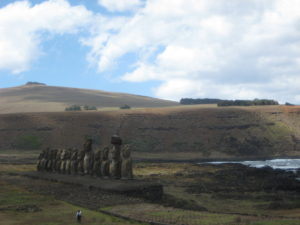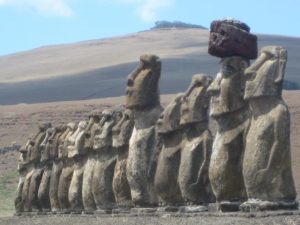 -We continued on the tour and came to a magnetic rock that still can turn a compass.  Colin and I had to sit and place our hands on the rock to feel the healing powers it is supposed to have.  I don´t know if I was healed, but the rock was really hot and it was fun to be allowed to touch something (as we couldn´t touch any of the statues) or get too close since they are sacred.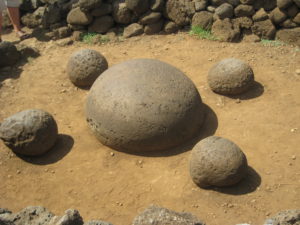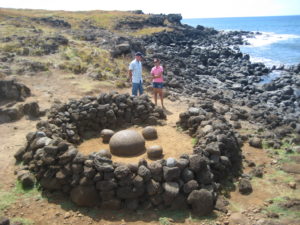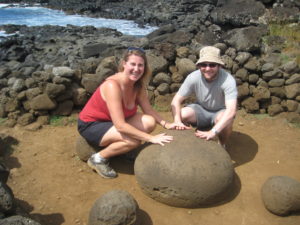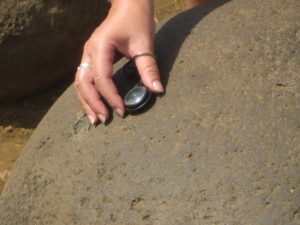 -After a long tour, we stopped Anakena beach, and this is the only sandy beach on the island.  It was said this was how the king would enter the island by boat, so I was swimming in the kings beach.  At this beach, there were even seven Moai´s that were well preserved, since they were covered in sand for a long time before they were discovered.   Long day on a tour, but so worth it as we learned a lot from our guide and got to see amazing Moai statues.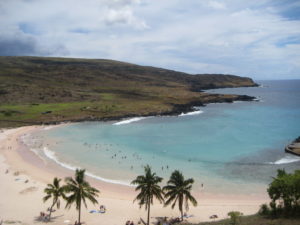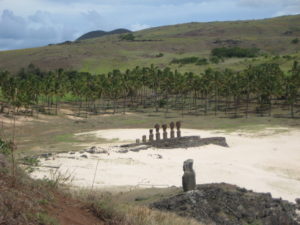 -The next morning I finally got to go scuba diving and had a great time.  The site I went to had one sunken Moai statue and as we came upon it, there was a spotted Morrie eel at the base.  I have a few photos of what I saw, as my dive master had a deep underwater camera, so I can´t take credit for these photos, but they were the fish I saw and the colors were amazing.  This dive was cold and the water current were really strong, but in the end, a great dive as lots of new fish for me and bright colored colors.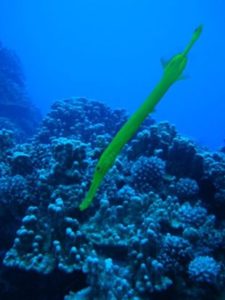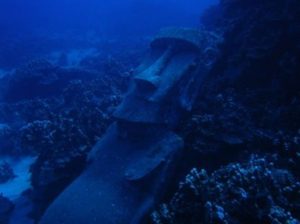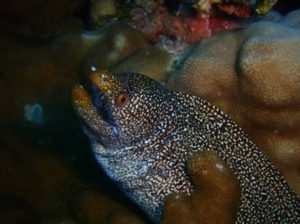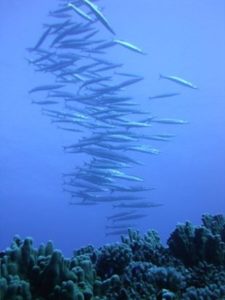 -Colin and I decided to rent a car to see more of the island and go back to places we wanted more time.  Only problem was the jeep was a stick and Colin doesn´t know how to drive a stick, and I´m not really a professional driver with stick shifts.  I know how to drive one, but haven´t ever owned one and can´t promise to drive it well.   Last time I drove one was in Brazil three years ago.  So I told Colin I would drive, but couldn´t promise the world and said I was sure I would stall here or there.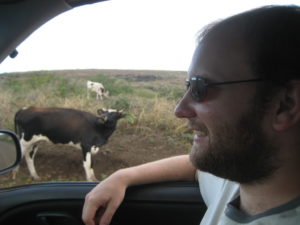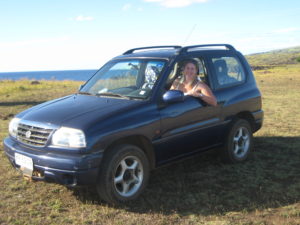 In the end, I guess it came back to me as not too many problems driving…even on the bumpy dirt roads and slowing down for crossing animals.  So we headed up north to see more Moai´s and found a few fallen men and then came across Ahu Akivi.  This site was amazing with seven Moai´s and the sun was getting lower at 5pm so we had great light to enjoy it.  We just wanted to stand there to enjoy it all.
-Our last full day on Easter Island, we continued with our rental car and drove back to the beach to relax.  It was Sunday, so another day of rest for the locals, so we thought we should relax at the beach as well.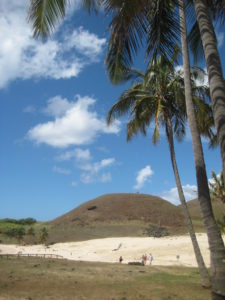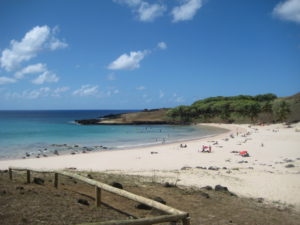 We also thought we would return to a few sites to see them with better sun as the first time the sun was directly overhead, and now it was lower which we knew would be better light.
-Words can´t really explain what we saw and experienced on Easter Island…the photos really have to do the talking.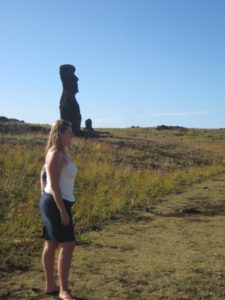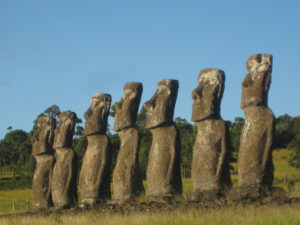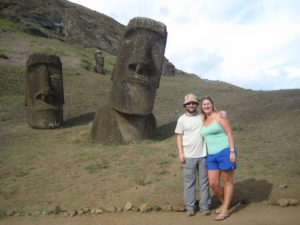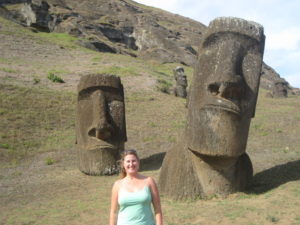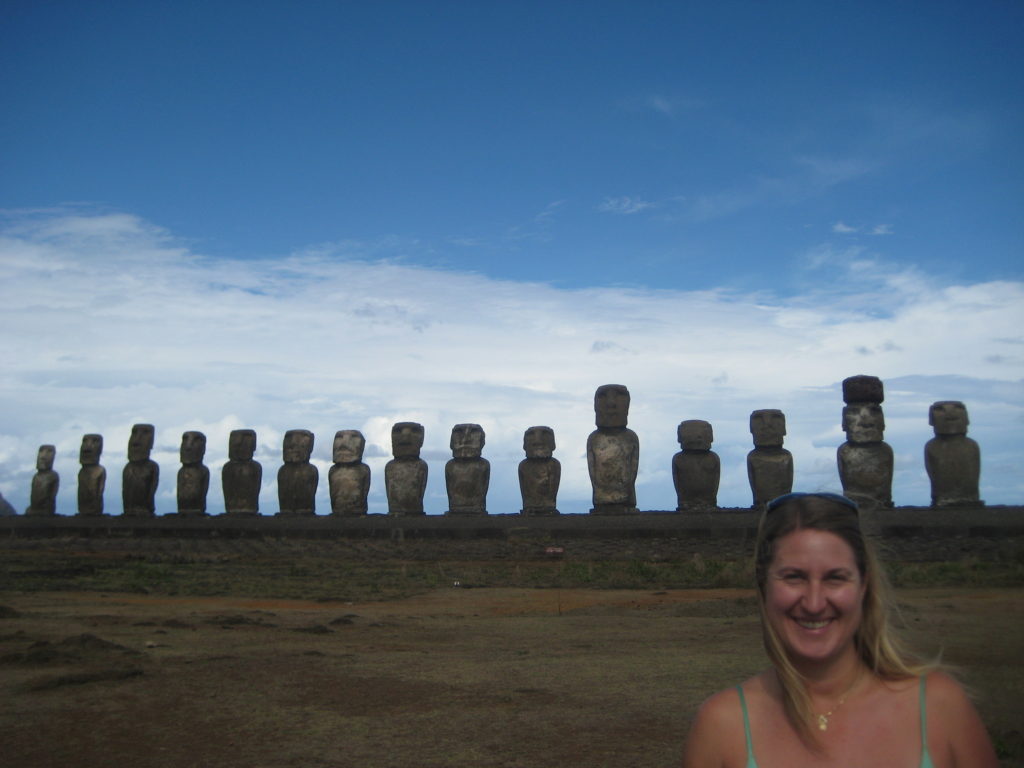 -Only problem we had….was today (which is why I am lucky enough to catch up on my website).  We were ready to leave for the airport…and the lady at our hotel said there were no flight.  It was raining a lot, but Colin and I didn´t think this rain would stop a flight from leaving.   I knew we had a flight and checked in the night before.  She told us there was a problem with the flight that arrived the night before and we weren´t leaving till the next morning.  Colin and I didn´t understand this…and finally had to walk to town to find out what was happening at the Lan office (as the phone lines were down and the Internet doesn´t have flight status).  I was worried we would miss our flight, but we got the Lan office and waited.  We heard others talking about mechanical problems and we weren´t leaving on time…so we waited an hour to talk to someone.  Then were told he couldn´t help, and we had to go to the airport to get a hotel voucher and such.  So we walked 10 minutes to the airport (in the rain) and waited 90 minutes to get to the front.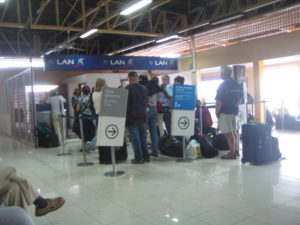 It was a long process and in the end, we were moved to another hotel (that the airline contracts with).  I even got them to get us lunch and dinner and a taxi (and others we talked to at the airport only got a hotel and lunch).  Pays to be nice and persistent.  I had to tell them we had no more cash and the ATM in town doesn´t work with my ATM card (which is true).  So Colin and I are relaxing in town today, catching up on journals, websites and may have to enjoy more wine.  Back to Santiago tomorrow (we hope)…and then we´ll figure out plans since we lost a day and have a flight soon…we have to alter our plans.  But not the worst way to spend an extra day on Easter Island for free!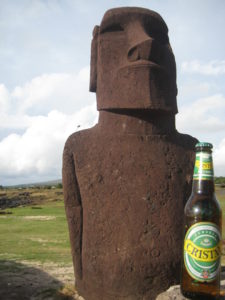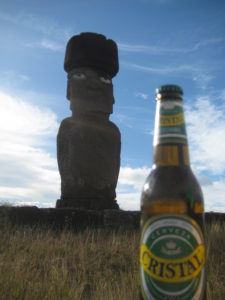 Subscribe to Blog via Email