After a relaxing Sunday, when everything was closed, we were able to find one wonderful place open to spend an hour – a spa!  My dad was interested in getting a massage as we each got one on Christmas Day last year in Panama and since the price was really reasonable, we made appointments and had a great time.  Sunday, February 1st was also the Superbowl, so after dinner, we watched the Superbowl with Spanish commentary.  It made for some of the calls to be difficult to understand, but all in all, we followed the game and the excitement of the last few minutes when the Cardinals almost won.  It was fun as we got to explain some of the rules to the other Argentineans that were watching with us and didn´t understand fully.
February 2nd, was one of the best days in the Mendoza area.  We decided to hire a private driver to take us out to the Uco Valley.  This is a newer wine region about 90 minutes outside of Mendoza city towards Chile (and the Andes mountains).  We didn´t really know much about the wineries, but I did some research online and worked with the girl at the hostel to put together a list of places we could go to and the first one has to be one of my all time favorite vineyard experience yet!  The winery was called Andeluna and all the wines we had were top notch (well we decided to taste reserve and grand reserve wines – but still they were the best!).  As this is a new wine region, not many tourist go here (as there are no tours and you have to plan it all yourself and is expensive to get there and taste  – thanks for the great day dad!).
Andeluna Winery
-Interesting…Andeluna is run by a family that has 200 years of wine experience, but the winery was funded by the founder of Lays chips out of Texas.   This place was beautiful as the tasting room has such an old feel, yet is beautifully designed.  I could have stayed there all day.  Plus the tasting room overlooks the vineyards, which are right at the foot of the snow capped Andes Mountains, so you can´t ask for a prettier location.
-Also, I learned about how they were cloning a vine.  I have never seen this, but one of the vines had died and instead of buying another vine of the same grape varietal, they were able to clone the neighboring vine and have it grown into the ground and then back up to form a new plant.  This entire process takes many years, but was interesting to learn about (and the photo with the yellow plastic bag the new cloned vine with the feeder parent vine to the right of it).
-Andeluna is exported to both CA and NY, so look for it when you buy wines and you won´t be disappointed.  We loved the Malbec reserve for a great everyday drinking wine at about $18 US a bottle.
Salestine Winery
-I have to write about this place as our experience was classic.  We showed up to visit and taste wines, and figured since this was one of the largest wineries in the Uco Valley, we would be fine without a reservation (as they are required everywhere).  To our luck, there was no space on the next tour and the next available was 3 hours away.  We honestly didn´t want any more tours, and just wanted to taste, but that´s not the way here.  I finally asked the receptionist is we could sit outside and have a glass or purchase a flight which they were fine with.  The wine guy came over (as he normally gives the tours) and felt really bad that we couldn´t do a tour, so he offered to help us with the wine flight and answer any questions.  So again we choose a nicer reserve flight that was going to be $30 a person for 5 tastes.  When the wine guy came to our table to start the tasting, he said he felt bad we couldn´t do the tour and then offered the three of us the flight for $30 total (not $90).  We were surprised, but thrilled!.   He then came back with five full bottles of the reserve wines were were going to taste. (which were almost all new and full), we thought we would have one pour and be done, but we were wrong…
-After tasting the wines, me asking some intelligent wine questions (which I wanted to know about and also to let him know we know about wine), I asked if I could try one of them again.  He said yes and then said he could leave the bottles on our table and we could help ourselves.  Where would you ever have a winery say to help yourself to five brand new bottles???  He said they could stay until our lunch comes and the waiter removes them.  So we were having a great time drinking, tasting them all a few times and looking at the snow capped Andes (yes I mention it as they were that beautiful!).  Finally the lunch we ordered was on its way and the waiter was going to clear the five bottles and I asked if he could take the whites and leave the reds for us and he said yes.  So at the end of lunch, we have finished the Malbec, and most of the Merlot.  For anyone that knows, me, I normally don´t drink Merlot as it´s too light for me…but this Merlot was wonderful and much fuller bodied than Merlot wines at home and we all enjoyed it a lot.  In Argentina, it´s known as one of the more full bodied wines (to my surprise).  To the final bonus, when the bill came, they didn´t even charge us the $30 US tasting fee, and we had way more to taste than just the flight…so we left a much larger tip for the waiter.  Wonderful tasting and lunch without another tour which we didn´t want.
Hinojaso – Don Silestre Vineyard
-At this point, I was quite happy as I drank a lot…and why not as this was a great trip in the wine country and we had a driver and the wine was free flowing literally at the last place.  So back in the car for another hour to another highly recommend winery that we found out was closed on Mondays so we lost out.  At that point, our driver drove, and drove and drove to try to find another one that was open and it felt like a long time before we found one that was closing at 5pm.  We were able to get them to open two more bottles for us to taste and we really liked them both and bought some for ourselves and even a bottle for our driver as part of a thank you for a great day.
– This day at the Uco Valley was long and we covered a great distance in the car, but it was one of the most memorable days and something I would highly recommend to anyone that goes to Mendoza as it was much nicer than the organized tours where you feel like a tourist on a tour vs a guest at a winery.
Day trip to the Mountains
-The final day in Mendoza was a full day outside of Mendoza into the mountains, national parks, to see the Andes Mountains and we actually reached the border of Chile and Argentina.  I really can´t talk enough about the beauty of this area, but you can see from the photos the lakes, mountains, rivers, ice called areas, valleys and such….it was an amazing day seeing so much of nature and then getting to the top at 4,000 meters right at the border.  We also got a great view at the highest volcano (currently inactive) called Aconcagua which stands at 6,900 meters tall.  So beautiful as it was covered in snow still.
-I had no idea it would be so cold up at the top of the mountains (as it was so hot everywhere else), but I was freezing and shivering as I thought it would be a warm day of hiking so I just had my shorts and tank top.  The picture of me by the sign to Chile, was really me being "so chilly".  I had to run back to the van to warm up.  Man I was cold, but still took in all the beauty!
Iguazu Falls
-My dad and brother wanted to go see Iguazu Falls and I was happy to return (as Jenny Crist and I went 2 years ago).  The water levels at the falls were so high, I couldn´t believe it and most places we went, we were getting wet with mist, but it was so hot, it didn´t matter.
-On our trek down to the bottom of the falls, we ran into people we knew from Orinda.  Its such a small world as we ran into Jeff Snow´s mom, Paul Hanley´s parents and then the Reeds that my dad used to play tennis with.  Such a small world as I went to school with Jeff and Paul since kindergarten and swam with Jeff on swim teams since we were both 4 years old.  They were all there on a holiday as well, but strange that they love less than a mile from where I grew up and we met up again in Argentina.
-We also had fun taking the boat trip deep into the water in the falls, and the falls were so much more powerful this time, the water that was falling into our eyes was really hurting it was like glass, but I just enjoying it.  A fun boat ride to cool off.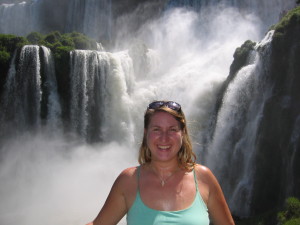 -As we had purchased so much wine in Mendoza (and you can carry it on domestic flights), we figured we should drink a few more bottles at night overlooking the falls since it was so stunning and there was no way my dad could pack all that wine in his checked luggage back to the USA.  So three bottles later, it was a nice end to the trip for our family with wine and the falls.
So a fun filled and action packed two weeks with my dad and brother.  We returned to Buenos Aires for their flight back to the US and I now have to figure out what I´m going to do for the next 4 nights before I leave for Antarctica on February 10th.