-I have to start by laughing again at my airport luck.  I thought leaving New York City for JFK airport would be easy as I have taken the subway and air train so many times, I could do it in my sleep.  Of course, it didn´t work as well, as once I was on the subway, I heard there was construction and the train wasn´t going all the way to the airport.  I would have to get off, find a shuttle bus that would take me there.  Bummer as I had more stuff with me with my extra bag for Antarctica, but at least all news was in English and I was familiar with the area so it all worked out.  I was even able to help other travelers that didn´t know how to get to the airport so all good.
-I was so excited to get on my plane and sleep as I didn´t get much time to sleep in the USA as I wanted to see everyone.  Too bad I sat next to the most talkative person I have come across on a plane and she wouldn´t stop, but she was angry at all her own airline issues, but I was polite and then finally was able to ignore her.
-After 12 hours on two flights, I arrived in Buenos Aires, Argentina (known as BA to everyone) and was planning to meet my dad and brother (who arrived three days before me).  That was perfect for me as I had traveled BA with Jenny Crist in November 2006, so I didn´t need to do any sort of sightseeing again and it gave them both time to get used to the city and see the sights.
-Milena and I had planned to meet up in Buenos Aires as once again we overlapped.  We realized Argentina is the 8th country we have traveled in since we met in St. Petersburg last June.  So off to a big steakhouse we went and she was finally able to tell me all about the cuts of steak that she loves so dearly from Texas.  We had a great dinner with her friend Lance, my dad and brother and even after dinner, we decided to head out for more drinks in the Recoletta district and were out till 2am.  Funny part as we felt this was late, Buenos Aires was just starting to kick into gear (and this was a Monday night!).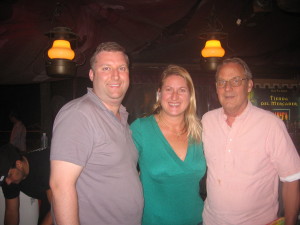 -As my dad and brother and I were going to share rooms for the two weeks, I made sure to have a large supply of ear plugs as I was worried both of them snored (a lot).  Funny part was the hostel we stayed in (yes you read that right….my dad, brother and I got a private room at a hostel and its been perfect!).  The weather was so hot at night, we had to leave the doors to our balcony open for coolness, as they don´t really do AC in the city.  Anyways, the street noise was SO loud, I honestly couldn't sleep, even with ear plugs.  As the nights continued, I did hear snoring, but that's always the case with shared rooms I guess.  I just keep using my ear plugs and try for a good night sleep here or there.
-On January 27th, my dad, brother and I took a road trip to the city of Lujan.  This was about 90 minutes outside of BA, and we took the local bus to get there, which was part of the adventure.  Wish I would say how pretty the landscape was, but I was still so exhausted I just slept.  It was supposed to be very pretty scenery (which I did see on the way back).  This city is in the north area of "the Pampas" which are the farm lands of Argentina.  My dad wanted to go see the large Bascilla in Lujan as over five million Argentinean make a pilgrimage each year to see this church and the Lady of Lujan (Lujan´s Virgin Mary).  I will say it was one of the most amazing neo-gothic churches I have seen in a while and the crypt below the church was also a highlight.  The crypt had Virgin Mary´s from all over the world and I think there were over 40 countries represented there, and many that I have been to (so it was more fun for me to see each flag and country represented).   Of course of luck would have it, the two museums my dad wanted to visit in this town were closed.  We have found many places in Argentina were closed in January till mid February for vacations.  It´s not just one or two shops, its all and we guess people must agree to close up and then leave.  Good for locals, not good for tourists.
-That night we did go to one of the best Thai dinners I have ever had, even for Thailand.  My dad and brother were a little tired of steak as they had had it for the past 4 dinners straight, so I was happy to find something else and it ended up being a winner.  Plus Malbec wine with every meal just makes it all the better!
-The final day in Buenos Aires was a relaxing one as we walked through town towards Florida Street to see the big shopping street.  More browsing, and telling the shop keepers that were trying to lure us in, that we weren´t interested.  It was a fun day and we even got a up close look at the obelisk.  This obelisk stands tall in the middle of Julio de 9 avenue (which has something like 20 traffic lanes and there is no way to walk across it all in one light cycle).  I think I remember hearing last time I was in town that it´s the widest avenue in the world, and it looked it!
-We decided to go to a dinner and tango show in BA as that is really something you have to do.  Of course, all the shows are really touristy, but still fun.  We decided not to take the tango lesson before the dinner, yet during the tango show, one of the male dancers came and pulled me up to tango with him and later on they pulled Morgan up to dance as well and after the short dance, they took him off stage and brought him back to be part of the show for a few minutes.  I said to my dad that they stole Morgan as he just disappeared for a few minutes, but then reappeared to dance for all.
-On January 29th, we said goodbye to Buenos Aires and were off to Mendoza for a week of wine, wine, Malbec and more wine.  It´s funny as Mendoza has lots of adventure activities, but we decided we just wanted wine and to see as many wineries as we could.
-As we first arrived in Mendoza, you can´t help but notice how much quieter and relaxing the city is.  Plus every street is very wide and has trees lining the street and providing a lot of shade.  I just loved walking around the streets looking at each different tree variety.  Makes for a pain as there are always street sweepers cleaning up all the leaves that fall, but it´s so really pretty!
-Since we came to Mendoza for wine, we started our first day with an all day tour and it was a blast.  In Mendoza, you can´t just show up at a winery and hope to taste.  You have to make a reservation and have to go on a tour.  So a lot of information, and less tasting than I wanted (but I kept asking for another taste to get a little more wine), so it was all good.  We went to big, medium and small family run wineries (and of course loved the smallest one as we got more attention, better wines to try and bought great bottles so reasonable prices).  I told my dad to take the nicest bottle he bought home, but he doesn´t want to deal with packing it, so I told him I´m happy to drink it with him here which was his goal.   The highlight to our day was the lunch.  I can´t believe they call it lunch as it started with Appetizers that were more than two meals with so many meats, cheeses, side dishes that we were full then.  Then the second, third course and dessert.  We all had to say no to most of it…yet the wine was free flowing and since the bottles were open, I had to drink them so it didn´t go to waste….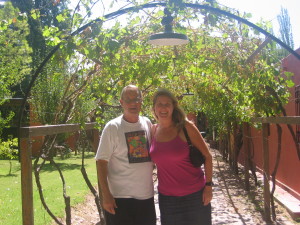 -Since the wine is so great, we headed off to another half day wine tour on Saturday and got to see two more wineries (San Felipe and Cavas de don Arturo) plus an olive oil pressing factory which was new for me.  Learned a lot about how they make olive oil and got to taste a little which is always fun.
-At the first winery, we saw an old fashion grape stomper that was made out of ox skin.  Someone would crush the grapes in this by feet, and the juice would fall into the spout.  Kinda crazy that it´s essentially an inverted ox.  Had to get a picture of this as it´s so interesting looking.  At this same place, San Felipe winery, we also got to see really tall vines.  These are the oldest vines and were taller than me with large hanging fruit.  I just found the winery so beautiful!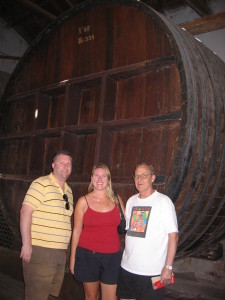 -So today it´s Super Bowl Sunday on February 1st and we are going to try to find somewhere to watch it.
-Funny thing about Argentina, everything is closed on Sunday).  I guess they really take the day of rest to heart which is nice.  It was hard for me to find food for lunch as everything was closed (except Subway and McDonalds), so I finally gave in and went to McD and had a nice puchuga de pollo or chicken breast sandwich.  Funny when you order it in Spanish and have to ask for no mayo, and then add tomato and lettuce.  The Spanish works are slowly coming back to my memory, but my dad is quick to correct the way I say it as it´s not great.
Logistics:
Hostel in Buenos Aires
1. El Sol Hostel in the Recoletta district – nice hostel, but on the loudest streets and since it was so hot we had the window open and I couldn´t sleep.  I decided to find another place to stay when I return to BA.  I think this would be a nice place (in great location) in the winter.
2. Hostel Estoril (booked for returned to BA)
Dinners:
1. Cabana Las Lilas – this is one of the famous steakhouse with huge portions (they do have half if you ask).  Nice dinner but according to the rest of the group, there are better for less money in BA.
2. Empire Thai – amazing Thai near Florida street shopping at Puerto Madero – at tres Sargentos 427 (at San Martin) 54 11 4312 5706
Tango Show:
1. Complejo Tanjo – this was a good option with a free lesson, dinner and a show for 200 pesos ($57 US).   This was more dancing and singing with six dancers  and the lesson.
2. Madero Tango – this was the show I went to two years ago and it was more of a show as Complejo was more dancing and singing and about ten dancers.
Mendoza Wineries:
1. Weinhart – large export operation with two taste of wine (and one taste of pure grape juice)
2. Viniterra (www.viniterra.com.ar) – mid size operation with good wines.  Two tastes and the only white wine taste in the region (so far.)
3. Carmine – wonderful family run place that exports to CA only.  Great wines!
4. San Felipe – big winery exporting to US and had the ox skin stomper and tall vines.  Felt more like a Mondavi feel with only one taste included (of a wine they don´t sell outside the winery) and didn´t care out the tourist as much.  Of course I asked for another taste and they did pour.
5. Pasrai Olive Oil – got to learn about great oils, taste filtered and unfiltered and sundried tomatoes in olive oil which were great
6. Cavas de don Arturo – very small family run and only exports to US (through Kentucky of all places since there is family there).  We really liked the vineyard, wine, and tour.  Would go back there for sure!
Other Wines I have tried and will try to buy at home:
1. Pulenta Estates 2007 Malbec (60 peso at restaurant or $20US)
2. Carmine Granata Traditional 2003 Malbec Oak Cask – from wine tour (40 peso or $11).