Buenos Aires (February 21-23 and 25)
-After flying from Ushuaia to Buenos Aires, I was excited as I was going to meet up with Colin.  He decided to quit his job and come travel with me for a month (or two).  He hasn´t been to South America before, so we were hoping to find some new places to go together, and decided Buenos Aires was the easiest to meet up in.
– After meeting Colin, we were off for a fun dinner out at La Cabrera.  It started to rain as we were in a cab and we knew there would be a wait.  Good news is the place gives you free champagne while you wait and we started talking to a few others about travels as they were all from Russia.  So the waiting passed…a little slower than I wanted and we finally got to sit down for dinner around 11:00pm.  But the food was HUGE and amazing.  The chicken I ordered could have fed 4-6 people and it ended up being leftovers.  Colin´s steak was really large, even by Argentinean standards.  This steakhouse was better than all the rest we went to two years ago and with my dad and brother.  Highly recommended!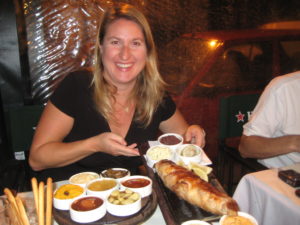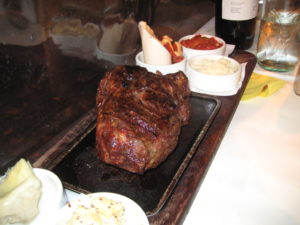 -In this stop in BA, I went back to the recoleta cemetery and it was very different this time as it was gray and gloomy outside and it started to rain.   With this, the cemetery was empty, we got to explore more and then see Eva Peron´s tomb and I even found a cute calico cat that came to sit next to me.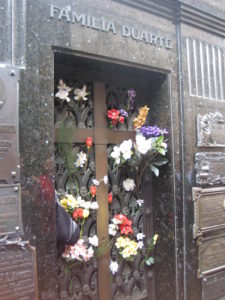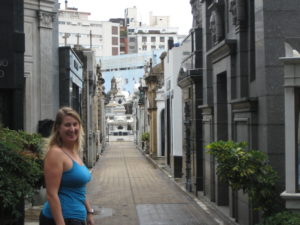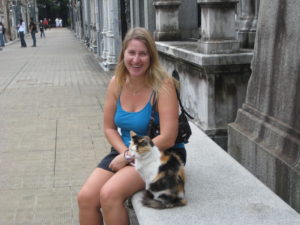 -Colin and I tend to just wander and see where we end up and this day we found a great cafe to people watch, then a great tasty dinner down at restaurant row (Puerto Madera area) for grilled meats.  This was place La Caballeriza and we stumbled onto it as we were looking for another place and went the wrong way, but this turned out to be a good thing.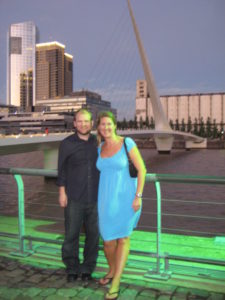 – More sightseeing in BA included touring around Caminito where locals dance tango in the streets and restaurant have performances so we had to eat and watch the dancing.  I had to keep laughing as all the female dancers had fishnet tights on and lots of holes in them:  I almost wanted to tip them and say to use the money for new fishnets, but knew that was rude so I didn´t say anything.  I also got to watch a Gaucho dance and do some fancy foot stomping which was a new treat.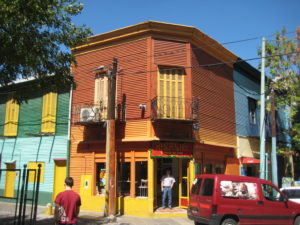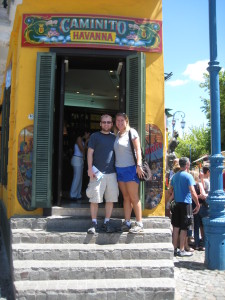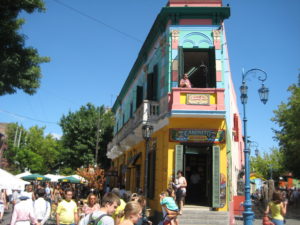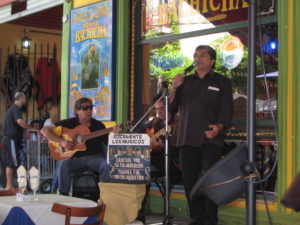 -Walking in Caminito, we were walking along the water, when a police officer came up to us and asked where we were going.  We were just going to check out a few streets that Colin´s guidebook recommended as the old red light district.  I didn´t really have any interest, but was happy to go.  That was until the police said it was dangerous…and not to go.  He didn´t speak English and I couldn´t understand his Spanish, but he had these phrases written down in English for tourist and basically stops any tourists that are walking that way.  What a job he has.  Not sure this guidebook is a good one if they recommend going there…
-More walking took us to San Telmo and went to what the guidebook said was the most happening square in the area.  We found it not happening and again I was questioning his book.  Where´s Lonely Planet when you need the bible?  It was fine, but more fun to tease Colin for his guidebook as he likes the pictures in it and I prefer LP for the maps.
-I had a request from Pat to see the Casa Rosado (pink house) which is the presidential business and where Eva Peron used to address the people.  So we cruised past it on our way back to the hostel.  It looks better two years later as there isn´t the construction there now.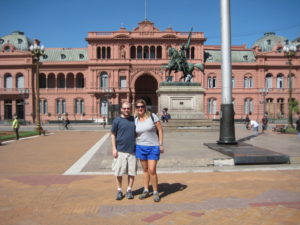 -One more day in Buenos Aires took us to the neighborhood of Palermo.  After taking the hot subway there (was very easy and my first time on the subway in BA), we wandered to the "main square".  I´m starting to wonder about all the great squares as this one had a kids playground in the middle of it.  Hummm
-Lunch was another event.  I thought I ordered a Neopolitan pizza and side salad special.  What came was a fried piece of meat.  When I asked if it was carne de vaca…the waiter said yes.  I didn´t want it as it was either beef or veal and neither interested me.  So Colin offered to switch meals and after he ate a little, he said it was chicken and showed me.  We asked to waiter and then he said it was chicken.  Why didn´t he tell me the first time?  On top of that, once I started to eat it, I cut into a piece and it was raw…and half of the chicken piece was raw.  Too bad the waiter and manager didn´t care.  They said we ate half of it and had to pay, which I protested by principle alone.  Lucky I didn´t get sick from the raw chicken if I had a piece or two.  The whole episode put me in a little bad mood and we left.  It´s the only bad meal we had so far and I knew we were meeting my friend Deanna (who I met in Antarctica) for dinner so no need to eat a lot there.
-We met Deanna and were planning to go to a local favorite that Colin´s sister and her friend recommended who used to live here (and is highly recommended in a few guidebooks).  Its in a dangerous part of town and the guidebooks say to take a taxi there and have the restaurant call one to leave).  So it was an adventure when our taxi driver didn´t know the streets, then we finally find it after asking a handful of locals on the street for help.  Once we pull up, there is a police in front of the place and a small sign saying the restaurant is closed for vacation.  Bummer.  But the good news is we have the cab take us to Puerto Madero restaurant row and we find the place Colin and I were looking for, Estilo Campo" and we had a wonderful dinner.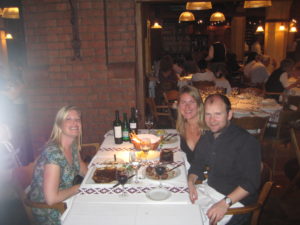 -Final stop for the night was a local tango hall.  We didn´t want to go to a tourist show, and heard about these Milonga´s.  The events get started after 11pm, so we showed up to listen to a local band (that wasn´t too good) and then watched some locals try to dance.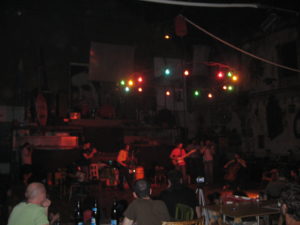 As Colin and I had an early flight, we left at 2am, dropped Deanna off at her hostel and then were in bed after 3am.  Not fun when our wake up was at 5:30am.  I made sure to set 2 alarms just to be sure we got up in time (which we did).  Great experience to see the locals at a club.
Colonia, Uruguay (February 23-24)
–After a quick hour ferry to Colonia, Uruguay we settled into our B&B and were off to have dinner.  We read about a great dinner place with live music and that was just up Colin´s alley.  We had one of the best dinners at The Drugstore and enjoyed a few different bands till midnight.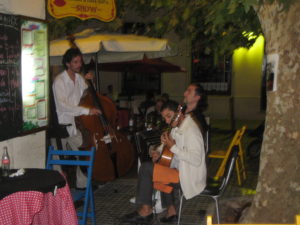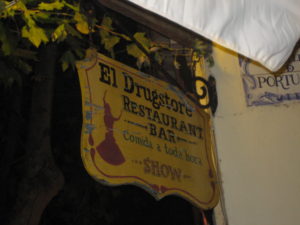 -Colonia is a small town, of about 25,000 people and just had such a charm.  Its all cobble stone streets, beautiful tree lined streets and little cafes to enjoy.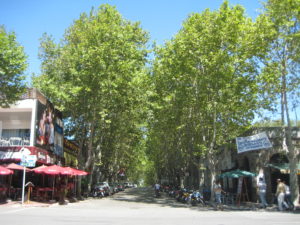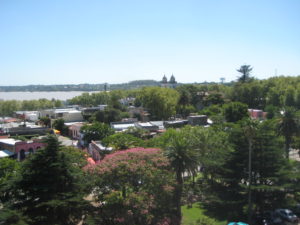 We just walked around the streets, to the old lighthouse for a view of the town and then enjoyed a few cafe and drinks along the way.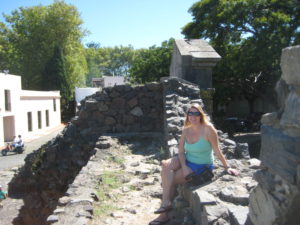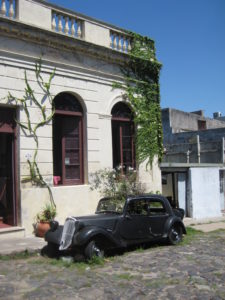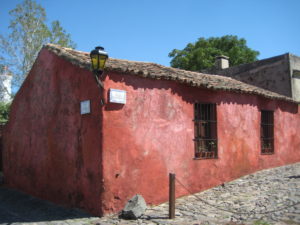 All in all…the perfect relaxing day in a quaint town.
– We had one funny encounter with a local old person.  As Colin and I were sitting having breakfast, I noticed an older woman walking an old man out to a parked car.  I will just call him Grandpa for simple terms.  Grandpa could not really walk well, and I was concerned that the old woman was walking him to the drivers seat as I could not imagine he could drive.  Funny part was she left him in the drivers seat and went back inside the house.  I thought it was strange, but maybe that was his day out and he liked to sit and watch a quiet street from the drivers seat.  When we left breakfast at 10:30am, we thought it would be a short sit in the car.  After getting ready to explore the town, we left the B&B at noon and Grandpa was still sitting in the car (90 minutes later).  Kinda odd I thought.  At the end of our walk around town, (at 4:00pm), Grandpa was still in the same parked car.  This time I waved and him and he smiled and waved back.  I was really hoping he would not be there when we left for dinner, and luckily he was not.  I guess Grandpa enjoys a good day sitting in the drivers seat and remembering the days he used to drive.
-The one request I had was to watch the sunset over the horizon as I knew this would be spectacular and Colin hasn´t seen as many water based sunsets.  Lucky for us, it was a hot sunset, we tried the local Clerico drink (basically white sangria with lots of fun fruits like kiwi, strawberry, peach and pear).  Tasty!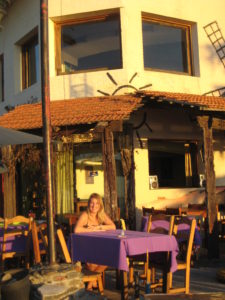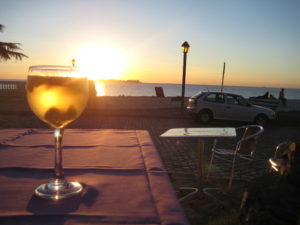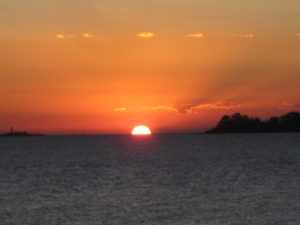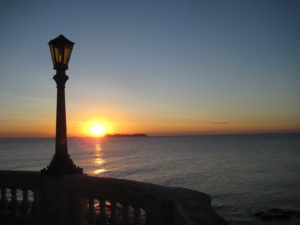 Logistics:
Buenos Aires:
-Hostel Suites Florida at 328 Florida St (54 11) 43250969 (www.hostelsuites.com).  Great hostel in old hotel.  Would stay again.
-La Cabera (in Palmero Viejo area) at 5099 Cabrera and Thames (4831-7002)
-La Caballeriza – great parrilla (grilled meats) at Puerto Madera (www.lacaballerizapuertomadero.com)
-Estilo Campo – great dinner at Puerto Madero area (www.estilo-campo.com.ar)
-Tango Hall "La Catedral" at Sarmiento 4006 – after 11:30pm